Studies and development of digital signature technologies by smart card on handheld devices
L'anteprima di questa tesi è scaricabile in PDF gratuitamente.
Per scaricare il file PDF è necessario essere iscritto a Tesionline.
L'iscrizione non comporta alcun costo. Mostra/Nascondi contenuto.
MOBI-DEV PROJECT 11 1.4 MOBI-DEV PURPOSES AND TECHNOLOGY TO BE USED 1.4.1 MOBI-DEV KEY-POINTS 1. Integration of health care center's databases and realization of standard and easily accessible coherent interface. The most promising technologies seem to be the web related ones. In fact, nowadays the major databases already offer a web interface through which it is possible to input data and manage the database remotely. It's important to note that most of the HIS do not have a web interface; thus, standardizing the various hospital databases imposing a particular database for which a web interface has been already developed, is, at least in this moment, impossible to do. This fact raises the need to develop a solution that will be anyway adaptable to the existing situation. The main advantages due to the use of web technologies are: ξ Absolute independence from the platform ξ No need to develop ad hoc client (it will be based on common browsers) ξ Possibility to rely upon a number of well-known technologies for what concerns security (SSL, PKI…) ξ Possibility to create, in perspective, a global linking framework between different health care structures 2. Possibility to input/output data into the his or database of health centers from anywhere, via mobile, wireless connections. It is possible to use palm computers as client stations, linked with the hospital intranet through wireless technologies (Bluetooth in the hospital environment, UMTS or other for the exterior). These palm computers has to support at least an Internet browser, a microphone and a Smart Card reader. 3. Possibility to input/output data into the health care centre database in an easy and natural way, via natural language recognition.
Anteprima della Tesi di Danila Di Stasi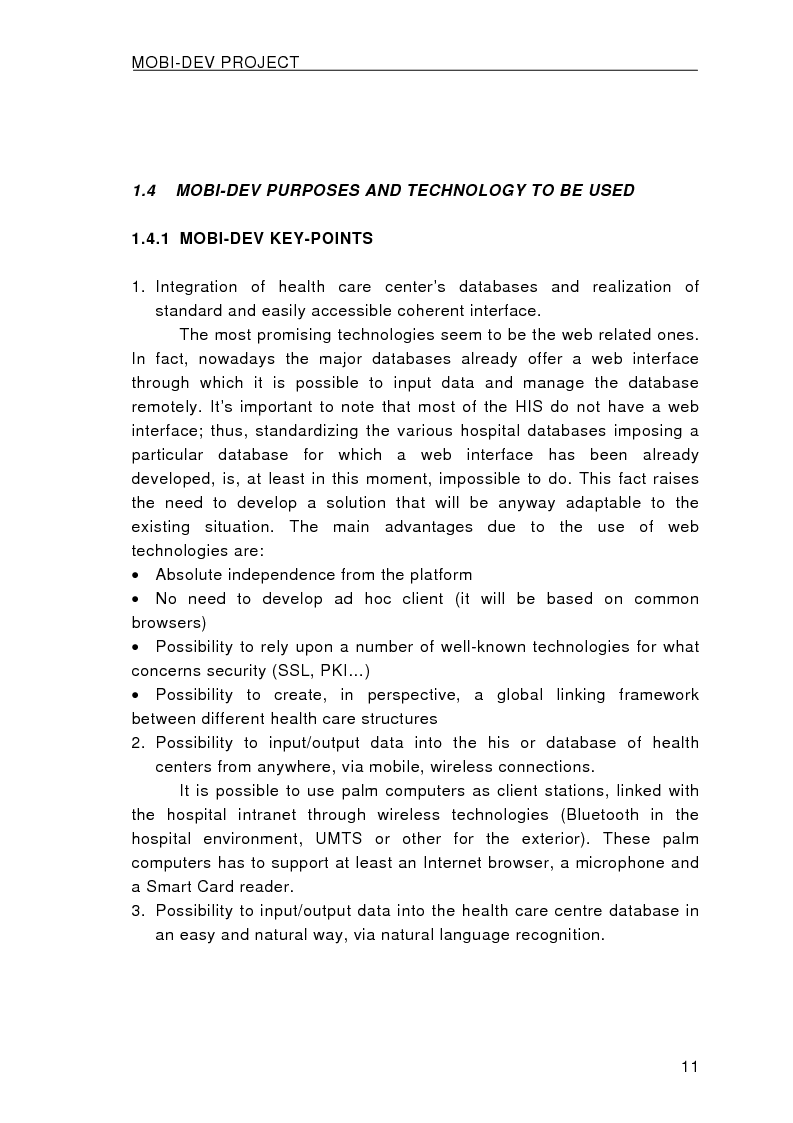 Tesi di Laurea
Facoltà: Ingegneria
Autore: Danila Di Stasi Contatta »
Composta da 147 pagine.
Questa tesi ha raggiunto 978 click dal 20/03/2004.
Consultata integralmente una volta.
Disponibile in PDF, la consultazione è esclusivamente in formato digitale.