Studies and development of digital signature technologies by smart card on handheld devices
L'anteprima di questa tesi è scaricabile in PDF gratuitamente.
Per scaricare il file PDF è necessario essere iscritto a Tesionline.
L'iscrizione non comporta alcun costo. Mostra/Nascondi contenuto.
MOBI-DEV PROJECT 13 1.4.2 HW ARCHITECTURE The hardware Mobi-Dev needs is a server set (e.g. PC) wired by a local area network, the necessary framework for the wireless connection (UMTS station, bluetooth stations) and palm PCs. The palms must have a wireless modem compatible with bluetooth and UMTS, a Smart Card ISO-7816 reader, a microphone and a display with a resolution that allows the use of a web browser. The web server is composed by a single machine or by different machines connected each other (Virtual Web Server) for special needs (i.e. big hospital structure, with a big number of clients). 1.4.3 SPEECH UNDERSTANDING SERVER Mobi-Dev's activities related to medical natural language understanding DO NOT involve basic research, but are concentrated around existing tools and products that have been tested as individual components in various environments. These components are speech recognition software for dictation (several commercial products available for some languages) and a semantic parser (developed by L&C for analyzing medical prescriptions in Dutch and French). What is new in Mobi-Dev is that these components will be used in other functional settings than they have originally been developed for. The functional and technical scenario for using these tools is the following. Healthcare workers will carry hand held computers on which they will activate an input form. This form will be filled out by using speech, not just by navigating through the form by means of voice, but by using full natural speech. The form is just displayed to show the kind of information that is expected when entering information, and to display the results for immediate verification. The hand held device - with build-in voice recorder - will capture the speech signal as an ordinary recorder
Anteprima della Tesi di Danila Di Stasi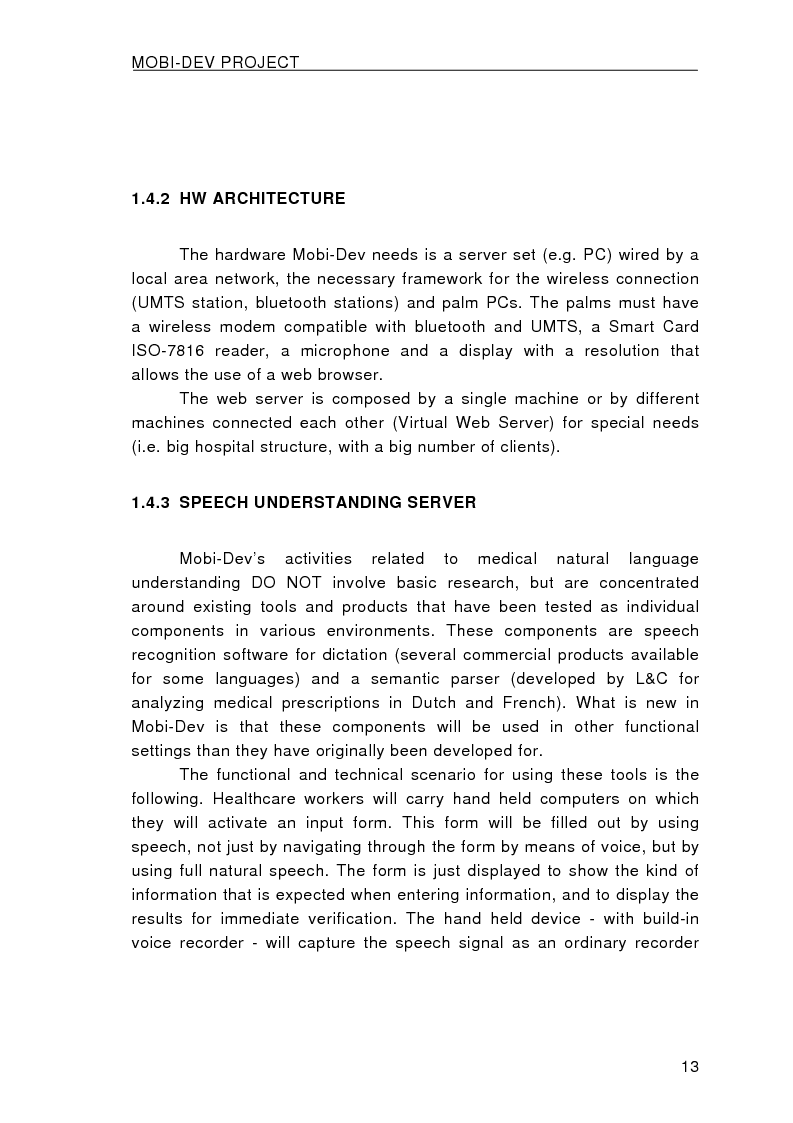 Tesi di Laurea
Facoltà: Ingegneria
Autore: Danila Di Stasi Contatta »
Composta da 147 pagine.
Questa tesi ha raggiunto 978 click dal 20/03/2004.
Consultata integralmente una volta.
Disponibile in PDF, la consultazione è esclusivamente in formato digitale.