Decoding the Language of War
L'anteprima di questa tesi è scaricabile in PDF gratuitamente.
Per scaricare il file PDF è necessario essere iscritto a Tesionline.
L'iscrizione non comporta alcun costo. Mostra/Nascondi contenuto.
Chapter I – Media Choices Pietro de Perini 450153/LL 11 The problem with the tabloids is that sometimes, in some papers, they are guilty of exaggerating to make the story more dramatic, as you say. But some broadsheets reporters have been know to do this too. In the end, you would hope the broadsheets are more reliable. But I would usually be inclined to trust a report from the frontline more than a government press briefing, whichever paper they're in. 2 ' The best choice seemed to follow the war in the most traditional way: through international newspapers, without differing between tabloids and broadsheets but paying more attention to the reports that came from the frontline. Government press briefings are indeed useful because - being the voice of the political and military power - they are full of relevant expressions and terms for the linguistic part of the thesis. Clearly no statement about the reliability of some newspapers and the consequent untrustworthiness of other sources can be taken as universal. There are different points of view and the only behaviour to observe is reporting each opinion given about the argument. For Phillip Knightley, another noted expert in the field of war reporting, the difference between governmental and frontline-based reports does not exist. Asked about the topic, he answered: 'neither is reliable. Both are full of propaganda. The point of embedding is to make the war correspondent identify psychologically with the soldiers he is embedded with. He will tell the soldiers' story. The government will tell the government's story. Who is left to tell the victims' story? Yet the victim is at the heart of the war. One hundred years ago ninety per cent of all war casualties were soldiers. Today ninety per cent of all war casualties are civilians. Yet war reporting continues to concentrate on the soldiers 3 '.
Anteprima della Tesi di Pietro De Perini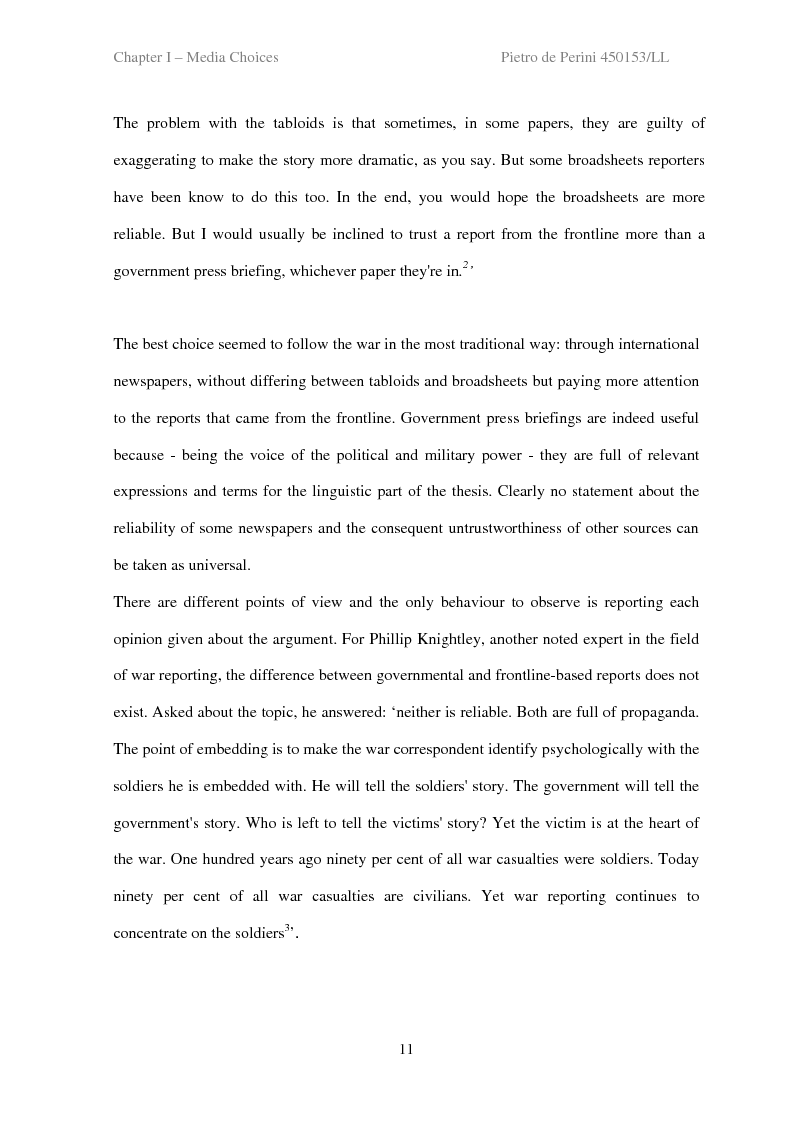 Tesi di Laurea
Facoltà: Lettere e Filosofia
Autore: Pietro De Perini Contatta »
Composta da 158 pagine.
Questa tesi ha raggiunto 991 click dal 21/05/2004.
Consultata integralmente una volta.
Disponibile in PDF, la consultazione è esclusivamente in formato digitale.