Decoding the Language of War
L'anteprima di questa tesi è scaricabile in PDF gratuitamente.
Per scaricare il file PDF è necessario essere iscritto a Tesionline.
L'iscrizione non comporta alcun costo. Mostra/Nascondi contenuto.
'Decoding The Language of War' – Introduction Pietro de Perini 450153/LL 4 The third Chapter is about the main sources of the language of war. Military and political contributions are herein discussed together with some of the most common language features: metaphors, euphemisms, misinformation, propaganda and lies, which are generally included in the category of the weapons of mass deception. Then the process of language decoding takes place but, before entering the last step of the thesis, a brief chronology of military events during Operation Iraqi Freedom is provided. Chapter 4 has a particular structure and therefore quite a strange layout. About two hundred terms are analyzed, compared and quoted from newspaper articles and other sources. The large amount of words has led to a practical division in thematic paragraphs although many of these terms could be undoubtedly associated to more than one group. After having decoded the language of war, some considerations about its future are discussed in the conclusions. Considerations. The hub of the thesis is Chapter 4. It is the longest, the most elaborated and probably the most interesting of all sections, but the importance of the other Chapters should not be underestimated. The thesis is structured to be an easy-access instrument for every scholar or reader who wants to understand this sector of the English language. Therefore, Chapter 1 with its continuous reference to the power of the media provides some hints of the war report mechanism and specific knowledge of the structures of international and electronic newspapers. They are the most reliable physical means that have been bringing the language of war into everyone's home. Many scholars and experts have said that the knowledge of history is necessary to understand how mankind will behave. This is the reason why Churchill and Orwell have found relevant space in the work.
Anteprima della Tesi di Pietro De Perini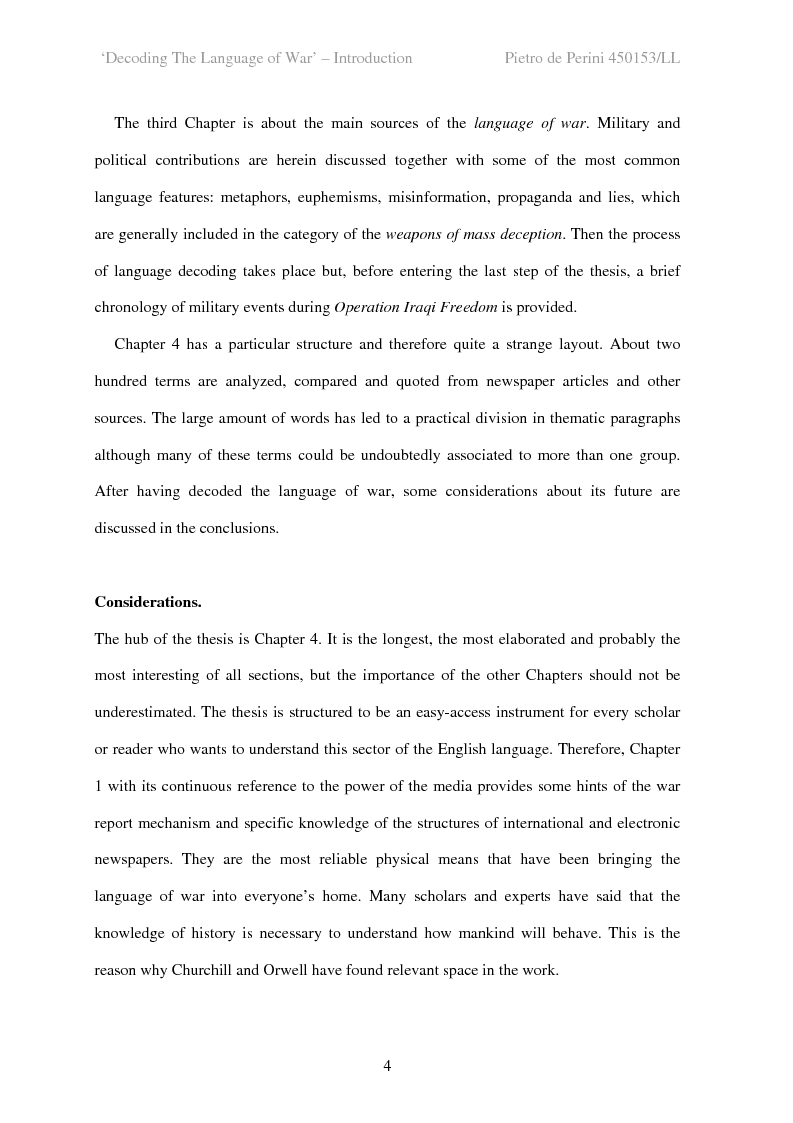 Tesi di Laurea
Facoltà: Lettere e Filosofia
Autore: Pietro De Perini Contatta »
Composta da 158 pagine.
Questa tesi ha raggiunto 991 click dal 21/05/2004.
Consultata integralmente una volta.
Disponibile in PDF, la consultazione è esclusivamente in formato digitale.