Parmalat's product and brand management in the dairy and packaged food industries
L'anteprima di questa tesi è scaricabile in PDF gratuitamente.
Per scaricare il file PDF è necessario essere iscritto a Tesionline.
L'iscrizione non comporta alcun costo. Mostra/Nascondi contenuto.
Introduction Introduction Consumers and technology are driving constant invention and innovation. Few sectors are closer to change than Fast Moving Consumer Goods (FMCG). Here, results are immediate. Ideas and strategies quickly translate into products on shelves, messages in the media, response from consumers, growth in the business. Companies have to be proactive rather than reactive in order to exploit new channels of business, and harness the opportunities the consumer market has to offer. In a world of such uncertainty, consumers are increasingly putting their trust in brands. Accordingly, in many sectors major multinational corporations seem to share the same trend in administrating their businesses: the passage from an approach focussed on products/categories to a brand-centred one. Particularly in the packaged food industry, where products can be easily and cheaply imitated and "me too" strategies represent an everyday phenomenon, a strong brand stands for a powerful defensive screen against competitive threats. Brands and logos are gaining more and more consideration as "intangible values" within the business portfolio of global producers and marketers. The shrinkage in the level of differentiation of manufactured goods, the restriction of product lifecycles and the raise of communication expenditures' thresholds, all together result inevitably in an evermore relevant shifting towards brand building activities. In connection with that, this working paper aims at eviscerating the above- mentioned process with reference to one of the world's biggest food corporations and, in all likelihood, the Italian company with the largest presence in the international entrepreneurial panorama. To start with, let us clarify what this project is and, above all, what is not. First of all, the study of an actual company case does not entail the 7
Anteprima della Tesi di Francesco Brandi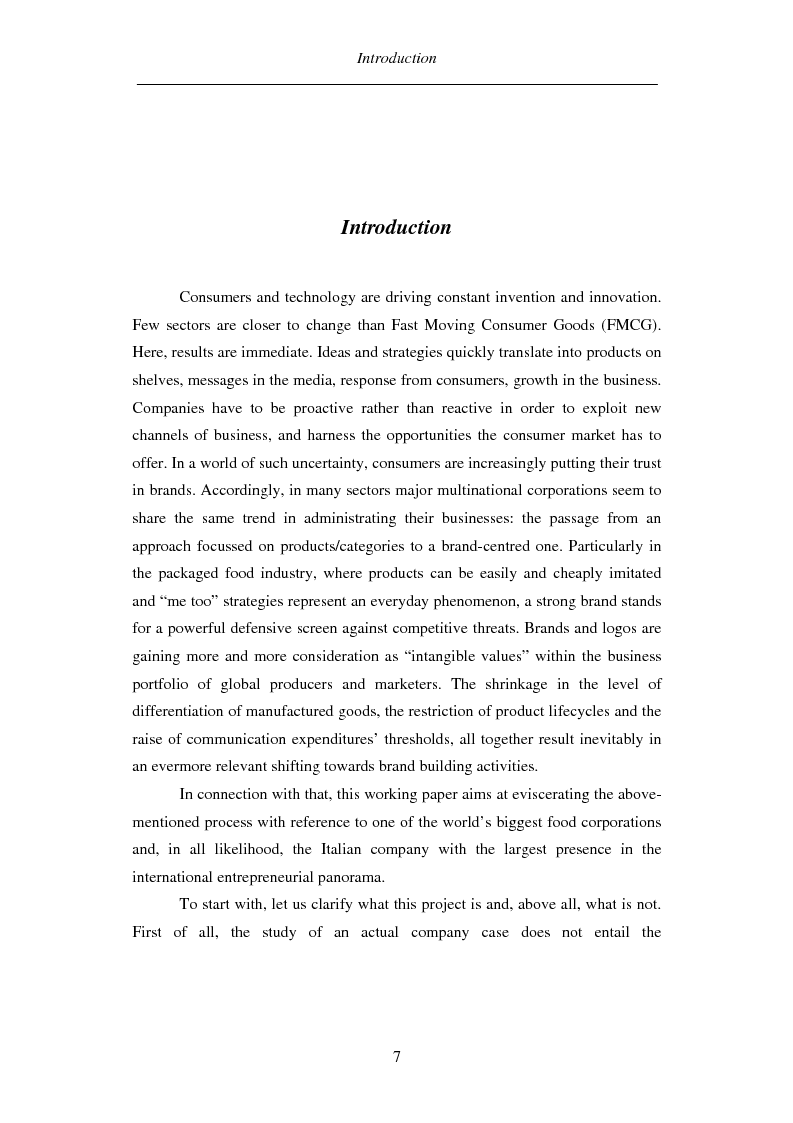 Tesi di Laurea
Facoltà: Economia
Autore: Francesco Brandi Contatta »
Composta da 284 pagine.
Questa tesi ha raggiunto 2438 click dal 12/05/2004.
Consultata integralmente 2 volte.
Disponibile in PDF, la consultazione è esclusivamente in formato digitale.