Parmalat's product and brand management in the dairy and packaged food industries
L'anteprima di questa tesi è scaricabile in PDF gratuitamente.
Per scaricare il file PDF è necessario essere iscritto a Tesionline.
L'iscrizione non comporta alcun costo. Mostra/Nascondi contenuto.
Parmalat's product and brand management in the dairy and packaged food industries: a perspective from the Australian market out little by little strengths and weaknesses, opportunities and threats the multinational should dedicate most of its attention to in facing future developments. The working paper is divided into five parts. In the first chapter we analyse the dairy sector. First, we give a general overview of the most important changes occurred recently in the world's dairy industry, especially dwelling on the dynamics of production and trade. Second, we point out the characteristics of innovation as well as its relevance within the dairy category. Finally, we move to the investigation of the Australian environment, with reference to both the structure of the dairy sector and the attributes distinguishing the Australian consumer. It is worth saying that, notwithstanding a strong focus on dairy, many of the observations we will come up with are extendable to the entire packaged food market. In fact, although milk and dairy foods represent the bulk of Parmalat's business worldwide, the Italian-based multinational operates also in a number of other grocery macro-categories. Particularly, the growing weight of the fruit-based beverage brand Santàl within the company's global portfolio does not allow restricting our study to the mere dairy scenario. Chapter two focuses on Parmalat's history and its pathway to international expansion, drawing attention towards the company's responses to the never- ending academic question concerning standardisation or adaptation of the marketing mix when approaching new markets. The overview of the multinational's business takes into consideration primarily the international segmentation regarding the core areas of dairy, fruit juices and soy. Moreover, it aims at finding out the potential margins of product "globalisation" in the food sector as well as the essential adjustments to suit diverse consumers. In the end, the development of Parmalat's brand portfolio is investigated in order to give a 10
Anteprima della Tesi di Francesco Brandi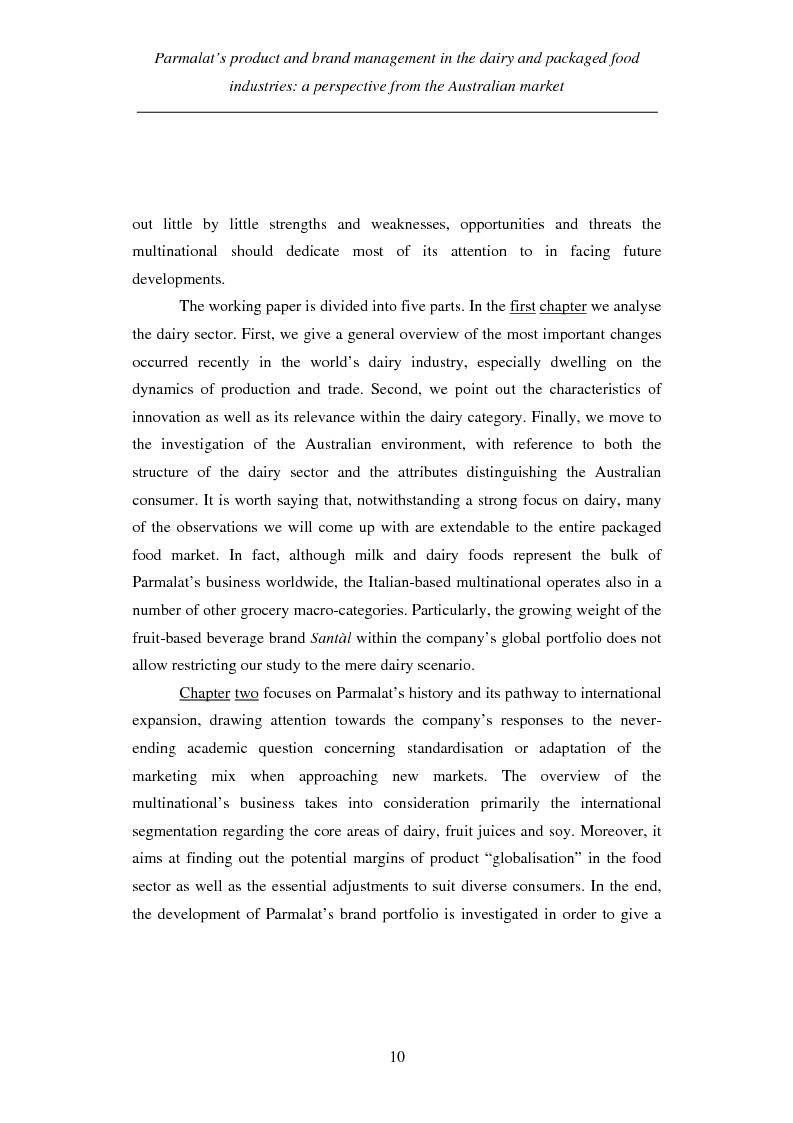 Tesi di Laurea
Facoltà: Economia
Autore: Francesco Brandi Contatta »
Composta da 284 pagine.
Questa tesi ha raggiunto 2438 click dal 12/05/2004.
Consultata integralmente 2 volte.
Disponibile in PDF, la consultazione è esclusivamente in formato digitale.