Parmalat's product and brand management in the dairy and packaged food industries
L'anteprima di questa tesi è scaricabile in PDF gratuitamente.
Per scaricare il file PDF è necessario essere iscritto a Tesionline.
L'iscrizione non comporta alcun costo. Mostra/Nascondi contenuto.
Introduction picture of the ongoing process of rationalisation that places Parmalat close to many other global groups operating in the agro-industrial market. With the third chapter we start to get into the more specific scenery of the Australian marketplace, examining Parmalat's competitive position. After giving a brief description of the multinational's Australian branch and a general idea of how they entered the market in 1998, we introduce the "product concept" of the company. First of all, we describe how the marketing department of the company works and interacts with the other functional areas in order to achieve the desired outcomes. Then the analysis shifts towards tactical issues, concerning Parmalat's segmentation activities with reference to the "down-under" consumer and the management of the company's product range in the domestic setting. At last, in line with one of the key areas of interest, we examine Parmalat Australia as an export hub, trying to determine the expected and actual contribute of the local subsidiary to the growth of the group's business in South-East Asia as well as identify the required level of heterogeneity in implementing product/brand policies within these countries. Chapter four discusses the administration of the company's Australian brand portfolio, both strategically, trying to depict the value of the established local brands and their feasible future development (according to the global "brand vision"), and tactically, illustrating the mechanisms of brand positioning in a mature marketplace. In the end, we dedicate attention to the auxiliary variables, namely packaging, design and labelling, and their growing importance in launching products successfully as well as in building and maintaining strong brands. Finally, the fifth chapter moves on to the relationships existing between products/brands and the other components of the marketing mix. Particularly, we give special consideration to distribution and to the characteristics of the 11
Anteprima della Tesi di Francesco Brandi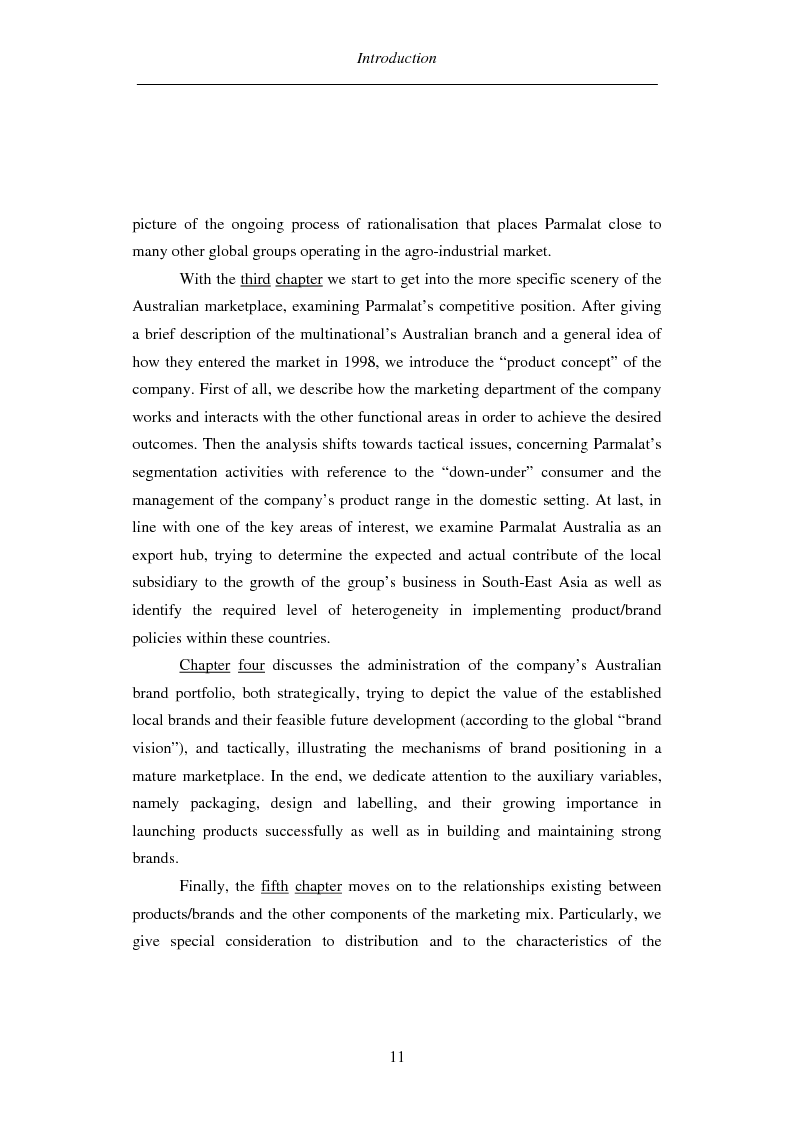 Tesi di Laurea
Facoltà: Economia
Autore: Francesco Brandi Contatta »
Composta da 284 pagine.
Questa tesi ha raggiunto 2438 click dal 12/05/2004.
Consultata integralmente 2 volte.
Disponibile in PDF, la consultazione è esclusivamente in formato digitale.