L'industria cinematografica di Hollywood nell'era di Internet. La strategia della Warner Bros. per il lancio di The Matrix Reloaded
L'anteprima di questa tesi è scaricabile in PDF gratuitamente.
Per scaricare il file PDF è necessario essere iscritto a Tesionline.
L'iscrizione non comporta alcun costo. Mostra/Nascondi contenuto.
9 The first charter takes in exam the industrial organization of the U.S. film industry, dwelling on the relative aspects of production, distribution, and exhibition, as well as considering the relations with international markets and the mode of usage of the film showing. Marketing strategies are the subject of the second chapter. We define several notions concerning movie promotion and we specify particularly the increasing use of the Internet as a further available media for advertising purpose. The management of demand and the segmentation of the movie-commodity are explained in two distinct paragraphs, although they are strictly linked since the close relation between film genres and market niches: we tried to build two stand-alone issues without losing the liaison that bounds the two subjects. An analysis of the most modern merchandising and licensing agreements ends the exposition of the Hollywood marketing strategies. The third chapter is dedicated to the rising conflict between streaming and retailing, that is between a notion where the exchange of information is restricted to bits and a notion where these bits are fixed on some atoms and then transported and exchanged. An observation of the broad-band Internet connection technologies inagurates the chapter, followed by a brief presentation of the main video compression standards. We conclude dealing with informatics piracy, a particularly crucial issue for Hollywood, and with digital preservation, an issue dear to many users. A final glance is reserved to the newborn UMTS standard and its capabilities. In the fourth chapter we develop the theme of copyrighted audiovisuals, with an eye on the first systemic law regarding the new digital technologies, the Digital Millennium Copyright Act, approved by the U.S. Congress in 1998.
Anteprima della Tesi di Giuseppe Melles Di Fazio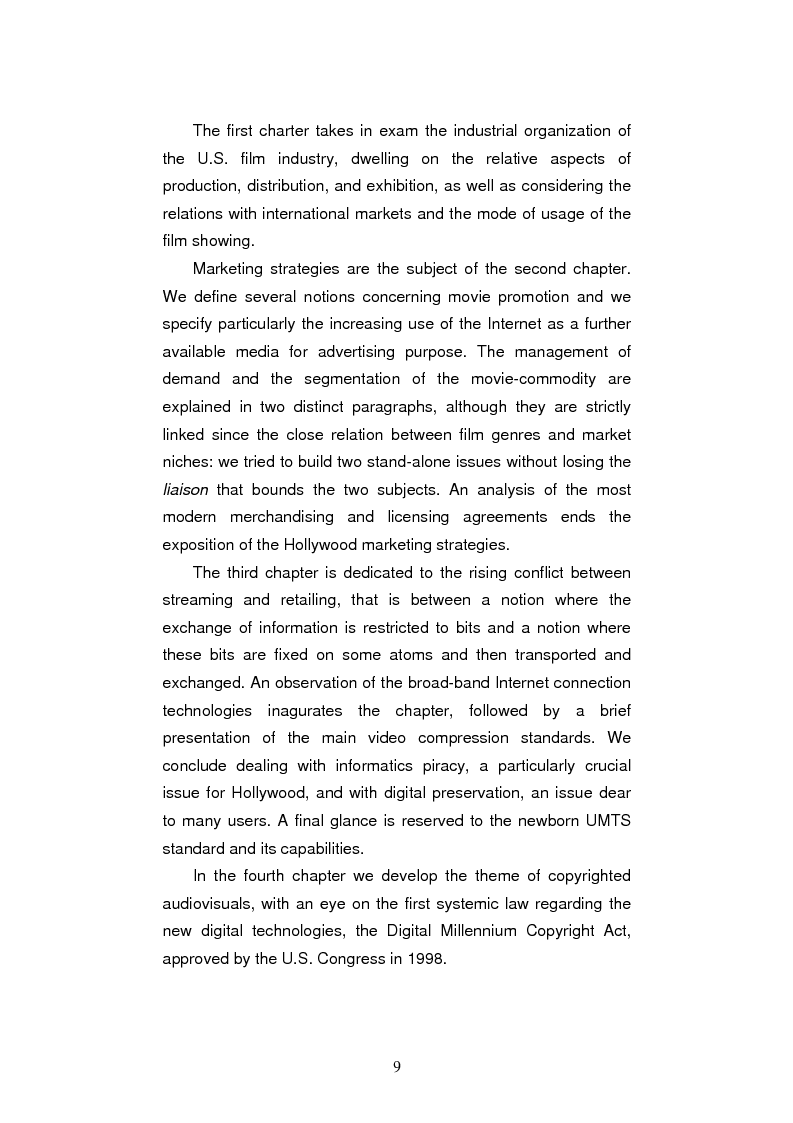 Tesi di Laurea
Facoltà: Lettere e Filosofia
Autore: Giuseppe Melles Di Fazio Contatta »
Composta da 543 pagine.
Questa tesi ha raggiunto 5305 click dal 18/05/2004.
Consultata integralmente 12 volte.
Disponibile in PDF, la consultazione è esclusivamente in formato digitale.