L'industria cinematografica di Hollywood nell'era di Internet. La strategia della Warner Bros. per il lancio di The Matrix Reloaded
L'anteprima di questa tesi è scaricabile in PDF gratuitamente.
Per scaricare il file PDF è necessario essere iscritto a Tesionline.
L'iscrizione non comporta alcun costo. Mostra/Nascondi contenuto.
10 We trace the profile of the similar European Union and Italian laws, as well as the first traits of a possible future international law concerning the Internet. The chapter is ended by a description of the U.S. debate over copyright. The fifth chapter, which marks the beginning of the second part of this thesis, presents a marketing plan concerning the release of The Matrix Reloaded, written five months prior the first public showing of the movie and corroborated by industry analysis and sales analysis, as well as by several observations regarding the correct market positioning strategy. Some considerations about the movie distribution chain close the chapter. The actual promotional campaign by Warner Bros. is the subject of the sixth chapter. Within it, it can be found a detailed analysis of the electronic and non-electronic media usage by the major and a review of all merchandising and licensing agreements signed by Warner Bros. for the U.S. soil. The chapter is concluded by the exposition of the strategy concerning product placement contracts. The seventh chapter is completely devoted to the box-office results of The Matrix Reloaded, both domestic and international. With the aid of some charts and tables we break up the gross data and we present some features that make this movie a paradigmatic example of an Hollywood blockbuster. The eighth and the ninth chapters, strictly interrelated between them, cast a light over the tension between the improvement of cinema and an eventual substitution of it with a new technology of audiovisual presentation, as well as the change's influence over film usage. After a quick exposition of the experiments under way, our work is ended by a look to the future of the film industry and of cinema considered as a social institution.
Anteprima della Tesi di Giuseppe Melles Di Fazio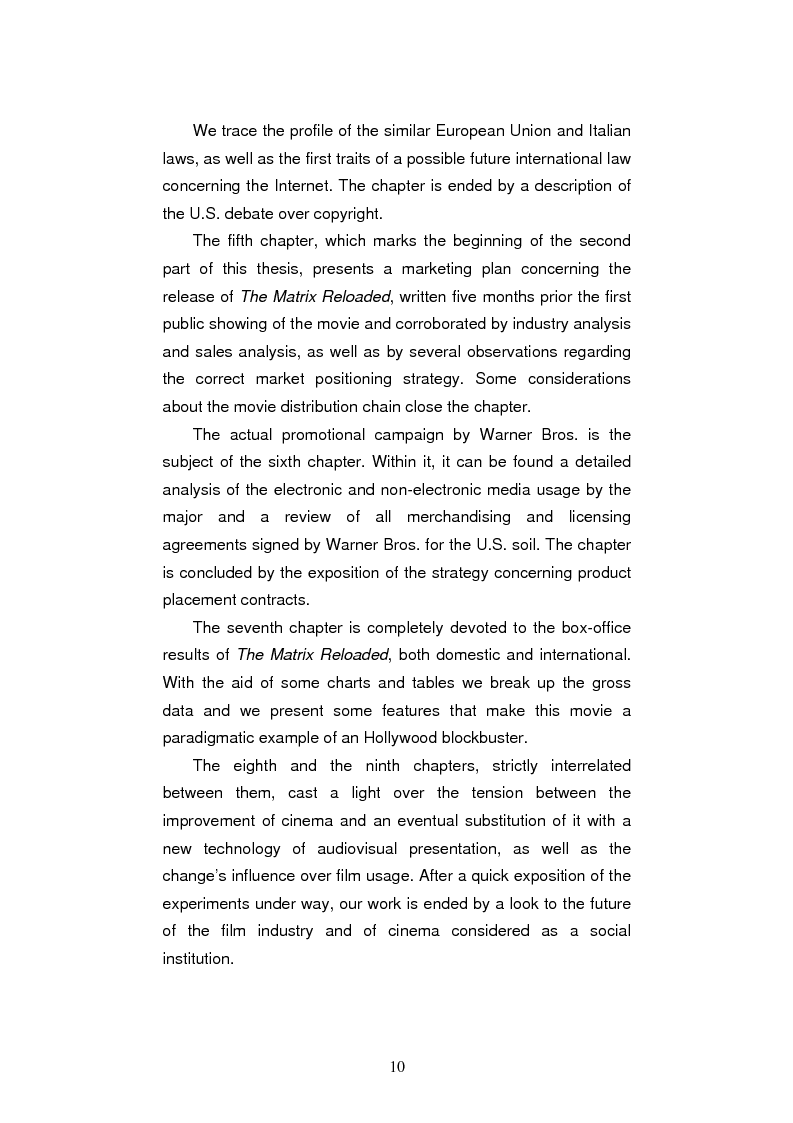 Tesi di Laurea
Facoltà: Lettere e Filosofia
Autore: Giuseppe Melles Di Fazio Contatta »
Composta da 543 pagine.
Questa tesi ha raggiunto 5305 click dal 18/05/2004.
Consultata integralmente 12 volte.
Disponibile in PDF, la consultazione è esclusivamente in formato digitale.