Un modello e un sistema per l'analisi e la segmentazione del movimento umano. Uno studio sulla danza
L'anteprima di questa tesi è scaricabile in PDF gratuitamente.
Per scaricare il file PDF è necessario essere iscritto a Tesionline.
L'iscrizione non comporta alcun costo. Mostra/Nascondi contenuto.
Summary 1 Summary This thesis faces the problem of segmentation of human movement. In particular, it focuses on investigating how observers identify "phrases" in dance performances, and on the development of computer algorithms to emulate such behaviour (Camurri et al., 2004) based on a single videocamera signal. As a preliminary step, some work has been carried out to segment movements in motion and pause phases, using algorithms based on the Quantity of Motion (QoM) (Trocca, 2001, Mazzarino, 2002, Volpe, 2003). An experiment with subjects performing the same segmentation task was carried out to validate this algorithm, whose results are described in chapter 8. Some research about posture was also carried out to evaluate if and how it can influence the execution of movements, and how it determines their segmentation. In this scenario, my work consisted in finding further algorithms for performing segmentation. The study can be summarized in three steps: (i) individuating motion parameters that can be suitable for the segmentation task, (ii) developing algorithms for segmentation based on the identified parameters, (iii) validating the algorithms on a reference archive of movements with a particular focus on dance performances. The first motion parameter I took into account has been Equilibrium, both static and dynamic, using different sources, from biomechanics to choreography. Static equilibrium techniques resulted particularly useful in identifying periodic movements involving feet (like walking, running, etc.) into strokes. Dynamic equilibrium (in our study, the measure of equilibrium using dynamic cues in different time windows) has been investigated to evaluate equilibrium states reached from decelerating preceding phases. The study in this direction only gave preliminary results, as discussed in chapter 6.4. Several motion parameters have been considered, all extracted from a single (fixed) videocamera signal of one dancer on stage, such as PAD (percentage of accelerations and decelerations), zero-crossings of accelerations and decelerations (Zhao, 2001; Bindigavanale, 2001), zero crossings of the components of velocity of the "guiding limb" in the dance. This feature, under certain hypotheses (see chapter 3), can be used for segmentation, using the changes of direction followed by the dancer. The developed algorithms have been implemented as software modules for the EyesWeb open architecture (coded in Visual C++ language under Microsoft Windows operating system). The validation of the algorithms has been conducted using videos recorded in our Laboratory (dancer and choreographer Giovanni Di Cicco), and from an archive from ZKM (Karlsruhe) on Forsythe's ballet fragments on contemporary dance.
Anteprima della Tesi di Elisa Rocca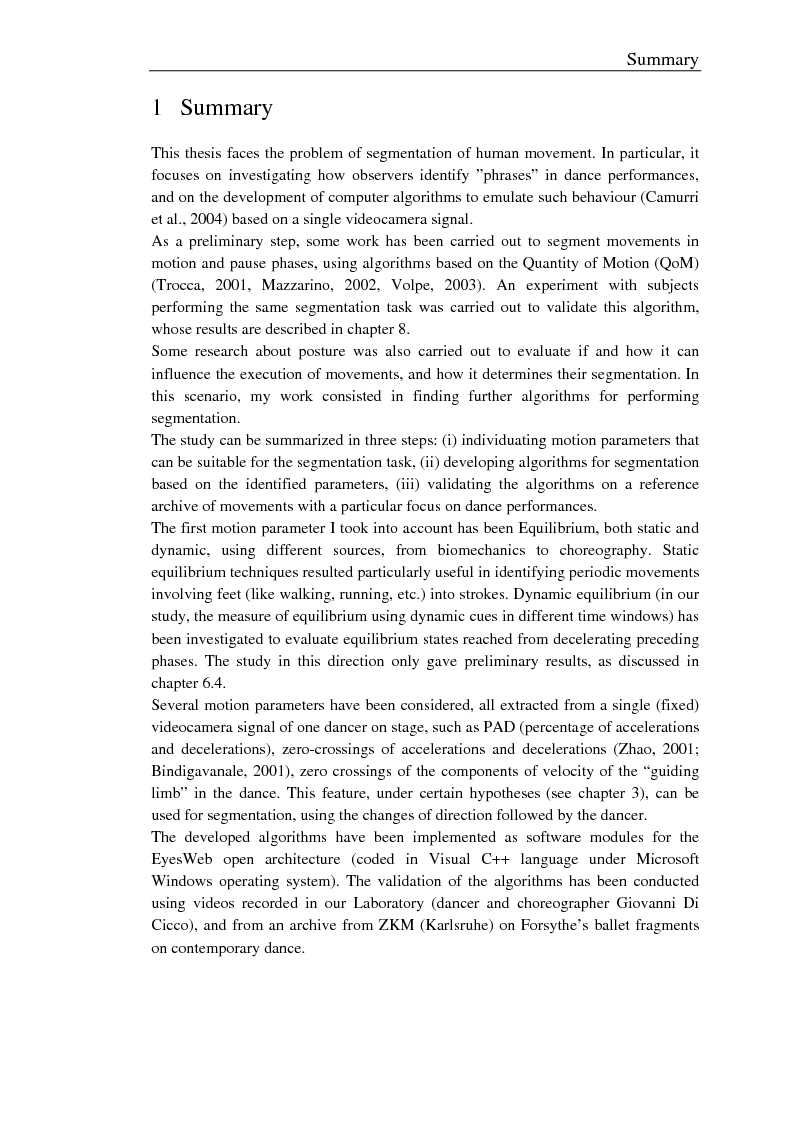 Tesi di Laurea
Facoltà: Ingegneria
Autore: Elisa Rocca Contatta »
Composta da 138 pagine.
Questa tesi ha raggiunto 3979 click dal 19/05/2004.
Disponibile in PDF, la consultazione è esclusivamente in formato digitale.