Comparison of the business planning problems at different innovation stages of the Utterback and Abernathy's model
L'anteprima di questa tesi è scaricabile in PDF gratuitamente.
Per scaricare il file PDF è necessario essere iscritto a Tesionline.
L'iscrizione non comporta alcun costo. Mostra/Nascondi contenuto.
Master in e-Business and ICT strategic management September 20, 2003 Giancarlo Vercellino Page 6 of 49 1.3. Stakeholders of the GAP program High Institute Mario Boella (ISMB) was funded in July 2000 by San Paolo Foundation and Turin Polytechnic. In April 2001 Cerved, Motorola, StMicroelectronics and TiLab became partners of the Institute. ISMB mission is addressed to the research and development of Information and Communication Technologies in Piedmont providing also high level education and training in Business Intelligence, Wireless Technologies and e-Security. ISMB is aimed at the achievement of an higher level of synergy between Turin Polytechnic and the Industrial Stakeholders. Established in 1935, the Anderson School of Management at UCLA provides management education to more than 1,300 students enrolled in full-time, part-time and executive MBA programs and doctoral programs. The Anderson School and many of its academic programs and departments are ranked among the best in the world for small-medium enterprises. The Anderson School utilizes computing and communication technologies to enhance the learning experience in the management education. The Incubator of Innovative Companies of Polytechnic of Turin (I3P) is a non- profit organization funded in July 1999 by Turin Polytechnic, the Province, the Chamber of Commerce and Finpiemonte S.p.A. to foster the development of innovative "knowledge-based" companies profiting from the proximity of the Polytechnic. I3P offers a wide range of consulting services to help the incubation of new high-tech companies taking care of many different aspects of a new start-up business, from the administration issues through promotion to financing.
Anteprima della Tesi di Giancarlo Vercellino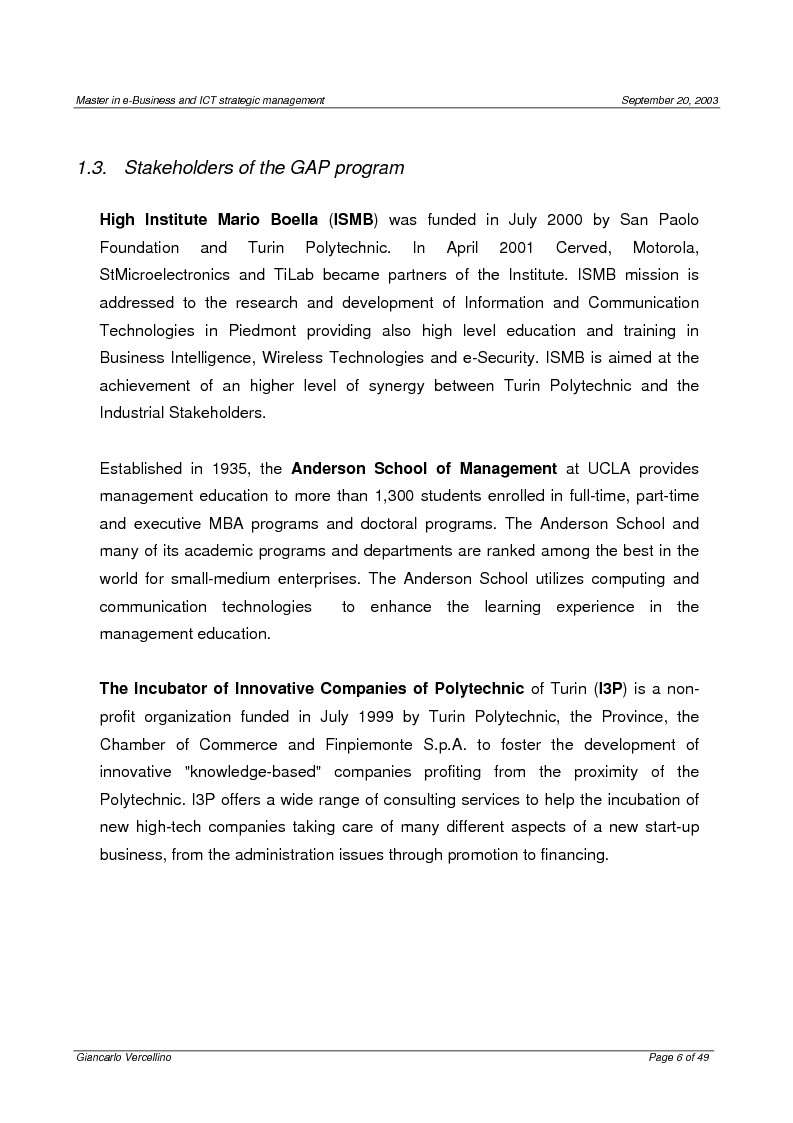 Tesi di Master
Autore: Giancarlo Vercellino Contatta »
Composta da 49 pagine.
Questa tesi ha raggiunto 576 click dal 04/06/2004.
Disponibile in PDF, la consultazione è esclusivamente in formato digitale.