Comparison of the business planning problems at different innovation stages of the Utterback and Abernathy's model
L'anteprima di questa tesi è scaricabile in PDF gratuitamente.
Per scaricare il file PDF è necessario essere iscritto a Tesionline.
L'iscrizione non comporta alcun costo. Mostra/Nascondi contenuto.
Master in e-Business and ICT strategic management September 20, 2003 Giancarlo Vercellino Page 7 of 49 2. FRAMEWORK OF ANALYSIS 2.1. Business development: from the start-up to the mature business The general progression of the start-up and development of growing companies into established firms can be structured into three stages. The end of each stage allows venture capitalists to gauge the status of their investment. Stage I: Business idea generation, that means the solution to an actual business problem. The idea itself has no intrinsic economic value. It acquires economic value only after it has been successfully transformed into a concept with a plan and implemented. At this stage, all the activities regarding the building of a functioning prototype and the organization of the core team are self-financed or based on state research subsidies, contributions from foundations or other public grants. Investors refer to this stage as "seed money," as your idea is still a seedling, not yet exposed to competition and to business evaluation. Stage II: Business planning process, that is aimed at the development of a business plan that describe all the activities needed to implement production, marketing, distribution and finance, that anticipates a variety of possible scenarios evaluating all the risk involved in the venture. This stage is usually assisted by different types of experts and specialists reached by the team through the mean of incubators and business competitions. This stage concludes successfully if an investor expresses the willingness to finance the venture. Stage III: Start-up and growth, that is the implementation of the business plan. The development of the business is closely watched over by the venture capitalist to take advantage of the benefits arising from different exit options. The pull-out of initial investors is a completely normal step in the development of a start-up, for if everything has gone well, the risky venture will have gradually become a stable enterprise.
Anteprima della Tesi di Giancarlo Vercellino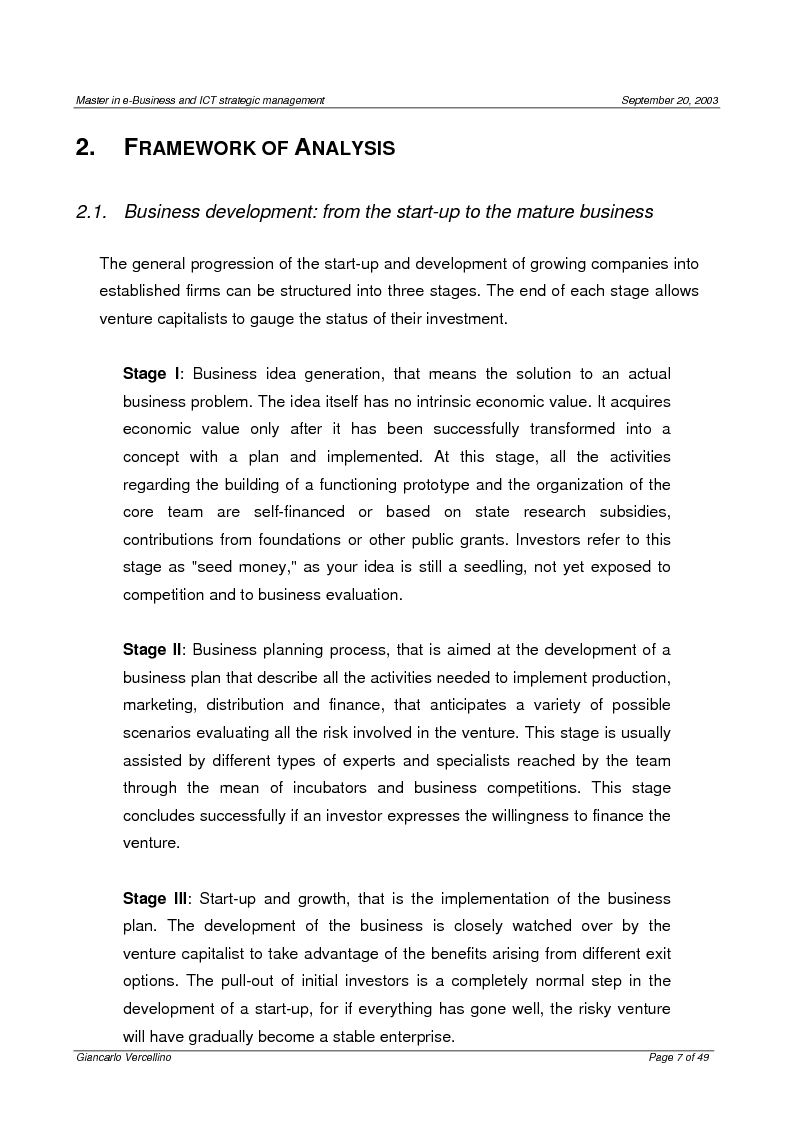 Tesi di Master
Autore: Giancarlo Vercellino Contatta »
Composta da 49 pagine.
Questa tesi ha raggiunto 576 click dal 04/06/2004.
Disponibile in PDF, la consultazione è esclusivamente in formato digitale.