Book Cover design and National Culture
L'anteprima di questa tesi è scaricabile in PDF gratuitamente.
Per scaricare il file PDF è necessario essere iscritto a Tesionline.
L'iscrizione non comporta alcun costo. Mostra/Nascondi contenuto.
The literature on the subject is quite poor.The issue of European versus American cover design is men- tioned in a few volumes and articles about book design in general, but is never thoroughly analysed and no systematic study on it has been published to date. The diversity in the approach to book cover design across the Atlantic was first noticed in the 'forties, when the British publisher Penguin founded an as- sociate company in New York. In  William. E.Williams, in a volume celebrating the twentieth anniversary of Penguin Books, disdained American books as a "commodity with garish and sensational eye–appeal" 1 clashing with the traditional Penguin look, whose characteristic was the "avoidance of pic- torial covers" 2 . More recently, the debate was revived by John McConnell, in a presentation on book design given to the Royal Society of Arts in  and published in the volume Pentagram The Compendium in  3 . McConnell clearly defines the differences between the American and European styles of design. 13 1 Williams,William Emrys, The Penguin Story,Penguin Books Ltd, Harmondsworth ,p. 2 Ibid. 3 McConnell, John, "Cover to cover", Pentagram The Compendium, Phaidon Press Ltd., London ,pp. ‒  4 McConnell, John, op. cit.,p. In his view, American publishers and designers ap- proach each cover as a unique item, so that one book bears no resemblance to another from the same im- print. Despite the four decades that have passed since W.E.Williams' comments, the tone of McConnell's article has the same polemical shade. In fact, he de- scribes the American style as the 'Big Book Look', whose characteristic are 'more gold, more emboss- ing, more standout' 4 . McConnell declares being strongly in favour of the continental approach, in which the style of the publisher is clear but each book can be recognised as an individual within the range. However, he criticises the Italian and French editions for the excessive prominence of the publisher's cor- porate identity. The British approach is defined as 'somewhere between' the continental and the American ones. McConnell explains his support for the European attitude, defining the average book- buyer as a highly insecure person, for whom a strong publisher identity is a guarantee of the quality of a book. Also, in his view this approach is valuable as a marketing tool: establishing a strong house style cre-  Review of Literature
Anteprima della Tesi di Gea Colombo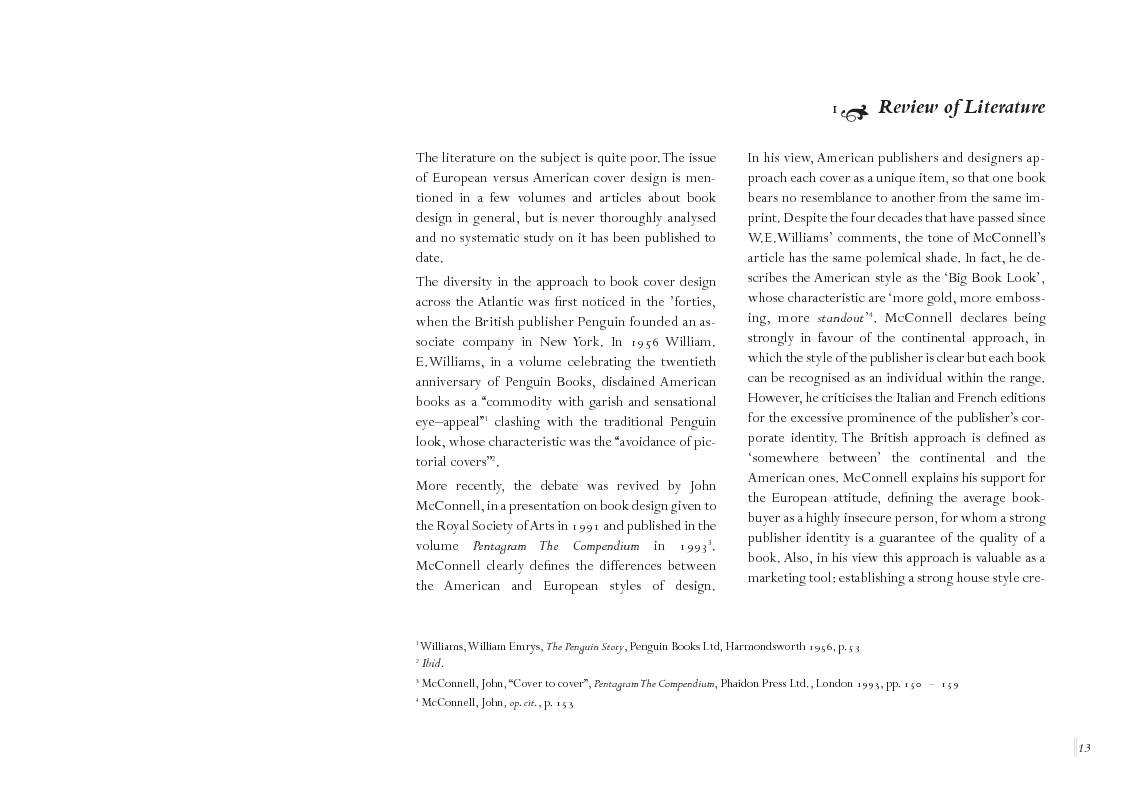 Tesi di Laurea
Facoltà: Design e Arti
Autore: Gea Colombo Contatta »
Composta da 73 pagine.
Questa tesi ha raggiunto 1986 click dal 04/06/2004.
Consultata integralmente 3 volte.
Disponibile in PDF, la consultazione è esclusivamente in formato digitale.