Book Cover design and National Culture
L'anteprima di questa tesi è scaricabile in PDF gratuitamente.
Per scaricare il file PDF è necessario essere iscritto a Tesionline.
L'iscrizione non comporta alcun costo. Mostra/Nascondi contenuto.
ates a cumulative effect of standout in bookshops, where a range of coherently designed titles can be im- mediately recognised among the throng of all–different books crowding the shelves. David Redhead's article "The –second Sell" 5 , pub- lished in , contrasts McConnell's view on design with another designer's philosophy, Peter Dyer's.The journalist summarises the main points of McConnell's analysis and introduces Dyer as a repre- sentative of British design closer to the American than the continental style. Interviewed by Redhead, the designer affirms that "A house style can kill a picture", stressing that people nowadays buy on impulse, not on imprint. Redhead also affirms that most art direc- tors in the UK have opted for Dyer's formula rather than McConnell's, creating a shift in British design away from a European area of influence and closer to an American one. American and Italian publishing are compared in Steven Heller's article "Book cover design: less is more, more is less" 6 , published in the magazine Print in .The journalist again defines the American ap- 14 5 Redhead, David, "The –Second Sell", Eye vol. n.,Autumn ,pp. ‒  6 Heller, Steven, "Book Cover Design: less is more, more is less", Print vol. n.,November–December ,pp. ‒  7 Heller, Steven, op. cit. ,p. 8 Ibid. proach as the 'bestseller look', characterised by an "overwhelming treatment of the title and author's name (sometimes embossed with metallic inks[...]) and stark symbolic images (often sexual, whether or not the content demands it)" 7 .The Italian design, in- stead, is described as inspired by the "humanist tradition", with an emphasis on "flawless type" sometimes accompanied by an "unobtrusive illus- tration" 8 .Heller considers the two countries' approach to the design of highbrow and lowbrow books as the main difference between them.Taking examples from Italian niche publishers and American mass market ones, the journalist affirms that in some cases American popular editions come close to resembling upmarket publications, while in Italy there's no such a common ground, as if "it is sacrilege for the low to bear any resemblance to the high cul- ture" 9 .As the books he describes to make his case are published by imprints targeted at completely different markets, I think Heller's analysis is lacking a real basis and is, in the end, unsustainable. Randall Rothenberg's article "Cover Stories" 10 , pub-
Anteprima della Tesi di Gea Colombo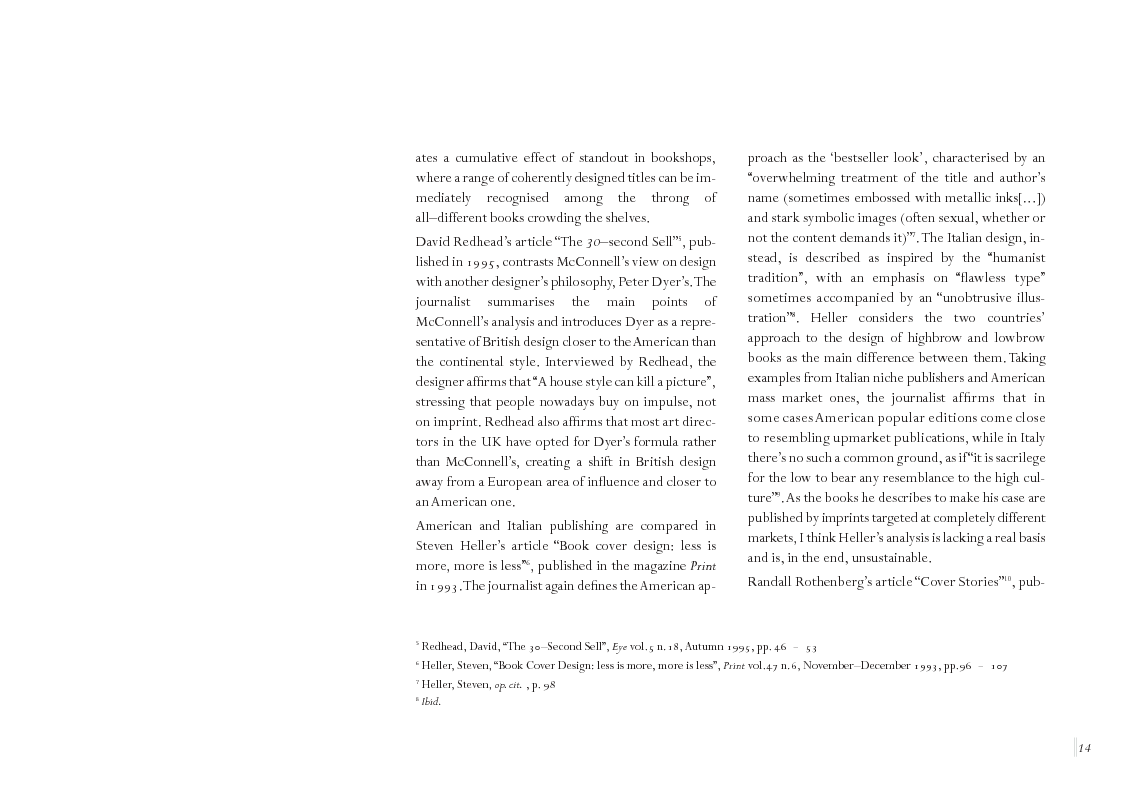 Tesi di Laurea
Facoltà: Design e Arti
Autore: Gea Colombo Contatta »
Composta da 73 pagine.
Questa tesi ha raggiunto 1986 click dal 04/06/2004.
Consultata integralmente 3 volte.
Disponibile in PDF, la consultazione è esclusivamente in formato digitale.