Book Cover design and National Culture
L'anteprima di questa tesi è scaricabile in PDF gratuitamente.
Per scaricare il file PDF è necessario essere iscritto a Tesionline.
L'iscrizione non comporta alcun costo. Mostra/Nascondi contenuto.
lished in , analyses the American scene and tries to define the marketing criteria influencing book cover design in the States.Rothenberg remarks that the American publishing industry seems charac- terised by two different tendencies, one towards standardisation, the other towards differentiation. The first trend involves the narrow range of authors and titles on the market: because of high profit pres- sures, bookshops – and especially the increasingly numerous chains of book–superstores – try to reduce their risks by focusing on a limited set of so–called 'bestsellers'. Publishers also tend to standardise their portfolio of authors for these reasons. The other tendency concerns the design of books.As any type of trade, publishing has to be marketing–ori- ented in order to provide the volume of sales required, but can't generally take advantage of the traditional tools of marketing. In fact, research is almost impossi- ble because of the unique character of each book and target analysis is often too expensive, so that the only factor publishing houses can control and rely on is the way their products look.Therefore, Rothenberg 15 9 Ibid. 10 Rothenberg, Randall, "Cover Stories", Metropolis vol. n., June ,p.69 ff. 11 Powers,Alan, Front Cover: great book jacket and cover design,Mitchell Beazley, London  considers wide variety in the design of a publisher's production arising out of the same reasons as the standardising policy in the selection of book. The shelves of bookstores, he explains, are so cluttered that any diversifying element in the design of a book is important to make it emerge from the confused background. In my opinion, the flaw in Rothenberg's analysis is that the economic factors he refers to are not peculiar to the American market only and could be applied to any other location. I think this weak- ens his conclusions relating variety in American cover design merely to the publishers' risk–aversion and marketing policies. The most recent contribution to the debate is in- cluded in the volume Front Cover: great book jacket and cover design 11 by Alan Powers, published in .In the historical introduction, the author mentions the differences between the European and American vi- sions of book design. Powers remarks that the development of advertising and marketing tech- niques in the United States during the s influenced all areas of commerce,book publishing in-
Anteprima della Tesi di Gea Colombo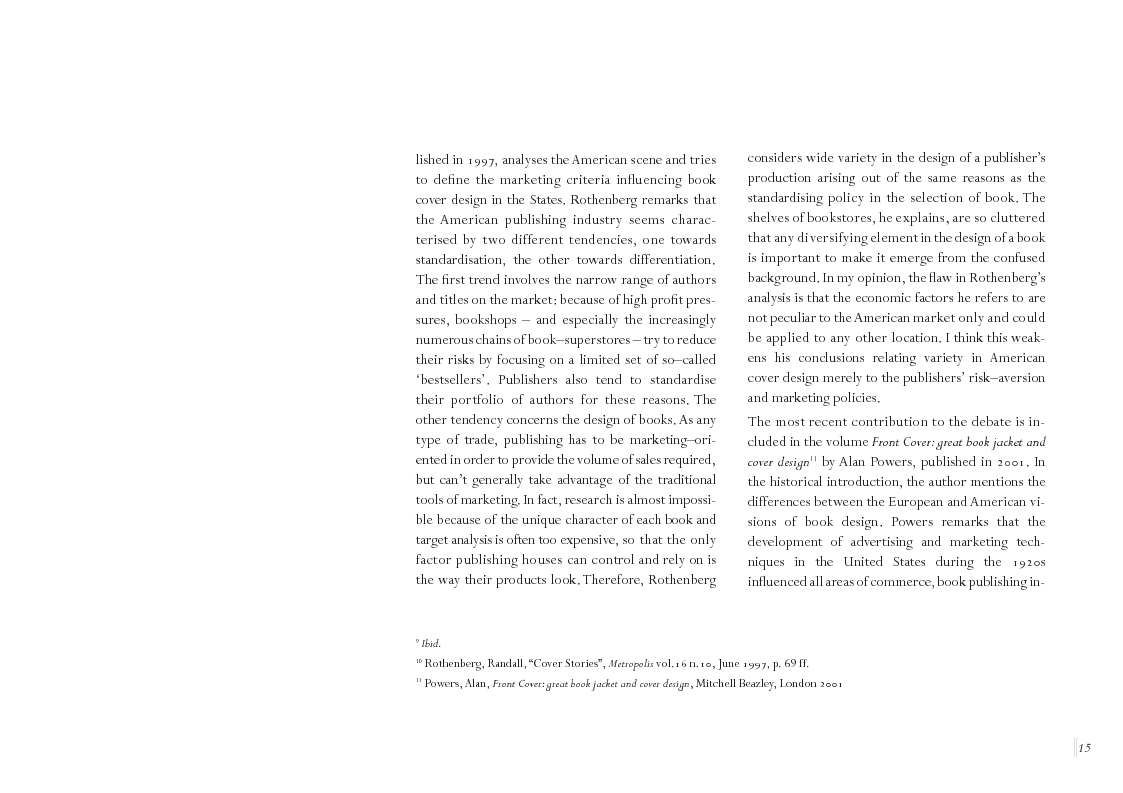 Tesi di Laurea
Facoltà: Design e Arti
Autore: Gea Colombo Contatta »
Composta da 73 pagine.
Questa tesi ha raggiunto 1986 click dal 04/06/2004.
Consultata integralmente 3 volte.
Disponibile in PDF, la consultazione è esclusivamente in formato digitale.