Quality In Process Control Charts
L'anteprima di questa tesi è scaricabile in PDF gratuitamente.
Per scaricare il file PDF è necessario essere iscritto a Tesionline.
L'iscrizione non comporta alcun costo. Mostra/Nascondi contenuto.
5 But improvement of quality is not so easy as it may appear: first of all, this aim requires all company's functions to be involved in achieving it; second, it requires management to be aware of the value of quality and of its fundamental role for company's economics; but, above all, quality improvement and problem prevention need competent people and appropriate methods for achieving it: what companies really need is developing the "culture of quality". These aspects are so important that it is worth devoting them the right space: for this reason, we will analyze them in detail on next sections. 1.4 Quality: cost or investment? Once reached the awareness that quality improvement implies less defects, less reworks, less waste and so on, how can we question the economical role played by quality in companies? As rightly observed by Deming, "the cost of rework is only part of the cost of poor quality. Poor quality begets poor quality and lowers productivity all along the line, and some of the faulty product goes out the door, into the hands of the customer. An unhappy customer tells his friends. The multiplying effect of an unhappy customer is one of those unknown and unknownable figures, and likewise for the multiplying effect of a happy customer, who brings in business." [Deming, 2000] Poor quality (or disquality, as named by Galetto) does cost: defects, waste, reworks, mistakes are not free and companies must pay for them, since someone must correct them: would not it be better to avoid them, to understand in advance where matters lie concealed, to prevent them? This question is not a rhetorical one. Companies need quality to stay in business, but quality is a matter of culture: anyone must learn how to achieve it, must realize that commitment on quality is not a waste of time and money, and above all, must understand that quality, when it is real, is no more a cost than an investment. Actually, saying that quality is free, is not completely true: people who works on quality must be aware of the heavy
Anteprima della Tesi di Laura Perri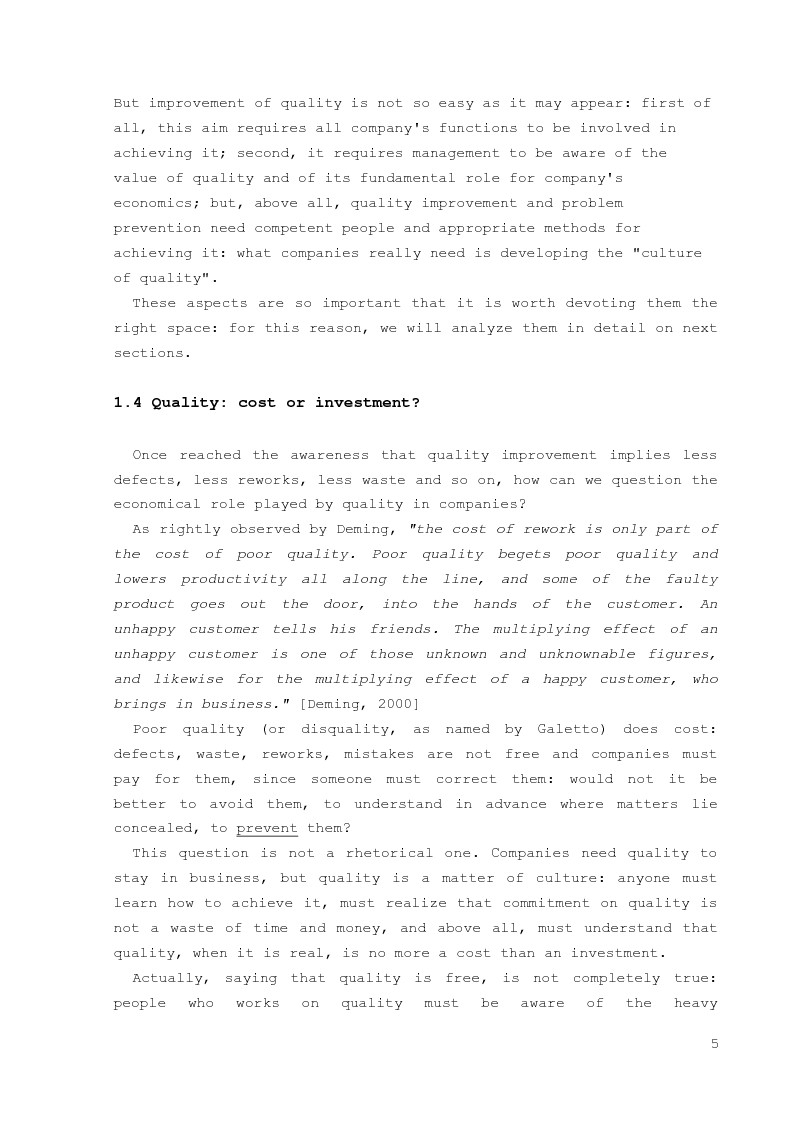 Tesi di Laurea
Facoltà: Ingegneria
Autore: Laura Perri Contatta »
Composta da 268 pagine.
Questa tesi ha raggiunto 1496 click dal 03/01/2005.
Consultata integralmente 3 volte.
Disponibile in PDF, la consultazione è esclusivamente in formato digitale.