Is the Bank of England Inflation Targeting the way to reform the ECB monetary policy?
L'anteprima di questa tesi è scaricabile in PDF gratuitamente.
Per scaricare il file PDF è necessario essere iscritto a Tesionline.
L'iscrizione non comporta alcun costo. Mostra/Nascondi contenuto.
11 Box 1:The Eurosystem's mandate: Key excerpts from the Treaty Article 105 (1) The primary objective of the ESCB shall be to maintain price stability. Without prejudice to the objective of price stability, the ESCB shall support the general economic policies in the Community with a view to contributing to the objectives of the Community as laid down in Article 2. Article 2 The Community shall have as its task … to promote throughout the Community a harmonious and balanced development of economic activities, sustainable and non- inflationary growth respecting the environment, a high degree of convergence of economic performance, a high level of employment and of social protection, the raising of the standard of living and quality of life, and economic and social cohesion and solidarity among Member States. Article 3a For the purposes set out in Article 2, the activities of the Member States and the Community shall include …the definition and conduct of a single monetary policy and exchange-rate policy the primary objective of both of which shall be to maintain price stability and, without prejudice to this objective, to support the general economic policies in the Community. Source: ECB monthly bulletin, January 1999 Although it clearly establishes the maintenance of price stability as the primary objective of the ECB, the Treaty does not give a precise definition of what is meant by price stability. In 1998, in order to identify this objective more precisely, the Governing Council of the ECB announced the following quantitative definition as a key element of its monetary strategy: "Price stability shall be defined as a year- on-year increase in the Harmonised Index of Consumer Prices (HICP) for the euro area of below 2%". 17 17 ECB press release ,"A stability-oriented monetary policy for the ESCB", 13th October 1998.
Anteprima della Tesi di Roberta Tresoldi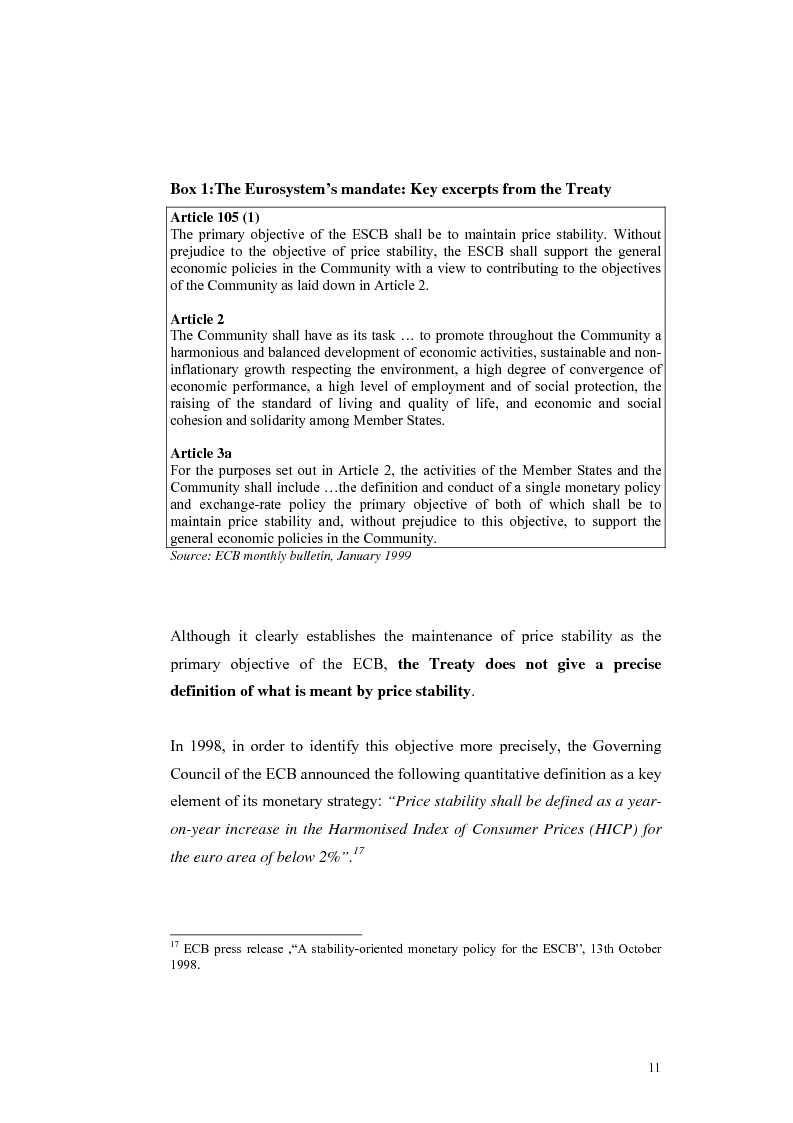 Tesi di Laurea
Facoltà: Scienze Politiche
Autore: Roberta Tresoldi Contatta »
Composta da 136 pagine.
Questa tesi ha raggiunto 1161 click dal 08/10/2004.
Consultata integralmente 3 volte.
Disponibile in PDF, la consultazione è esclusivamente in formato digitale.