Solar Bed Warmer Using Polyethylene Glycol As Phase Changing Material (PCM)
A bed warmer is a device which is used to provide sufficient heating effect to the bed in the winter season so that comfort feeling during sleeping can be achieved. Two type of bed warmer are available, one is electrical bed warmer and the other is water heated bed warmer. In case of electrical bed warmer an electrical supply is used to produce the required warming effect and in case of water heated bed warmer circulating water is used for the same purpose.
In our design we are utilizing natural properties of the substance to produce the same warming effect. The concept is based upon the principle that the latent heat of the substance can be used to produce the heating effect. During the phase change the temperature remains constant and this constant temperature start giving constant heat until whole of the matter change into the another phase. This long period of phase change when temperature remains constant, can be utilized to keep the bed warm.
Some advantageous of this type of bed warmer are written bellow:
1. No continuous supply of external source is required, such as in case of electric bed warmer electricity is required.
2. In case of electric bed warmer a magnetic field is generated due to the passage of electric flow which produces harmful effect to the human nervous system. But in this case no such effect is produced.
3. This process can be used as a renewable source of energy by using solar energy for its working.
4. Overall cost of the system is less as compare to the other conventional systems.
5. The construction and working of the product is simpler and more durable

CONSULTA INTEGRALMENTE QUESTA TESI
La consultazione è esclusivamente in formato digitale .PDF
---
Acquista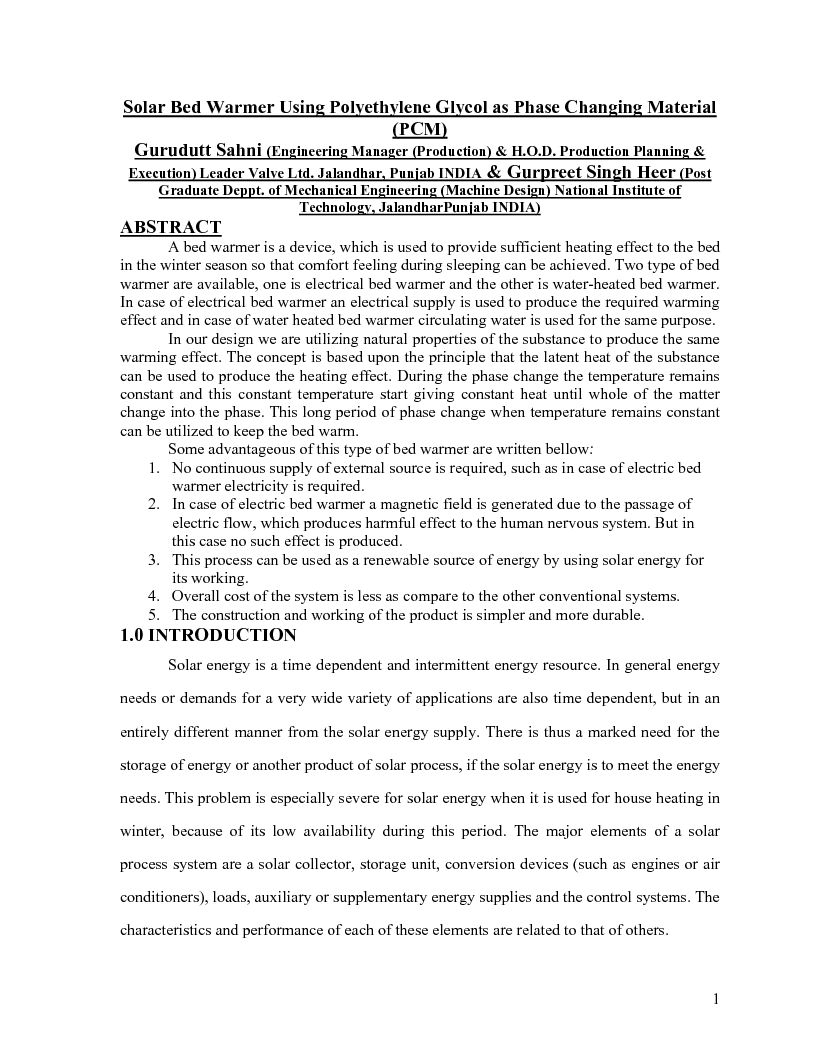 Mostra/Nascondi contenuto.
Solar Bed Warmer Using Polyethylene Glycol as Phase Changing Material (PCM) Gurudutt Sahni (Engineering Manager (Production) & H.O.D. Production Planning & Execution) Leader Valve Ltd. Jalandhar, Punjab INDIA & Gurpreet Singh Heer (Post Graduate Deppt. of Mechanical Engineering (Machine Design) National Institute of Technology, JalandharPunjab INDIA) ABSTRACT A bed warmer is a device, which is used to provide sufficient heating effect to the bed in the winter season so that comfort feeling during sleeping can be achieved. Two type of bed warmer are available, one is electrical bed warmer and the other is water-heated bed warmer. In case of electrical bed warmer an electrical supply is used to produce the required warming effect and in case of water heated bed warmer circulating water is used for the same purpose. In our design we are utilizing natural properties of the substance to produce the same warming effect. The concept is based upon the principle that the latent heat of the substance can be used to produce the heating effect. During the phase change the temperature remains constant and this constant temperature start giving constant heat until whole of the matter change into the phase. This long period of phase change when temperature remains constant can be utilized to keep the bed warm. Some advantageous of this type of bed warmer are written bellow: 1. No continuous supply of external source is required, such as in case of electric bed warmer electricity is required. 2. In case of electric bed warmer a magnetic field is generated due to the passage of electric flow, which produces harmful effect to the human nervous system. But in this case no such effect is produced. 3. This process can be used as a renewable source of energy by using solar energy for its working. 4. Overall cost of the system is less as compare to the other conventional systems. 5. The construction and working of the product is simpler and more durable. 1.0 INTRODUCTION Solar energy is a time dependent and intermittent energy resource. In general energy needs or demands for a very wide variety of applications are also time dependent, but in an entirely different manner from the solar energy supply. There is thus a marked need for the storage of energy or another product of solar process, if the solar energy is to meet the energy needs. This problem is especially severe for solar energy when it is used for house heating in winter, because of its low availability during this period. The major elements of a solar process system are a solar collector, storage unit, conversion devices (such as engines or air conditioners), loads, auxiliary or supplementary energy supplies and the control systems. The characteristics and performance of each of these elements are related to that of others. 1

Sitografia automatica
Non sei sicuro di avere citato tutte le fonti?
Evita il plagio! Grazie all'elenco dei link rilevati puoi controllare di aver fatto un buon lavoro
CONSULTA INTEGRALMENTE QUESTA TESI
La consultazione è esclusivamente in formato digitale .PDF
---
Acquista
DUBBI?

Contattaci
Contatta la redazione a
[email protected]
Ci trovi su Skype (redazione_tesi)
dalle 9:00 alle 13:00
Parole chiave
bed warmer
phase changing material (pcm)
polyethylene glycol
solar
solar energised body warmer
solar radiation
---
Non hai trovato quello che cercavi?
---
Abbiamo più di 45.000 Tesi di Laurea: cerca nel nostro database
Oppure consulta la sezione dedicata ad appunti universitari selezionati e pubblicati dalla nostra redazione
Ottimizza la tua ricerca:
individua con precisione le parole chiave specifiche della tua ricerca
elimina i termini non significativi (aggettivi, articoli, avverbi...)
se non hai risultati amplia la ricerca con termini via via più generici (ad esempio da "anziano oncologico" a "paziente oncologico")
utilizza la ricerca avanzata
utilizza gli operatori booleani (and, or, "")
Idee per la tesi?
Scopri le migliori tesi scelte da noi sugli argomenti recenti
---
Come si scrive una tesi di laurea?
---
A quale cattedra chiedere la tesi? Quale sarà il docente più disponibile? Quale l'argomento più interessante per me? ...e quale quello più interessante per il mondo del lavoro?
Scarica gratuitamente la nostra guida "Come si scrive una tesi di laurea" e iscriviti alla newsletter per ricevere consigli e materiale utile.
---
La tesi l'ho già scritta,
ora cosa ne faccio?
---
La tua tesi ti ha aiutato ad ottenere quel sudato titolo di studio, ma può darti molto di più: ti differenzia dai tuoi colleghi universitari, mostra i tuoi interessi ed è un lavoro di ricerca unico, che può essere utile anche ad altri.
Il nostro consiglio è di non sprecare tutto questo lavoro:
È ora di pubblicare la tesi