The National Operational Programme "Networks and Mobility" 2007-2013: Organization, Instruments and Targets
This work intends to carry out an analysis of the workings – from the viewpoint of the tools being used and the targets being achieved – of the National Operational Programme "Networks and Mobility". This was approved for Italy with Decision C(2007) 6318 of 7 December 2007 by the European Commission under the Convergence objective for the 2007-2013 period of the European Cohesion Policy. The Operational Programme (OP) "Networks and Mobility" is actually a "sectoral" OP since it concerns the development and enhancement of a specific sector of Southern Italian socio-economic context, i.e. the infrastructure and transport framework.
As a matter of fact, the OP applies to the four Southern Italian regions eligible for the Convergence objective under the Cohesion Policy 2007-2013, i.e. Apulia, Calabria, Campania and Sicily. The Italian National Strategic Reference Framework (NSRF), which represents the document defining the strategy chosen by the Member State through a list of operational programmes to be implemented, sets out the OP's goal.
The OP undertakes to convert the current disadvantage of Southern Italian regions included into the Convergence objective, characterized by their isolated geographic location and poor infrastructural connections at national and EU level, into a strategic advantage, by improving the accessibility to and from these regions, supporting Trans-European Networks' (TEN) links – particularly Corridor 1 (Berlin-Palermo) and Corridor 21 (Motorways of the Sea) – and managing logistic flows between EU and non-EU countries. In a nutshell, the global objective of the OP consists in contributing to the creation of a logistic platform acting as EU's bridgehead towards other continents such as Africa and Asia.
CONSULTA INTEGRALMENTE QUESTA TESI
La consultazione è esclusivamente in formato digitale .PDF
---
Acquista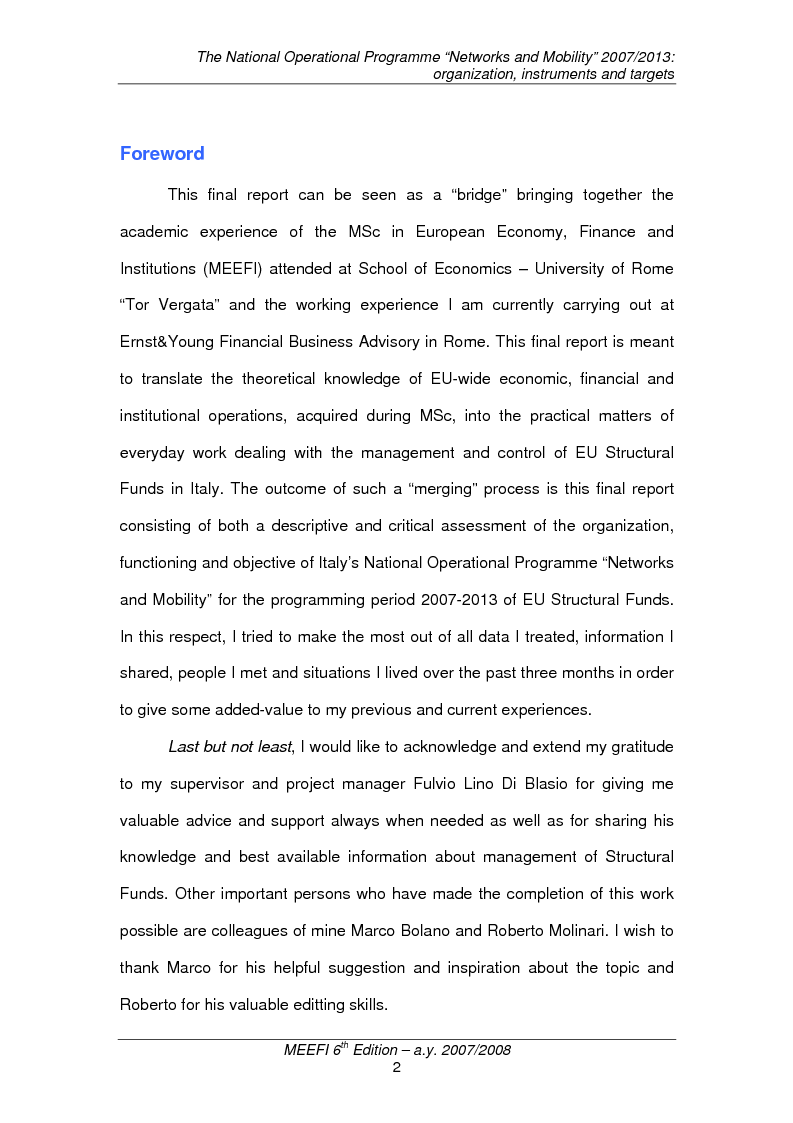 Mostra/Nascondi contenuto.
The National Operational Programme "Networks and Mobility" 2007/2013: organization, instruments and targets Foreword This final report can be seen as a "bridge" bringing together the academic experience of the MSc in European Economy, Finance and Institutions (MEEFI) attended at School of Economics – University of Rome "Tor Vergata" and the working experience I am currently carrying out at Ernst&Young Financial Business Advisory in Rome. This final report is meant to translate the theoretical knowledge of EU-wide economic, financial and institutional operations, acquired during MSc, into the practical matters of everyday work dealing with the management and control of EU Structural Funds in Italy. The outcome of such a "merging" process is this final report consisting of both a descriptive and critical assessment of the organization, functioning and objective of Italy's National Operational Programme "Networks and Mobility" for the programming period 2007-2013 of EU Structural Funds. In this respect, I tried to make the most out of all data I treated, information I shared, people I met and situations I lived over the past three months in order to give some added-value to my previous and current experiences. Last but not least, I would like to acknowledge and extend my gratitude to my supervisor and project manager Fulvio Lino Di Blasio for giving me valuable advice and support always when needed as well as for sharing his knowledge and best available information about management of Structural Funds. Other important persons who have made the completion of this work possible are colleagues of mine Marco Bolano and Roberto Molinari. I wish to thank Marco for his helpful suggestion and inspiration about the topic and Roberto for his valuable editting skills. MEEFI 6 th Edition – a.y. 2007/2008 2

Sitografia automatica
Non sei sicuro di avere citato tutte le fonti?
Evita il plagio! Grazie all'elenco dei link rilevati puoi controllare di aver fatto un buon lavoro
CONSULTA INTEGRALMENTE QUESTA TESI
La consultazione è esclusivamente in formato digitale .PDF
---
Acquista
DUBBI?

Contattaci
Contatta la redazione a
[email protected]
Ci trovi su Skype (redazione_tesi)
dalle 9:00 alle 13:00
Parole chiave
automatic decommitment
cohesion policy
european corridors
european regional development fund
infrastructure
management and control systems
managing authority
motorways of the sea
multimodality
n+2
operational programme
port
rail
regional policy
road
structural funds
---
Non hai trovato quello che cercavi?
---
Abbiamo più di 45.000 Tesi di Laurea: cerca nel nostro database
Oppure consulta la sezione dedicata ad appunti universitari selezionati e pubblicati dalla nostra redazione
Ottimizza la tua ricerca:
individua con precisione le parole chiave specifiche della tua ricerca
elimina i termini non significativi (aggettivi, articoli, avverbi...)
se non hai risultati amplia la ricerca con termini via via più generici (ad esempio da "anziano oncologico" a "paziente oncologico")
utilizza la ricerca avanzata
utilizza gli operatori booleani (and, or, "")
Idee per la tesi?
Scopri le migliori tesi scelte da noi sugli argomenti recenti
---
Come si scrive una tesi di laurea?
---
A quale cattedra chiedere la tesi? Quale sarà il docente più disponibile? Quale l'argomento più interessante per me? ...e quale quello più interessante per il mondo del lavoro?
Scarica gratuitamente la nostra guida "Come si scrive una tesi di laurea" e iscriviti alla newsletter per ricevere consigli e materiale utile.
---
La tesi l'ho già scritta,
ora cosa ne faccio?
---
La tua tesi ti ha aiutato ad ottenere quel sudato titolo di studio, ma può darti molto di più: ti differenzia dai tuoi colleghi universitari, mostra i tuoi interessi ed è un lavoro di ricerca unico, che può essere utile anche ad altri.
Il nostro consiglio è di non sprecare tutto questo lavoro:
È ora di pubblicare la tesi