How the Learning of a Second Language Affects the First Language of an Individual: The Italian of Monolingual and Multilingual Speakers
L'anteprima di questa tesi è scaricabile in PDF gratuitamente.
Per scaricare il file PDF è necessario essere iscritto a Tesionline.
L'iscrizione non comporta alcun costo. Mostra/Nascondi contenuto.
2already in the late 60s (Kloss, 1966) 2 , is connected to the process of first language 'attrition'. We will start from this phenomenon to proceed then into the exploration of the effects of the L2 on the L1 when both languages are actively used and their influence is as much as possible reciprocal. For this situation to occur certain premises have to be considered. We will then analyze the linguistic features involved in the reverse exchange as they have been analyzed by previous studies, such as the heterogeneous research on the effects of the L2 on the L1 collected by Cook (2003). To prove that the learning of a second language affects the overall linguistic system of an individual, thus affecting also his L1, we will proceed to introducing a study. Testing Italian monolingual and multilingual speakers, whose L2 is English, we will demonstrate how their L1 diverges in several aspects. Whether directly or indirectly proceeding from the learning of a second language, these differences will strengthen the importance of further research on the influence of the second language on the first, a phenomenon that has still something to teach us. 2 KLOSS, H. German-American language maintenance efforts. In FISHMAN, J. A. Language loyalty in the United States, The Hague: Mouton, 206-252, 1966. For a complete bibliography on first language attrition see the website of the Division of Languages and Linguistics College of Arts and Sciences Brigham Young University, Hawaii. URL: http://w3.byuh.edu/academics/lang/attritionbiblio
Anteprima della Tesi di Silvia Pareti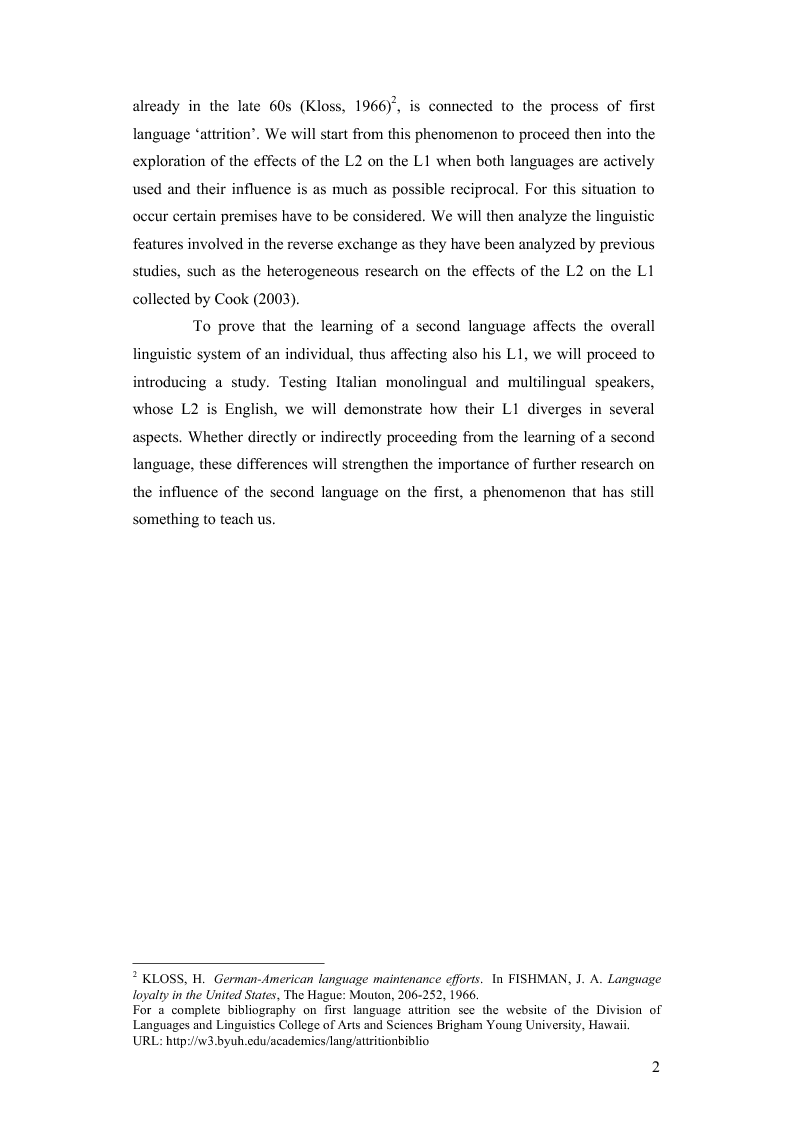 Laurea liv.I
Facoltà: Lettere e Filosofia
Autore: Silvia Pareti Contatta »
Composta da 63 pagine.
Questa tesi ha raggiunto 1228 click dal 07/02/2008.
Consultata integralmente 4 volte.
Disponibile in PDF, la consultazione è esclusivamente in formato digitale.