Analysis of European and Italian reception systems: a possible path towards the overcoming of the migrant crisis
Tesi di Laurea Magistrale
Facoltà: Scienze Politiche
Autore: Andrea Favaretto Contatta »
Composta da 108 pagine.
Questa tesi ha raggiunto 60 click dal 10/01/2017.
Disponibile in PDF, la consultazione è esclusivamente in formato digitale.
[EN] In the following chapters we are going to analyse the occurring migrant crisis, trying to understand how European countries, and Italy in particular, are facing the situation; to do so, we initially explore which are the main actors involved in the migrations management, and what are their role, and also which are the relevant treaties and policies relevant to the issue; then, we will narrow the focus on the Italian actors, analysing the Italian reception system in all its aspects. In the third chapter the focus will be on the actual journey of migrants, the difficulties they have to face, and the actors involved in their everyday lives. Finally, we will try to figure out which are the real and main challenges the reception system at all levels has to face, trying also, with the support of the opinions of many stakeholders, to find out what can be the possible way to change the system in order to reach an improvement in its functioning, but also and especially in its effectiveness in helping migrants to obtain a better life, both in Europe and in Italy.

[IT] Analisi dei sistemi di accoglienza Europeo e Italiano, dei loro limiti e delle loro lacune, e ricerca di possibili azioni da intraprendere al fine di superare quella che viene chiamata crisi dei migranti.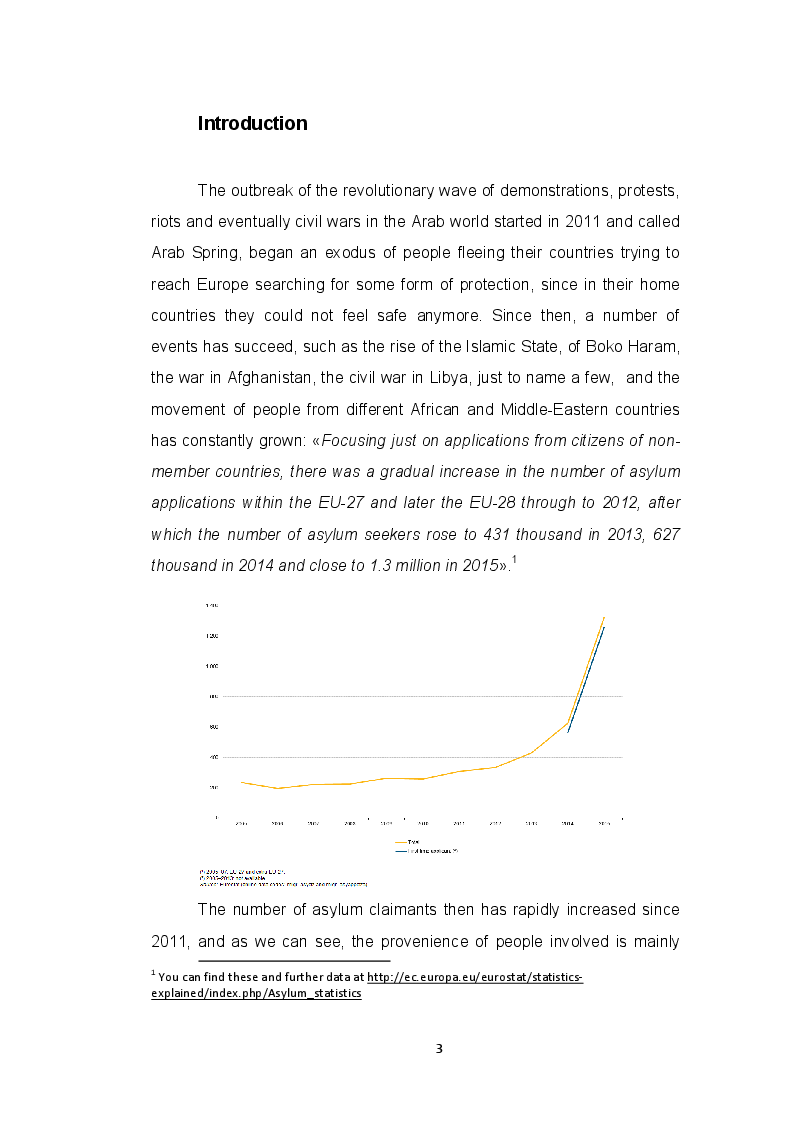 Mostra/Nascondi contenuto.
3 Introduction The outbreak of the revolutionary wave of demonstrations, protests, riots and eventually civil wars in the Arab world started in 2011 and called Arab Spring, began an exodus of people fleeing their countries trying to reach Europe searching for some form of protection, since in their home countries they could not feel safe anymore. Since then, a number of events has succeed, such as the rise of the Islamic State, of Boko Haram, the war in Afghanistan, the civil war in Libya, just to name a few, and the movement of people from different African and Middle-Eastern countries has constantly grown: «Focusing just on applications from citizens of non- member countries, there was a gradual increase in the number of asylum applications within the EU-27 and later the EU-28 through to 2012, after which the number of asylum seekers rose to 431 thousand in 2013, 627 thousand in 2014 and close to 1.3 million in 2015». 1 The number of asylum claimants then has rapidly increased since 2011, and as we can see, the provenience of people involved is mainly 1 You can find these and further data at http://ec.europa.eu/eurostat/statistics- explained/index.php/Asylum_statistics