Molly's monologue and its Italian translation
Molly Bloom's monologue from James Joyce's Ulysses and the Italian translation made by Giulio de Angelis.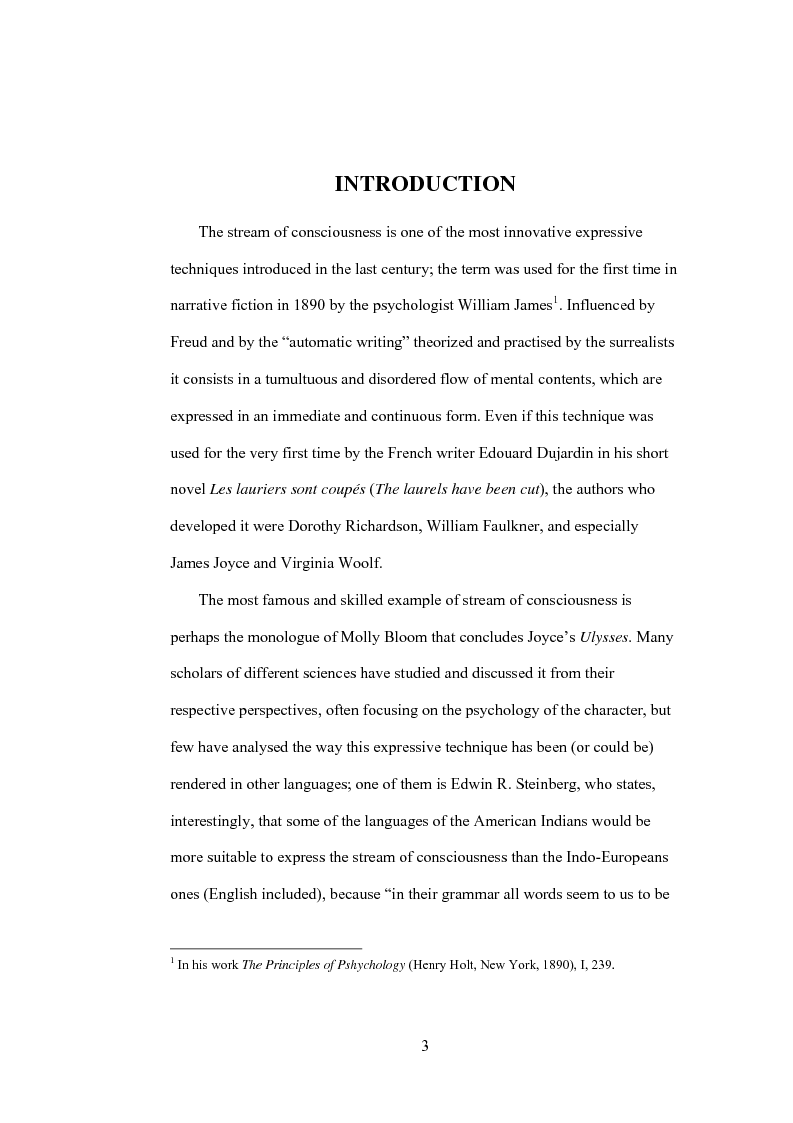 Mostra/Nascondi contenuto.
3 INTRODUCTION The stream of consciousness is one of the most innovative expressive techniques introduced in the last century; the term was used for the first time in narrative fiction in 1890 by the psychologist William James 1 . Influenced by Freud and by the "automatic writing" theorized and practised by the surrealists it consists in a tumultuous and disordered flow of mental contents, which are expressed in an immediate and continuous form. Even if this technique was used for the very first time by the French writer Edouard Dujardin in his short novel Les lauriers sont coupés (The laurels have been cut), the authors who developed it were Dorothy Richardson, William Faulkner, and especially James Joyce and Virginia Woolf. The most famous and skilled example of stream of consciousness is perhaps the monologue of Molly Bloom that concludes Joyce's Ulysses. Many scholars of different sciences have studied and discussed it from their respective perspectives, often focusing on the psychology of the character, but few have analysed the way this expressive technique has been (or could be) rendered in other languages; one of them is Edwin R. Steinberg, who states, interestingly, that some of the languages of the American Indians would be more suitable to express the stream of consciousness than the Indo-Europeans ones (English included), because "in their grammar all words seem to us to be 1 In his work The Principles of Pshychology (Henry Holt, New York, 1890), I, 239.
Laurea liv.I
Facoltà: Lingue e Letterature Straniere
Autore: Nicola Ferrero Contatta »
Composta da 43 pagine.
Questa tesi ha raggiunto 16002 click dal 15/11/2005.
Consultata integralmente 3 volte.
Disponibile in PDF, la consultazione è esclusivamente in formato digitale.