Managing Entertainment through Creativity: the music production software market
Consumers involved in virtual environments experience every day more and more the power of content customization. The success of easy-to-use digital devices and the growth of "digital education" are fostering the development of a new generation of consumers as a result of the merger of entertainment consumers with digital content creators: the Prosumers.
The music production software market represents both thanks to the firms involved and the users addressed a very interesting case of how traditional entertainment consumers could be evolving in the next years to come.
This paper is articulated into four parts, each with a specific target and containing specifically relevant concepts whose absorption is crucial for a satisfactory understanding of the meaning of this work.
On Chapter 1, a broader market overview on the DCCS Market is given. Indeed, the music production software market is just part of a broader digital content creation software industry. Key concepts presented are the definition of DCC, the definition of prosumer and the importance of knowledge processing landscapes for DCCS firms.
Chapter 2 will be focusing on the process of mass-market expansion many DCC firms have been starting during the 2001- 2004 trimester. Key concepts and notions consist in understanding what the key success factors are in such a pioneer market. Much importance will be given to knowledge processing priorities.
Chapter 3 is a description of the music production software market and a prelude to the Sony Media Software case history.
The method followed to obtain and process the information collected had a taste for interviews with industry's members from any involved entity, which provided both quantitative information and privileged personal outlooks on the market.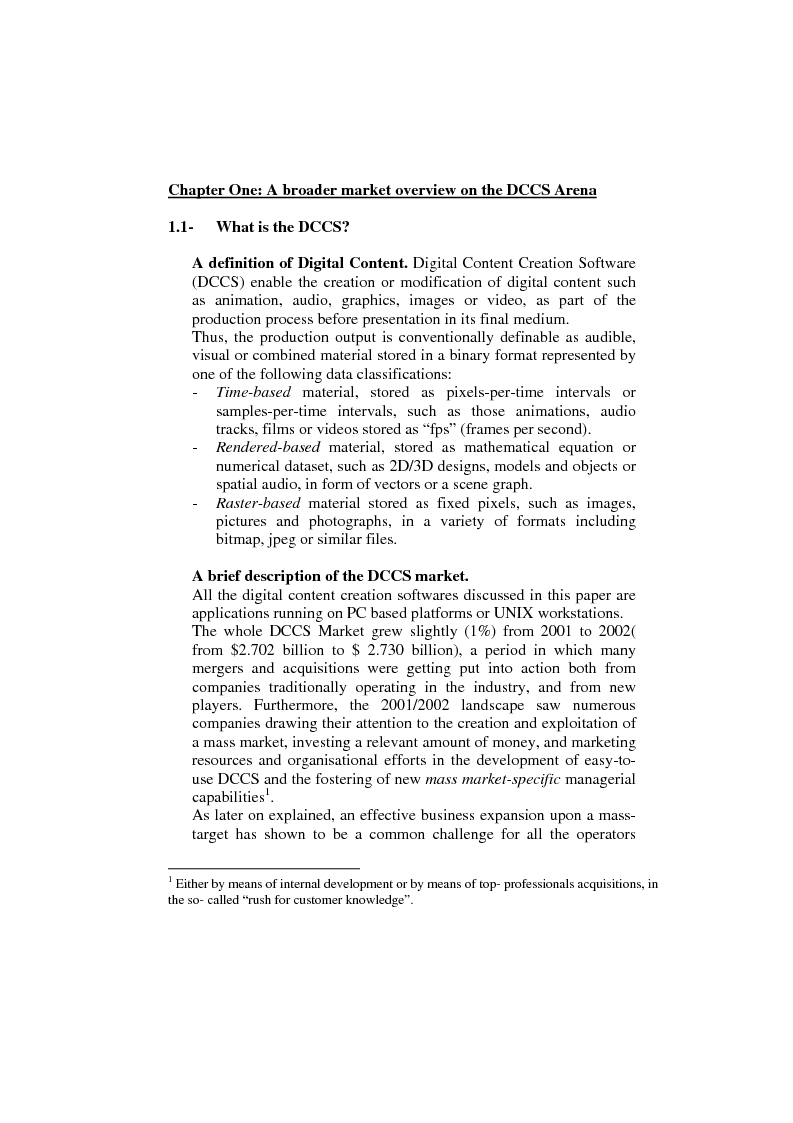 Mostra/Nascondi contenuto.
Chapter One: A broader market overview on the DCCS Arena 1.1- What is the DCCS? A definition of Digital Content. Digital Content Creation Software (DCCS) enable the creation or modification of digital content such as animation, audio, graphics, images or video, as part of the production process before presentation in its final medium. Thus, the production output is conventionally definable as audible, visual or combined material stored in a binary format represented by one of the following data classifications: - Time-based material, stored as pixels-per-time intervals or samples-per-time intervals, such as those animations, audio tracks, films or videos stored as "fps" (frames per second). - Rendered-based material, stored as mathematical equation or numerical dataset, such as 2D/3D designs, models and objects or spatial audio, in form of vectors or a scene graph. - Raster-based material stored as fixed pixels, such as images, pictures and photographs, in a variety of formats including bitmap, jpeg or similar files. A brief description of the DCCS market. All the digital content creation softwares discussed in this paper are applications running on PC based platforms or UNIX workstations. The whole DCCS Market grew slightly (1%) from 2001 to 2002( from $2.702 billion to $ 2.730 billion), a period in which many mergers and acquisitions were getting put into action both from companies traditionally operating in the industry, and from new players. Furthermore, the 2001/2002 landscape saw numerous companies drawing their attention to the creation and exploitation of a mass market, investing a relevant amount of money, and marketing resources and organisational efforts in the development of easy-to- use DCCS and the fostering of new mass market-specific managerial capabilities 1 . As later on explained, an effective business expansion upon a mass- target has shown to be a common challenge for all the operators 1 Either by means of internal development or by means of top- professionals acquisitions, in the so- called "rush for customer knowledge".
Laurea liv.I
Facoltà: Economia
Autore: Niccolò Maria Moronato Contatta »
Composta da 41 pagine.
Questa tesi ha raggiunto 475 click dal 16/06/2006.
Disponibile in PDF, la consultazione è esclusivamente in formato digitale.