Human Rights in the feminine. "The Female Circumcision" as a violation of women's rights
The female circumcision and the human right in the feminine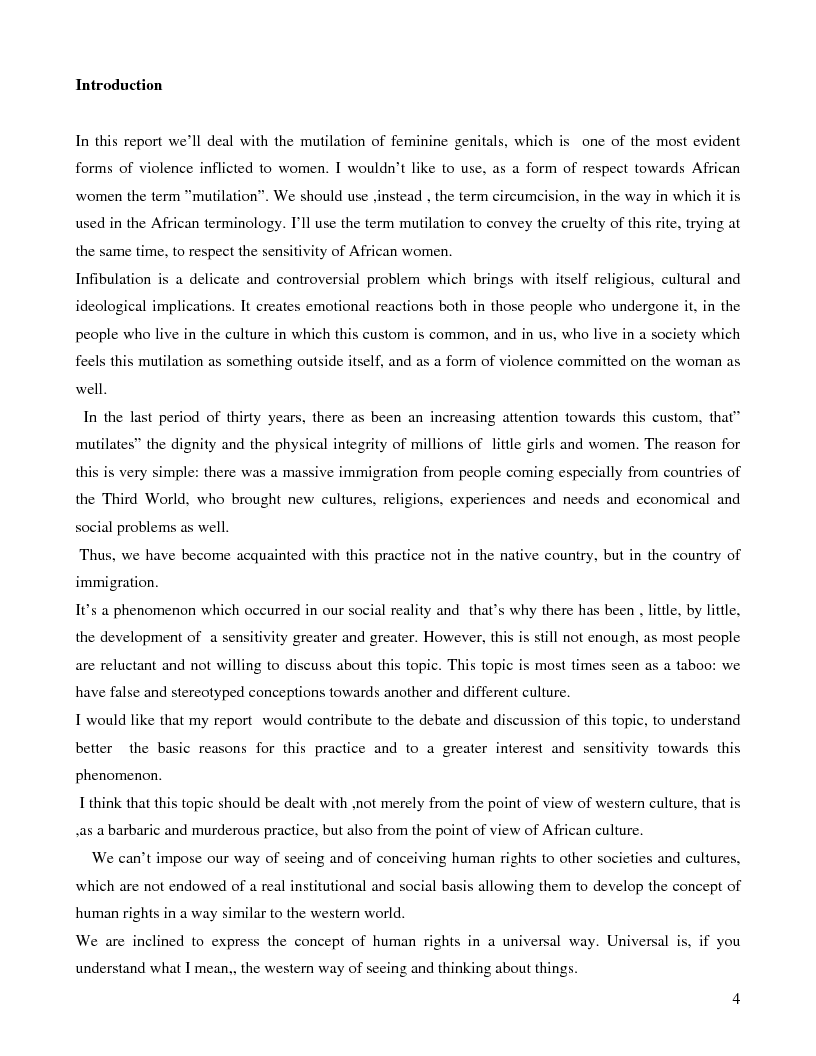 Mostra/Nascondi contenuto.
Introduction In this report we'll deal with the mutilation of feminine genitals, which is one of the most evident forms of violence inflicted to women. I wouldn't like to use, as a form of respect towards African women the term "mutilation". We should use ,instead , the term circumcision, in the way in which it is used in the African terminology. I'll use the term mutilation to convey the cruelty of this rite, trying at the same time, to respect the sensitivity of African women. Infibulation is a delicate and controversial problem which brings with itself religious, cultural and ideological implications. It creates emotional reactions both in those people who undergone it, in the people who live in the culture in which this custom is common, and in us, who live in a society which feels this mutilation as something outside itself, and as a form of violence committed on the woman as well. In the last period of thirty years, there as been an increasing attention towards this custom, that" mutilates" the dignity and the physical integrity of millions of little girls and women. The reason for this is very simple: there was a massive immigration from people coming especially from countries of the Third World, who brought new cultures, religions, experiences and needs and economical and social problems as well. Thus, we have become acquainted with this practice not in the native country, but in the country of immigration. It's a phenomenon which occurred in our social reality and that's why there has been , little, by little, the development of a sensitivity greater and greater. However, this is still not enough, as most people are reluctant and not willing to discuss about this topic. This topic is most times seen as a taboo: we have false and stereotyped conceptions towards another and different culture. I would like that my report would contribute to the debate and discussion of this topic, to understand better the basic reasons for this practice and to a greater interest and sensitivity towards this phenomenon. I think that this topic should be dealt with ,not merely from the point of view of western culture, that is ,as a barbaric and murderous practice, but also from the point of view of African culture. We can't impose our way of seeing and of conceiving human rights to other societies and cultures, which are not endowed of a real institutional and social basis allowing them to develop the concept of human rights in a way similar to the western world. We are inclined to express the concept of human rights in a universal way. Universal is, if you understand what I mean,, the western way of seeing and thinking about things. 4
Traduzione
Facoltà: Giurisprudenza
Traduttore: Andreina Critaro Contatta »
Composta da 121 pagine.
Questa tesi ha raggiunto 606 click dal 06/10/2006.
Disponibile in PDF, la consultazione è esclusivamente in formato digitale.