Brand Hate: The Dark Side of Consumer Attitudes Towards a Brand
Brand hate, a new marketing construct that assesses consumers' negative attachment to a brand, can be considered as the ''dark side'' of consumer preferences, because the literature has not yet dedicated the same effort to this topic as has been devoted to the analysis of positive attitudes and evaluations.
This work can be divided in three parts: first some ''antecedents'' regarding negative emotions, hate in particular, and how these emotions could be related to brands, through the summarization of fragmented literature within a single framework. Secondly, relying upon exploratory research and qualitative data, the paper gives an overview of what brand hate is. The method and results from fieldwork will be presented. Data is then divided in various levels and factors can be interpreted in the light of the theoretical perspectives outlined above, with the goal of discovering if brand hate could exist also without brand usage. Finally, using these results, the research will set some hypotheses concerning brand hate and the basis to construct a brand hate scale, which could be tested in further researches.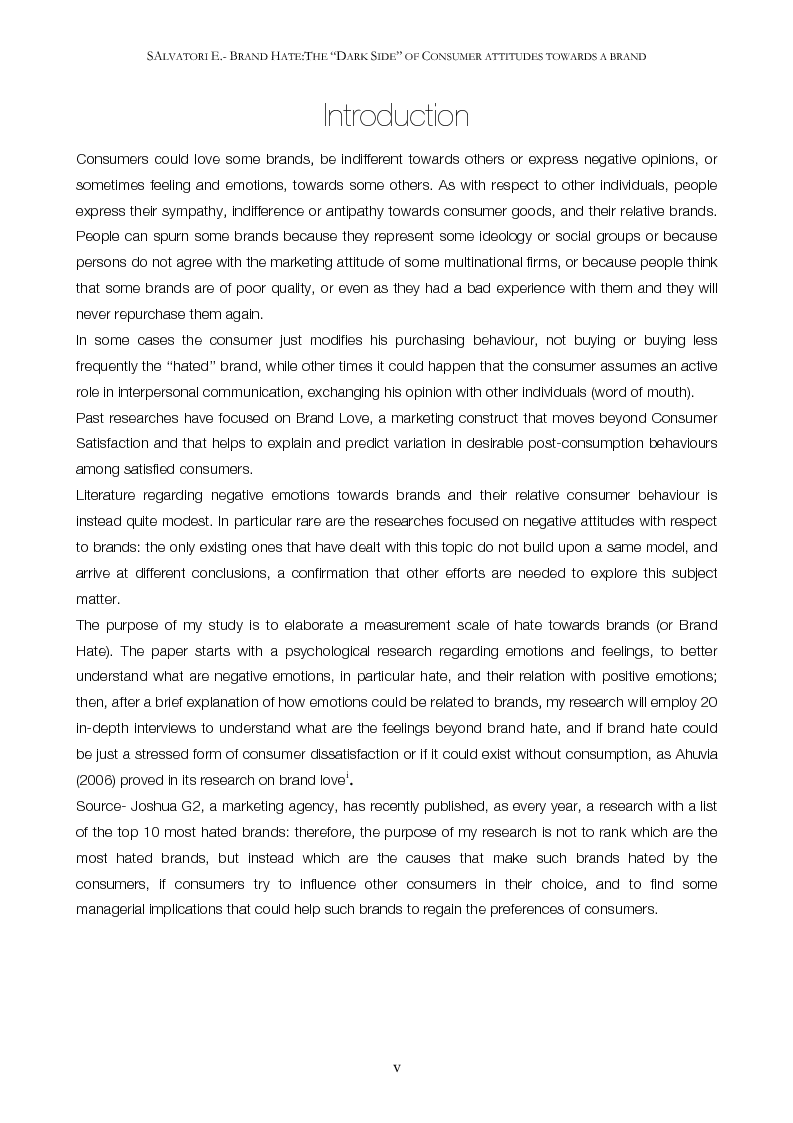 Mostra/Nascondi contenuto.
SALVATORI E.- BRAND HATE:THE "DARK SIDE" OF CONSUMER ATTITUDES TOWARDS A BRAND Introduction Consumers could love some brands, be indifferent towards others or express negative opinions, or sometimes feeling and emotions, towards some others. As with respect to other individuals, people express their sympathy, indifference or antipathy towards consumer goods, and their relative brands. People can spurn some brands because they represent some ideology or social groups or because persons do not agree with the marketing attitude of some multinational firms, or because people think that some brands are of poor quality, or even as they had a bad experience with them and they will never repurchase them again. In some cases the consumer just modifies his purchasing behaviour, not buying or buying less frequently the ''hated'' brand, while other times it could happen that the consumer assumes an active role in interpersonal communication, exchanging his opinion with other individuals (word of mouth). Past researches have focused on Brand Love, a marketing construct that moves beyond Consumer Satisfaction and that helps to explain and predict variation in desirable post-consumption behaviours among satisfied consumers. Literature regarding negative emotions towards brands and their relative consumer behaviour is instead quite modest. In particular rare are the researches focused on negative attitudes with respect to brands: the only existing ones that have dealt with this topic do not build upon a same model, and arrive at different conclusions, a confirmation that other efforts are needed to explore this subject matter. The purpose of my study is to elaborate a measurement scale of hate towards brands (or Brand Hate). The paper starts with a psychological research regarding emotions and feelings, to better understand what are negative emotions, in particular hate, and their relation with positive emotions; then, after a brief explanation of how emotions could be related to brands, my research will employ 20 in-depth interviews to understand what are the feelings beyond brand hate, and if brand hate could be just a stressed form of consumer dissatisfaction or if it could exist without consumption, as Ahuvia (2006) proved in its research on brand love i . Source- Joshua G2, a marketing agency, has recently published, as every year, a research with a list of the top 10 most hated brands: therefore, the purpose of my research is not to rank which are the most hated brands, but instead which are the causes that make such brands hated by the consumers, if consumers try to influence other consumers in their choice, and to find some managerial implications that could help such brands to regain the preferences of consumers. v
Laurea liv.I
Facoltà: Economia
Autore: Elisa Salvatori Contatta »
Composta da 32 pagine.
Questa tesi ha raggiunto 3379 click dal 25/01/2008.
Consultata integralmente 15 volte.
Disponibile in PDF, la consultazione è esclusivamente in formato digitale.