Communication in an immersive digital environment: teaching and learning in Second Life
This work is the result of empirical research conducted in the virtual world of Second Life. The aim of this thesis is to answer three questions that characterize the phenomenon of Second Life community, with particular attention to the e-learning issues.

1. How do people communicate in Second Life teaching and learning?

2. Which are the new features that Second Life provides regarding e-Learning? And regarding face-to-face education?

3. How do teachers use Second Life?

Several methods of analysis, including the frequency of online courses, the use of communications and media table for the analysis of communication processes originated in the metaverse, and responses obtained by interviewing faculty members dell'AECT Americans (Association for Educational Communications and Technology ) contributed to a number of considerations on the phenomenon of "teaching, learning and communicating in Second Life."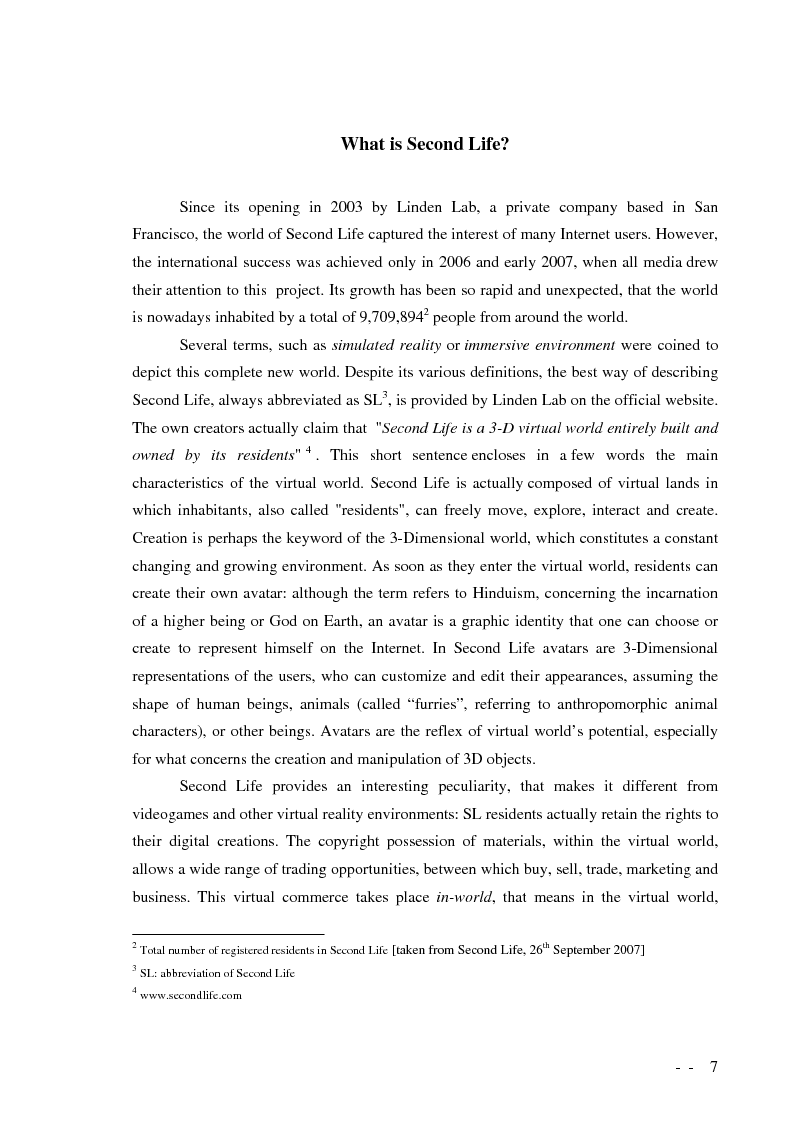 Mostra/Nascondi contenuto.
What is Second Life? Since its opening in 2003 by Linden Lab, a private company based in San Francisco, the world of Second Life captured the interest of many Internet users. However, the international success was achieved only in 2006 and early 2007, when all media drew their attention to this project. Its growth has been so rapid and unexpected, that the world is nowadays inhabited by a total of 9,709,894 2 people from around the world. Several terms, such as simulated reality or immersive environment were coined to depict this complete new world. Despite its various definitions, the best way of describing Second Life, always abbreviated as SL 3 , is provided by Linden Lab on the official website. The own creators actually claim that "Second Life is a 3-D virtual world entirely built and owned by its residents" 4 . This short sentence encloses in a few words the main characteristics of the virtual world. Second Life is actually composed of virtual lands in which inhabitants, also called "residents", can freely move, explore, interact and create. Creation is perhaps the keyword of the 3-Dimensional world, which constitutes a constant changing and growing environment. As soon as they enter the virtual world, residents can create their own avatar: although the term refers to Hinduism, concerning the incarnation of a higher being or God on Earth, an avatar is a graphic identity that one can choose or create to represent himself on the Internet. In Second Life avatars are 3-Dimensional representations of the users, who can customize and edit their appearances, assuming the shape of human beings, animals (called "furries", referring to anthropomorphic animal characters), or other beings. Avatars are the reflex of virtual world's potential, especially for what concerns the creation and manipulation of 3D objects. Second Life provides an interesting peculiarity, that makes it different from videogames and other virtual reality environments: SL residents actually retain the rights to their digital creations. The copyright possession of materials, within the virtual world, allows a wide range of trading opportunities, between which buy, sell, trade, marketing and business. This virtual commerce takes place in-world, that means in the virtual world, 2 Total number of registered residents in Second Life [taken from Second Life, 26 th September 2007] 3 SL: abbreviation of Second Life 4 www.secondlife.com - - 7
Laurea liv.I
Facoltà: Lingue e Comunicazione per l'Impresa, il Territorio e il Turismo
Autore: Roberta Savera Contatta »
Composta da 147 pagine.
Questa tesi ha raggiunto 601 click dal 23/04/2008.
Consultata integralmente una volta.
Disponibile in PDF, la consultazione è esclusivamente in formato digitale.