Database and Web
Didactic routes to teach advanced computer science, in particular to build dynamic sites, use of CMS and database-web interaction.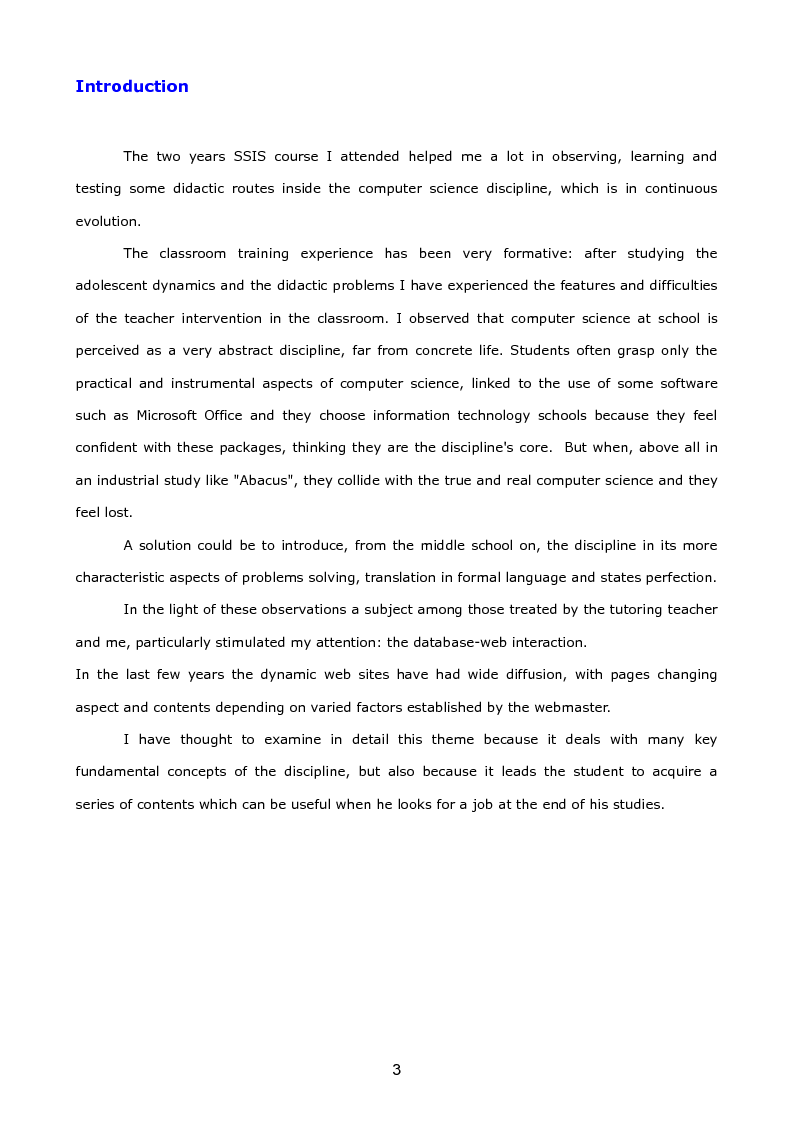 Mostra/Nascondi contenuto.
Introduction The two years SSIS course I attended helped me a lot in observing, learning and testing some didactic routes inside the computer science discipline, which is in continuous evolution. The classroom training experience has been very formative: after studying the adolescent dynamics and the didactic problems I have experienced the features and difficulties of the teacher intervention in the classroom. I observed that computer science at school is perceived as a very abstract discipline, far from concrete life. Students often grasp only the practical and instrumental aspects of computer science, linked to the use of some software such as Microsoft Office and they choose information technology schools because they feel confident with these packages, thinking they are the discipline's core. But when, above all in an industrial study like "Abacus", they collide with the true and real computer science and they feel lost. A solution could be to introduce, from the middle school on, the discipline in its more characteristic aspects of problems solving, translation in formal language and states perfection. In the light of these observations a subject among those treated by the tutoring teacher and me, particularly stimulated my attention: the database-web interaction. In the last few years the dynamic web sites have had wide diffusion, with pages changing aspect and contents depending on varied factors established by the webmaster. I have thought to examine in detail this theme because it deals with many key fundamental concepts of the discipline, but also because it leads the student to acquire a series of contents which can be useful when he looks for a job at the end of his studies. 3
Traduzione
Traduttore: Guido Lena Contatta »
Composta da 28 pagine.
Questa tesi ha raggiunto 383 click dal 06/02/2009.
Disponibile in PDF, la consultazione è esclusivamente in formato digitale.