Photons of Culture - Getting inspired by history and space in the design of light interactive experiences
The aim of this thesis is to investigate and reflect on the role of designing in specific contexts. How can the peculiarity of a site influence and shape the design process? What are the distinctive characteristics and values of such an approach? In short, what kind of design experience can rise from a context-centred approach?
To answer these and similar questions I will use as a case study, the design of an interactive light installation created into a specific historical place crammed with cultural meaning: the ancient hospital of Santa Maria della Scala of Siena, today one of the most remarkable museums in Italy's rich heritage.

From 26th of February until 13th of March 2011 I participated to "Light through Culture", a design school that took place at Santa Maria della Scala, involving six master students from the Technische Universiteit of Eindhoven (TU/e), Industrial Design Department, and six master students from the University of Siena, Engineering Department and Communication Sciences Depertment., together with some faculties from both the universities.
Specifically, the first level of the huge building of Santa Maria della Scala housed the design school in fascinating spaces, flanked by a covered inner street called Chiasso di Sant'Ansano. During the past, that street represented the vibrating centre of the whole building: every day craftsmen, monks, traders and so on, passed from there and gave life to the great hospital institution of Santa Maria della Scala. But that inner street constituted also one appendix of a long pilgrimage route crossing Europe from North to South: the ancient Via Francigena.
From the early Middle Ages, thousands of pilgrims from all over Europe consistently strayed to Rome through Via Francigena. Rome was (and still is) one of the major centres of Christianity, and there pilgrims wanted to go to finally expiate their sins and receive indulgence by the Pope. During the Middle Ages, doing a pilgrimage was difficult and risky but the motivation was strong enough to make that the whole effort was worth it.
The ancient hospital of Santa Maria della Scala was one of the mansiones, is to say the historical places of rest, located along Via Francigena: travellers and pilgrims where hosted and given a place to sleep and food to regain energy to follow their travel.

The aim of "Light through Culture" design school, was to unveil and give light to this cultural heritage hidden in Santa Maria della Scala . Students were divided in four groups and were asked to create interactive light installations connected to the phenomenon of pilgrimage through Via Francigena and its link with the spaces of the first level of Santa Maria della Scala. Each design group had the assignment to design one of four physically connected spaces (dark corridors, a room used as morgue of the hospital, an ossuary and a room with an ancient washing facility) using innovative lighting technologies.
The final objective was to shape a path that visitors could have experienced as something continuous and not fragmented. A real narrative path, with a start, a development and an end.
For this purpose, a first opening space was created by a team constituted by professors and tutors from both the universities. This first space had the objective of furnishing an introductory framework that should have helped visitors to experience the whole "journey" through the four spaces as something fluid and seamless.
The designed path was also meant to be experienced with the whole body: moving around the spaces, and interacting with them would have changed its appearance and consequently its meaning. All the projects were exhibited on 13th of March 2011 just for few school classes and then on 16th March 2011 for the broad public, in occasion of the commemoration of 150 years of unity of Italy.

"Light through Culture" was a school of design but also a didactic experiment: breaking the walls of academic rigidity based on a frontal and aseptic approach, this school proposed and explored a new didactic modality based on being-in-context and physically explore that context to better understand it.
I specifically took part to the design of the dark corridors, teaming with two other students from both the University of Siena and the Technische Universiteit of Eindhoven. The account of this specific design process will constitute the case study of this thesis. What I will try to investigate is how being immersed and physically exploring those spaces represented the conditio sine qua non at the base of the whole project. Designing in context constituted the unavoidable departing point to ideate lighting installations inherently connected to the space and its cultural heritage.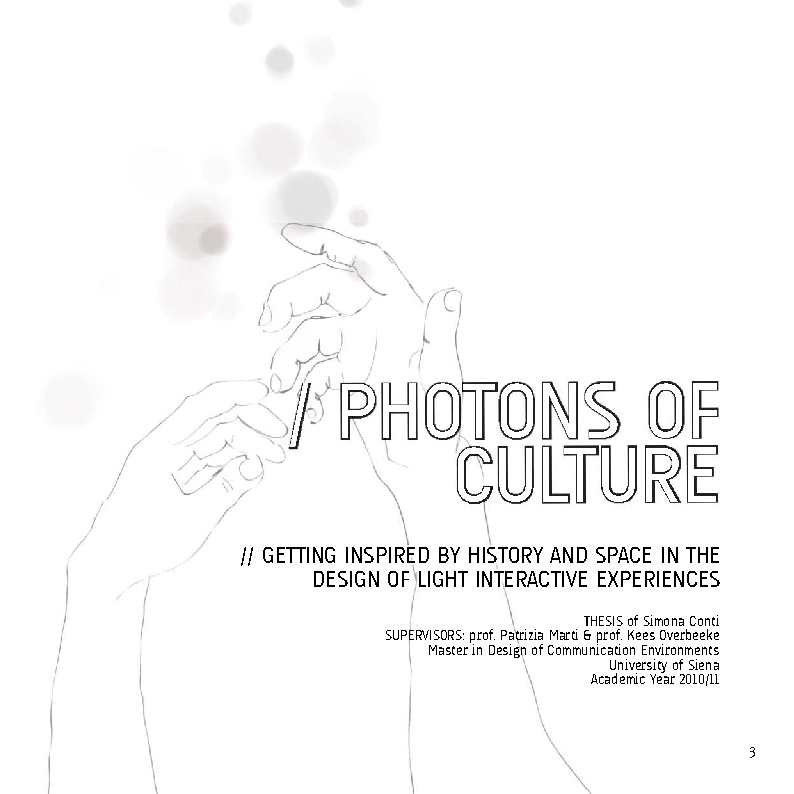 Mostra/Nascondi contenuto.
3 THESIS of Simona Conti SUPERVISORS: prof. Patrizia Marti & prof. Kees Overbeeke Master in Design of Communication Environments University of Siena Academic Year 2010/11 // GETTING INSPIRED BY HISTORY AND SPACE IN THE DESIGN OF LIGHT INTERACTIVE EXPERIENCES / PHOTONS OF CULTURE / / ~ / "- - II~~/ ( (I. t \
Laurea liv.II (specialistica)
Facoltà: Design e Arti
Autore: Simona Conti Contatta »
Composta da 182 pagine.
Questa tesi ha raggiunto 58 click dal 11/11/2011.
Disponibile in PDF, la consultazione è esclusivamente in formato digitale.