The role of boards of directors in social businesses
A new model of social enterprise, the social business, is gradually spreading across many countries, fostering the expansion of the Third sector. Recently, the debate around it has increased, also thanks to the intervention of the 2006 Nobel Prize Laureate Muhammad Yunus, founder of the microcredit institution Grameen Bank, who is one of the major advocates of the social business.
This business model, which stands out because through its operations it primarily pursues a social aim, rather than economic or financial, and its multiple rationales inevitably raise relevant economic and managerial questions. Among them, I found particularly interesting the investigation of governance issues in such organizations.
Particularly, this paper examines the board of directors, in the belief of its centrality and criticality as a place where the tension generated by the inherent attempt of concurrently satisfying economic and social objectives is especially revealed and can be effectively managed.
By referring to the case of Italian social cooperatives, a concrete example of social business, I will examine the most relevant aspects of a social business' board; findings will provide evidence of its main features.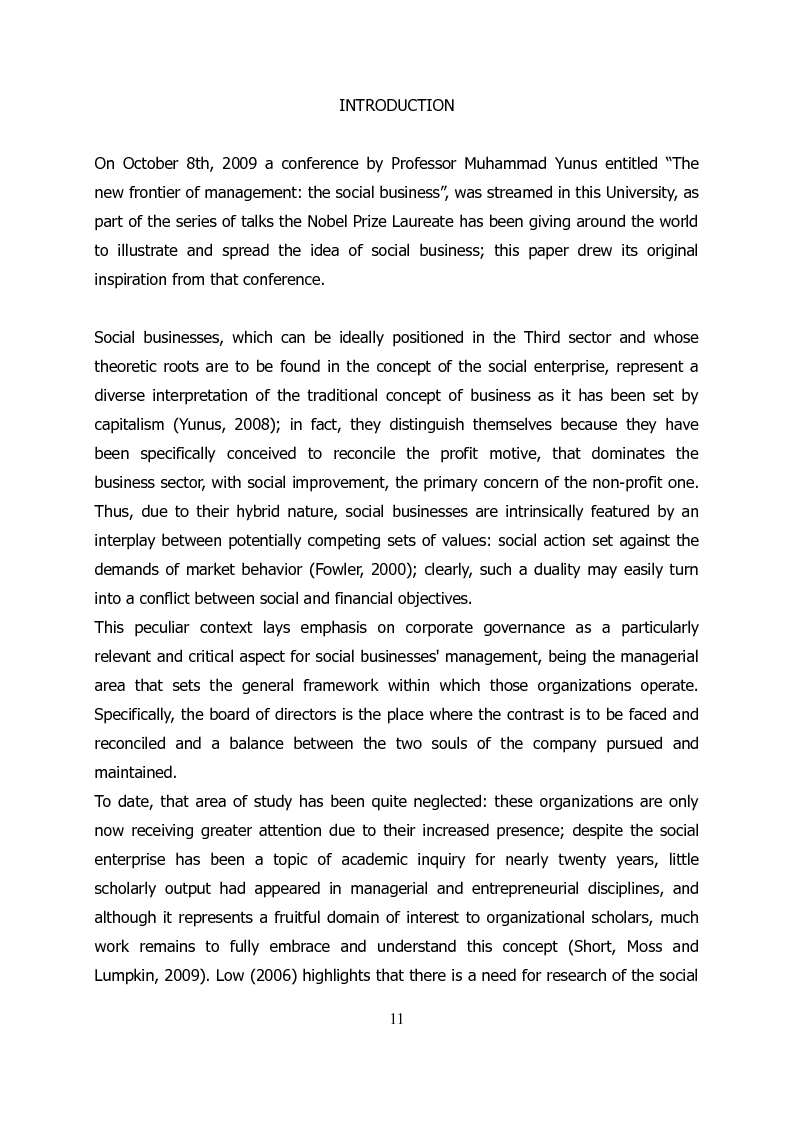 Mostra/Nascondi contenuto.
INTRODUCTION On October 8th, 2009 a conference by Professor Muhammad Yunus entitled "The new frontier of management: the social business", was streamed in this University, as part of the series of talks the Nobel Prize Laureate has been giving around the world to illustrate and spread the idea of social business; this paper drew its original inspiration from that conference. Social businesses, which can be ideally positioned in the Third sector and whose theoretic roots are to be found in the concept of the social enterprise, represent a diverse interpretation of the traditional concept of business as it has been set by capitalism (Yunus, 2008); in fact, they distinguish themselves because they have been specifically conceived to reconcile the profit motive, that dominates the business sector, with social improvement, the primary concern of the non-profit one. Thus, due to their hybrid nature, social businesses are intrinsically featured by an interplay between potentially competing sets of values: social action set against the demands of market behavior (Fowler, 2000); clearly, such a duality may easily turn into a conflict between social and financial objectives. This peculiar context lays emphasis on corporate governance as a particularly relevant and critical aspect for social businesses' management, being the managerial area that sets the general framework within which those organizations operate. Specifically, the board of directors is the place where the contrast is to be faced and reconciled and a balance between the two souls of the company pursued and maintained. To date, that area of study has been quite neglected: these organizations are only now receiving greater attention due to their increased presence; despite the social enterprise has been a topic of academic inquiry for nearly twenty years, little scholarly output had appeared in managerial and entrepreneurial disciplines, and although it represents a fruitful domain of interest to organizational scholars, much work remains to fully embrace and understand this concept (Short, Moss and Lumpkin, 2009). Low (2006) highlights that there is a need for research of the social 11
Laurea liv.II (specialistica)
Facoltà: Economia
Autore: Giulia Leoni Contatta »
Composta da 75 pagine.
Questa tesi ha raggiunto 131 click dal 11/01/2012.
Disponibile in PDF, la consultazione è esclusivamente in formato digitale.