Apple and Android in the tablet market: An empirical research
This research investigated the characteristics of tablet consumers and the current situation of the tablet market. An online questionnaire was conducted and 367 valid responses were collected. Two groups of respondents were identified on the basis of the level of familiarity with the product category and their characteristics were compared. Attention was also paid to the strengths and weaknesses of Android and Apple, the two main platforms in this market.

A segmentation study, based on the evaluation criteria used when purchasing a device, has been conducted and five segments were identified and described: App Freaks, iPerformers, Softwaristas, Mobilites and Hardware Maniacs. Managerial implications and recommendations for incumbents and new entrants on how to target each segment have been provided.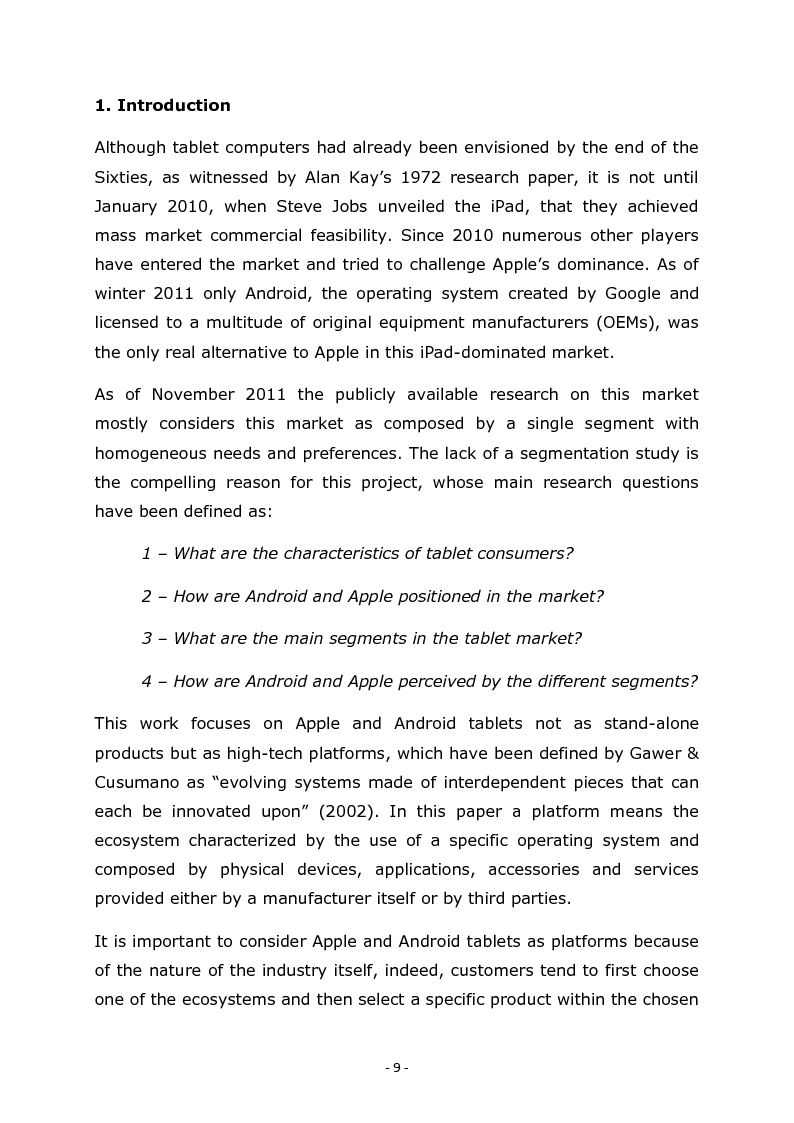 Mostra/Nascondi contenuto.
- 9 - 1. Introduction Although tablet computers had already been envisioned by the end of the Sixties, as witnessed by Alan Kay's 1972 research paper, it is not until January 2010, when Steve Jobs unveiled the iPad, that they achieved mass market commercial feasibility. Since 2010 numerous other players have entered the market and tried to challenge Apple's dominance. As of winter 2011 only Android, the operating system created by Google and licensed to a multitude of original equipment manufacturers (OEMs), was the only real alternative to Apple in this iPad-dominated market. As of November 2011 the publicly available research on this market mostly considers this market as composed by a single segment with homogeneous needs and preferences. The lack of a segmentation study is the compelling reason for this project, whose main research questions have been defined as: 1 – What are the characteristics of tablet consumers? 2 – How are Android and Apple positioned in the market? 3 – What are the main segments in the tablet market? 4 – How are Android and Apple perceived by the different segments? This work focuses on Apple and Android tablets not as stand-alone products but as high-tech platforms, which have been defined by Gawer & Cusumano as "evolving systems made of interdependent pieces that can each be innovated upon" (2002). In this paper a platform means the ecosystem characterized by the use of a specific operating system and composed by physical devices, applications, accessories and services provided either by a manufacturer itself or by third parties. It is important to consider Apple and Android tablets as platforms because of the nature of the industry itself, indeed, customers tend to first choose one of the ecosystems and then select a specific product within the chosen
Laurea liv.II (specialistica)
Facoltà: Economia
Autore: Alberto Xodo Contatta »
Composta da 84 pagine.
Questa tesi ha raggiunto 363 click dal 30/07/2012.
Consultata integralmente una volta.
Disponibile in PDF, la consultazione è esclusivamente in formato digitale.