Investment Policies and Behavior of Italian Business Angels: an Empirical Analysis
Start-ups and companies in early stages in general need capital to begin their activity. Banks are usually not willing to finance start-ups due to their inability to achieve steady positive cash flows. Also venture capital funds tend to neglect companies in the very early stages of existence as they tend to focus on companies
that have an already established business model. The economic players that are able to provide finance to businesses at the start-up or seed level are Business Angels. They are wealthy individuals who invest their own money in an unquoted business often taking an active role in the business contributing with skills, expertise, contacts and knowledge. Through a series of semi-structured interviews with 34 Italian Business
Angels the research has the aim of uncovering various features that are very important to fully understand the phenomenon of angel investing in Italy. More specifically the research analyzes the motivations behind investment decisions, the barriers encountered in the investment process, the role in the companies financed together with the effectiveness and efficiency of business angel networks (BANs) giving special attention to the behavior of female angels. Furthermore the aim is to highlight policies or measures that could incentive the activity of Italian informal investors.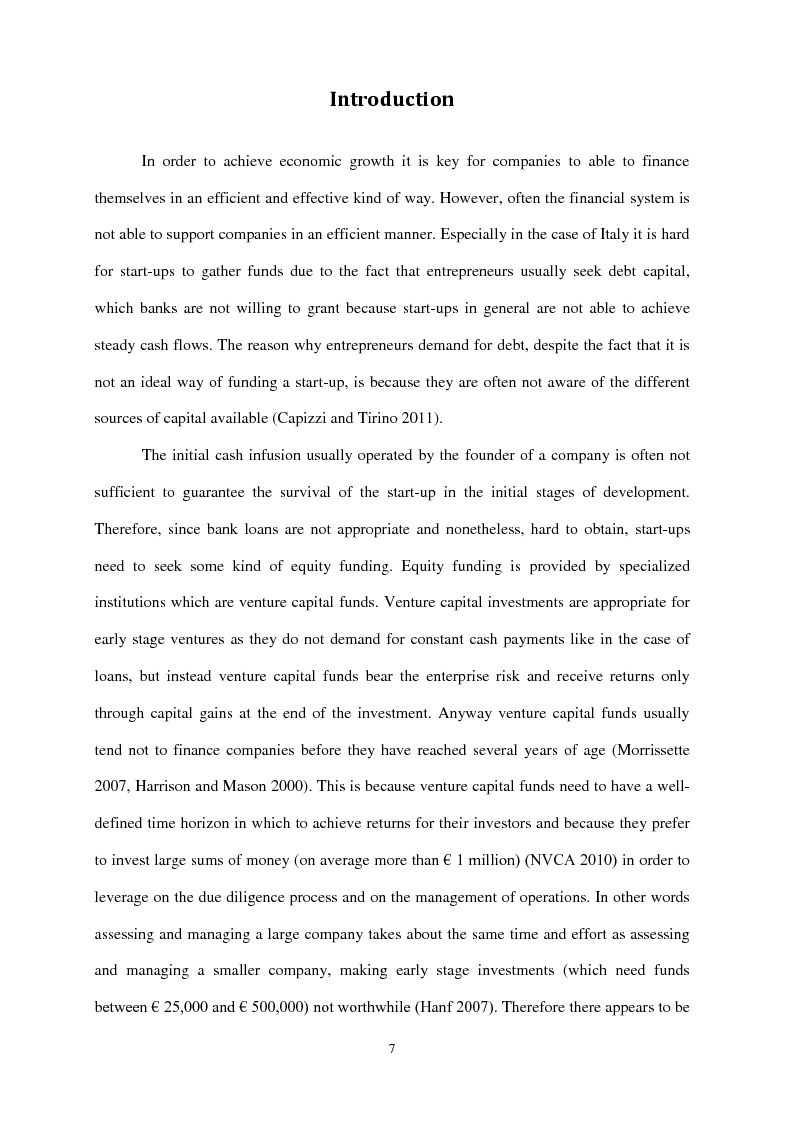 Mostra/Nascondi contenuto.
7 Introduction In order to achieve economic growth it is key for companies to able to finance themselves in an efficient and effective kind of way. However, often the financial system is not able to support companies in an efficient manner. Especially in the case of Italy it is hard for start-ups to gather funds due to the fact that entrepreneurs usually seek debt capital, which banks are not willing to grant because start-ups in general are not able to achieve steady cash flows. The reason why entrepreneurs demand for debt, despite the fact that it is not an ideal way of funding a start-up, is because they are often not aware of the different sources of capital available (Capizzi and Tirino 2011). The initial cash infusion usually operated by the founder of a company is often not sufficient to guarantee the survival of the start-up in the initial stages of development. Therefore, since bank loans are not appropriate and nonetheless, hard to obtain, start-ups need to seek some kind of equity funding. Equity funding is provided by specialized institutions which are venture capital funds. Venture capital investments are appropriate for early stage ventures as they do not demand for constant cash payments like in the case of loans, but instead venture capital funds bear the enterprise risk and receive returns only through capital gains at the end of the investment. Anyway venture capital funds usually tend not to finance companies before they have reached several years of age (Morrissette 2007, Harrison and Mason 2000). This is because venture capital funds need to have a well- defined time horizon in which to achieve returns for their investors and because they prefer to invest large sums of money (on average more than € 1 million) (NVCA 2010) in order to leverage on the due diligence process and on the management of operations. In other words assessing and managing a large company takes about the same time and effort as assessing and managing a smaller company, making early stage investments (which need funds between € 25,000 and € 500,000) not worthwhile (Hanf 2007). Therefore there appears to be
Laurea liv.II (specialistica)
Facoltà: Economia
Autore: Luigi Marcone Contatta »
Composta da 76 pagine.
Questa tesi ha raggiunto 143 click dal 16/04/2013.
Consultata integralmente una volta.
Disponibile in PDF, la consultazione è esclusivamente in formato digitale.