I am Multisensorial, the Contribution of Designin to Child Neurorehabilitation
In the present study has been demonstrated the possibility of using the industrial design in a theme, Christopher b. Hayes involving various fields: medical, neurological, psychiatric, and cognitive psychology. Hereditary diseases or congenital mental deficiency, distort the normal development of a child, resulting in him and in the family, discomforts, fears and uncertainties. Over the past twenty years are born a number of specific centers for childhood neurological diseases, centres of excellence with qualified structures that uses specific tools and techniques for the rehabilitation and cognitive developmental age. In these cities, but especially in their Instrumentation specialized for various therapies, design intervened with their creativity, functionality and design, proving to have a universal utility for the resolution of specific cases of all kinds. This time we decided to design a device for cognitive rehabilitation therapy and fisiokinesiterapica, inspired by the theories of Gestalt1 form, to think about the perception of Maurice Merleau-Ponty2 and curative Rudolf Steiner3 pedagogy . The idea of applying the design to treatment has already been made with the use of particular colours, shapes and materials chosen within hospitals. In this project, however, has been made a more direct contribution, functional and technical, study and application of design, with the aim to support and improve the lives of people in difficulty.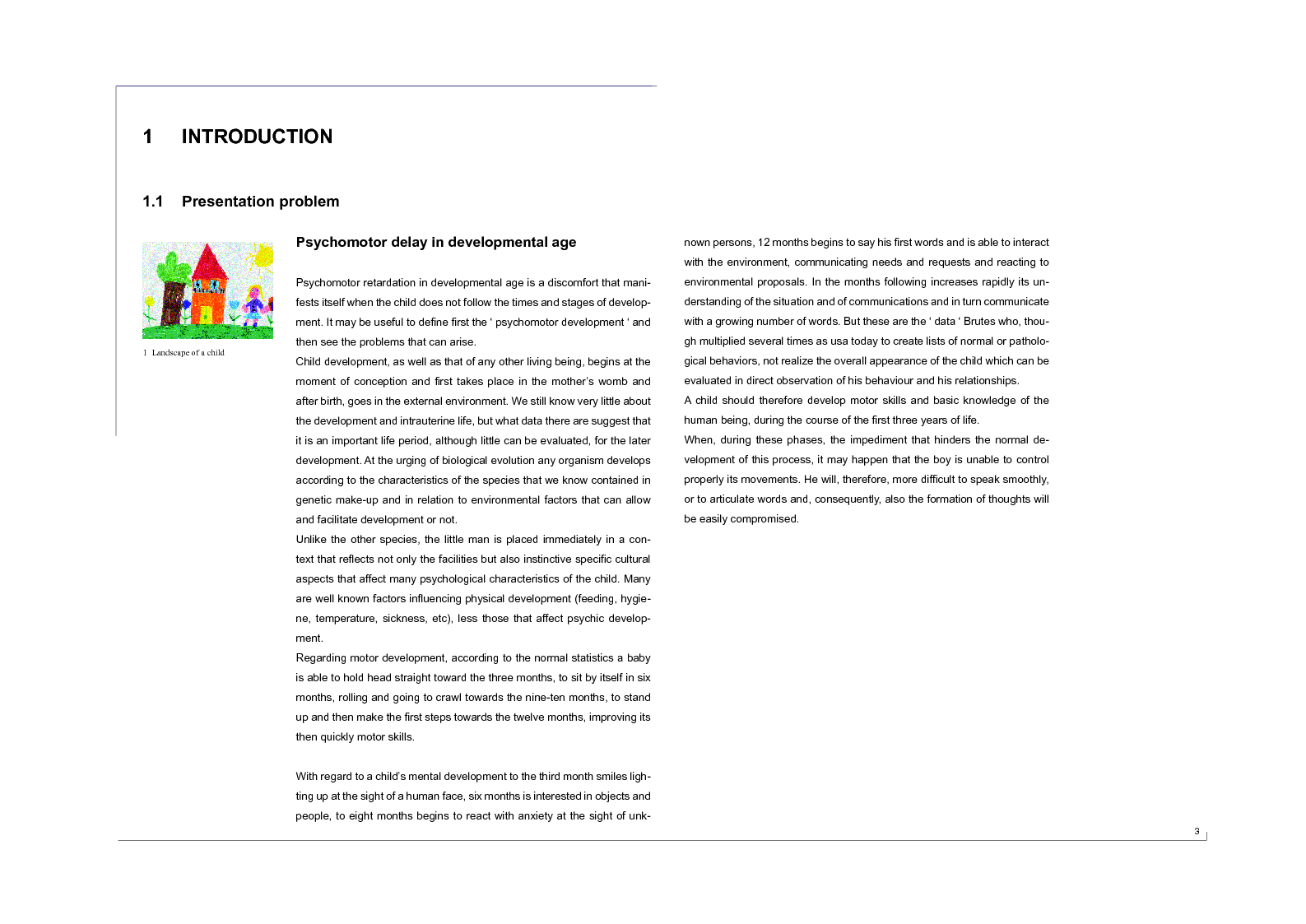 Mostra/Nascondi contenuto.
1 INTRODUCTION 1.1 Presentation problem 3 nown persons, 12 months begins to say his first words and is able to interact with the environment, communicating needs and requests and reacting to environmental proposals. In the months following increases rapidly its un- derstanding of the situation and of communications and in turn communicate with a growing number of words. But these are the ' data ' Brutes who, thou- gh multiplied several times as usa today to create lists of normal or patholo- gical behaviors, not realize the overall appearance of the child which can be evaluated in direct observation of his behaviour and his relationships. A child should therefore develop motor skills and basic knowledge of the human being, during the course of the first three years of life. When, during these phases, the impediment that hinders the normal de- velopment of this process, it may happen that the boy is unable to control properly its movements. He will, therefore, more difficult to speak smoothly, or to articulate words and, consequently, also the formation of thoughts will be easily compromised. Psychomotor delay in developmental age Psychomotor retardation in developmental age is a discomfort that mani- fests itself when the child does not follow the times and stages of develop- ment. It may be useful to define first the ' psychomotor development ' and then see the problems that can arise. Child development, as well as that of any other living being, begins at the moment of conception and first takes place in the mother's womb and after birth, goes in the external environment. We still know very little about the development and intrauterine life, but what data there are suggest that it is an important life period, although little can be evaluated, for the later development. At the urging of biological evolution any organism develops according to the characteristics of the species that we know contained in genetic make-up and in relation to environmental factors that can allow and facilitate development or not. Unlike the other species, the little man is placed immediately in a con- text that reflects not only the facilities but also instinctive specific cultural aspects that affect many psychological characteristics of the child. Many are well known factors influencing physical development (feeding, hygie- ne, temperature, sickness, etc), less those that affect psychic develop- ment. Regarding motor development, according to the normal statistics a baby is able to hold head straight toward the three months, to sit by itself in six months, rolling and going to crawl towards the nine-ten months, to stand up and then make the first steps towards the twelve months, improving its then quickly motor skills. With regard to a child's mental development to the third month smiles ligh- ting up at the sight of a human face, six months is interested in objects and people, to eight months begins to react with anxiety at the sight of unk- 1 Landscape of a child
Diploma di Laurea
Facoltà: Design e Arti
Autore: Leonardo Mancini Contatta »
Composta da 111 pagine.
Questa tesi ha raggiunto 60 click dal 12/06/2013.
Disponibile in PDF, la consultazione è esclusivamente in formato digitale.