Holistic Strategy: collective and experiential learning tools to support strategic processes
This study explores a collection of related theories and methodologies derived from different research fields, such as cognitive psychology, operational research, decision theory and strategy. In particular, we will mainly refer to the works of Senge (Systems Thinking), Mintzberg (Emergent strategies), Vicari and von Krogh (Autopoiesis), and Forrester (System Dynamics).
The first two parts of this work are theoretical and provide a framework where the advantages of simulation-enhanced organizational learning are presented and evaluated. In the third and last part two brief cases are exposed more with the aim to facilitate the understanding of the simulations' tools' potential applications, than to provide empirical evidence to support our argumentation.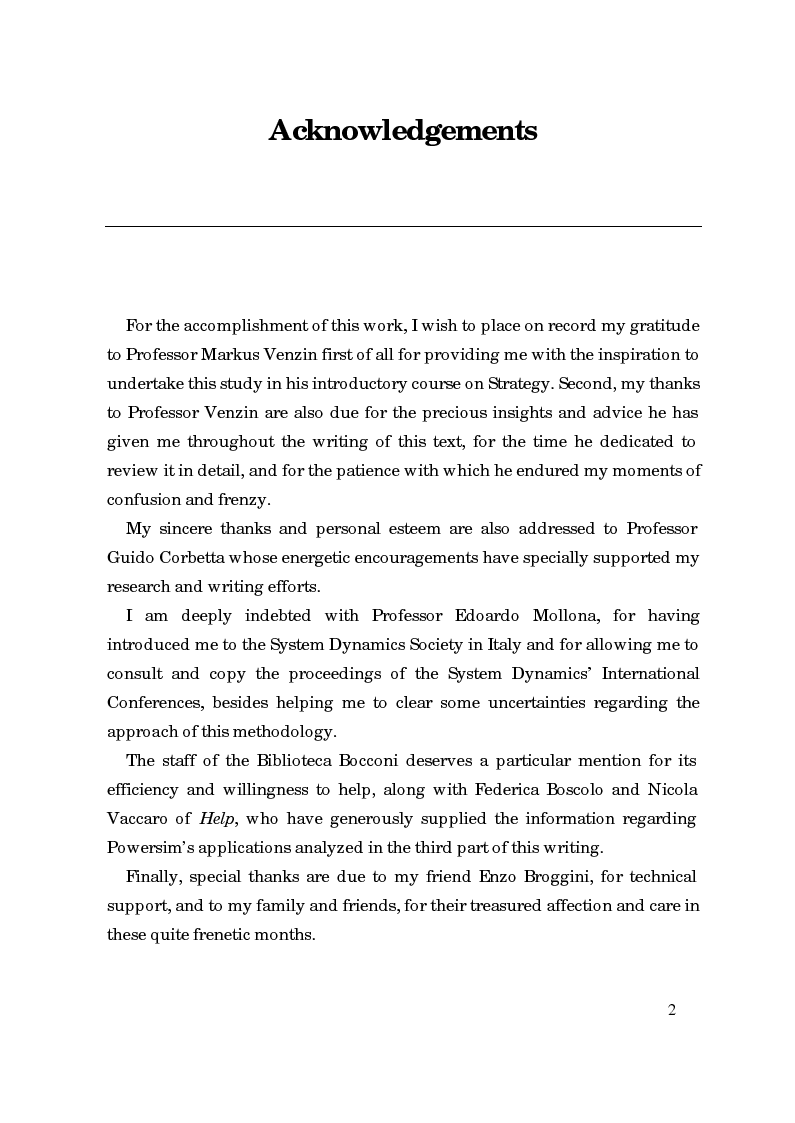 Mostra/Nascondi contenuto.
2 Acknowledgements For the accomplishment of this work, I wish to place on record my gratitude to Professor Markus Venzin first of all for providing me with the inspiration to undertake this study in his introductory course on Strategy. Second, my thanks to Professor Venzin are also due for the precious insights and advice he has given me throughout the writing of this text, for the time he dedicated to review it in detail, and for the patience with which he endured my moments of confusion and frenzy. My sincere thanks and personal esteem are also addressed to Professor Guido Corbetta whose energetic encouragements have specially supported my research and writing efforts. I am deeply indebted with Professor Edoardo Mollona, for having introduced me to the System Dynamics Society in Italy and for allowing me to consult and copy the proceedings of the System Dynamics' International Conferences, besides helping me to clear some uncertainties regarding the approach of this methodology. The staff of the Biblioteca Bocconi deserves a particular mention for its efficiency and willingness to help, along with Federica Boscolo and Nicola Vaccaro of Help, who have generously supplied the information regarding Powersim's applications analyzed in the third part of this writing. Finally, special thanks are due to my friend Enzo Broggini, for technical support, and to my family and friends, for their treasured affection and care in these quite frenetic months.
Tesi di Laurea
Facoltà: Economia
Autore: Veronica Denti Contatta »
Composta da 182 pagine.
Questa tesi ha raggiunto 999 click dal 20/03/2004.
Consultata integralmente 2 volte.
Disponibile in PDF, la consultazione è esclusivamente in formato digitale.