Videogames and Freemium: which Drivers make Users buy Premium Content
This paper extends the knowledge about the freemium phenomenon in the videogame context. Through an in-depth analysis of the existing literature, a comprehensive outlook of this recent business model is provided, while an empirical research highlights the main drivers that let users buy premium content. The model, derived by the existing literature, was tested through a survey on 217 respondents. Data revealed an existing tendency to buy premium content, with factors such as immersiveness, competition, and ownership playing a positive influence, while the uniqueness has a mitigation role and achievement was found irrelevant. These findings support the decision process of developers about the features of the product to focus on. Moreover, publishers do not have to worry for the usual business (priced videogames) because freemium is just a differentiated product and does not cannibalize the former. They can indeed invest in both markets.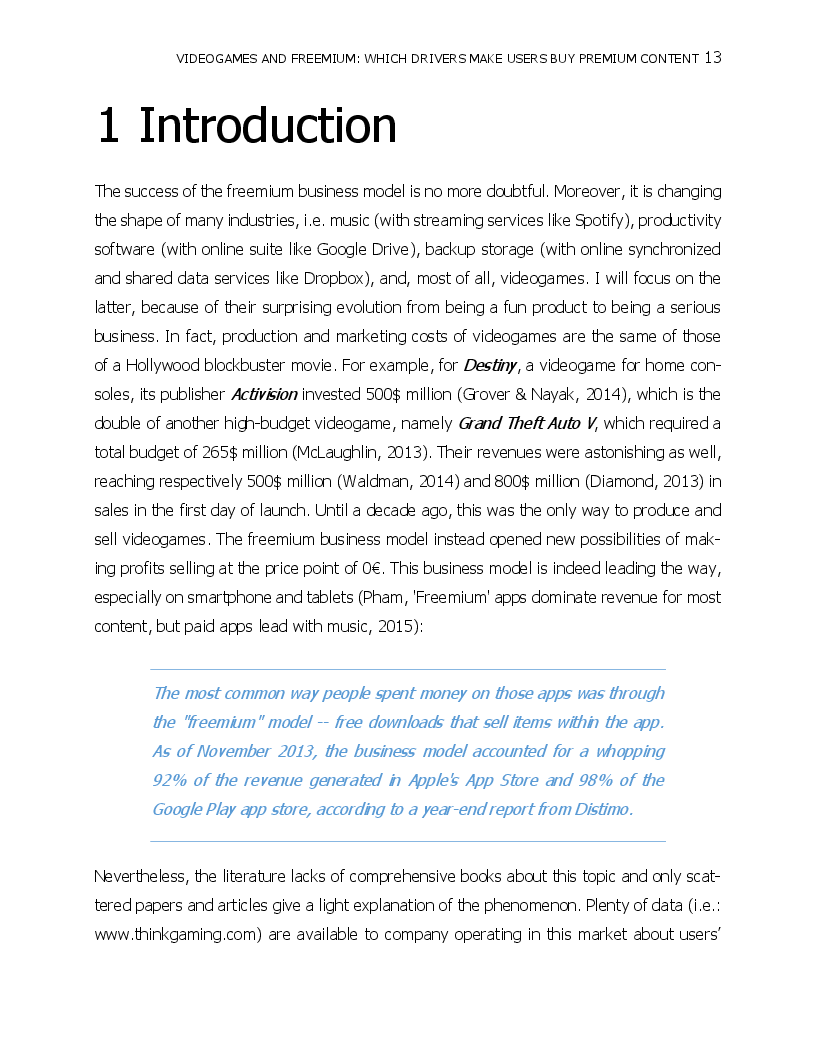 Mostra/Nascondi contenuto.
VIDEOGAMES AND FREEMIUM: WHICH DRIVERS MAKE USERS BUY PREMIUM CONTENT 13 1 Introduction The success of the freemium business model is no more doubtful. Moreover, it is changing the shape of many industries, i.e. music (with streaming services like Spotify), productivity software (with online suite like Google Drive), backup storage (with online synchronized and shared data services like Dropbox), and, most of all, videogames. I will focus on the latter, because of their surprising evolution from being a fun product to being a serious business. In fact, production and marketing costs of videogames are the same of those of a Hollywood blockbuster movie. For example, for Destiny, a videogame for home con- soles, its publisher Activision invested 500$ million (Grover & Nayak, 2014), which is the double of another high-budget videogame, namely Grand Theft Auto V, which required a total budget of 265$ million (McLaughlin, 2013). Their revenues were astonishing as well, reaching respectively 500$ million (Waldman, 2014) and 800$ million (Diamond, 2013) in sales in the first day of launch. Until a decade ago, this was the only way to produce and sell videogames. The freemium business model instead opened new possibilities of mak- ing profits selling at the price point of 0€. This business model is indeed leading the way, especially on smartphone and tablets (Pham, 'Freemium' apps dominate revenue for most content, but paid apps lead with music, 2015): The most common way people spent money on those apps was through the "freemium" model -- free downloads that sell items within the app. As of November 2013, the business model accounted for a whopping 92% of the revenue generated in Apple's App Store and 98% of the Google Play app store, according to a year-end report from Distimo. Nevertheless, the literature lacks of comprehensive books about this topic and only scat- tered papers and articles give a light explanation of the phenomenon. Plenty of data (i.e.: www.thinkgaming.com) are available to company operating in this market about users'
Laurea liv.II (specialistica)
Facoltà: Economia
Autore: Massimo Dattoma Contatta »
Composta da 80 pagine.
Questa tesi ha raggiunto 119 click dal 14/09/2016.
Disponibile in PDF, la consultazione è esclusivamente in formato digitale.