Marketing Football Clubs: Current Practices and Key Success Factors
This project is about the industry of football, with particular reference to European football clubs and how they make use of the management and marketing tools at their disposal.
In recent years, the world of football has been referred to more and more as an industry, and indeed its characteristics have been getting closer to those of the entertainment industry: people worldwide choose indifferently whether to go to the cinema, to an amusement park, or to the stadium to watch a Football match.
The rank of football in the economy of those countries where it is the "national sport" has risen. Because of the capacity of football events to involve a considerable number of industries with its activity, today it represents a consistent percentage of nations' GDP's.
The industrialisation of football obliges the organisations within this industry to assume more and more the features of other common businesses, with professional management using the most advanced marketing tools. The broad diffusion of the internet, together with the worldwide standardisation of television and other important media, have caused the globalisation process to affect substantially the world of football. This has reflected in important changes in regulations and industry structure, which have conditioned the behaviour of football organisations.
Taking advantage of a combination of several sources, among which are books, newspaper articles, reports, working papers and interviews, I analysed sports management through the practices that are currently used in professional football clubs, highlighting how large football organisations behave in different countries and how they differ in the application of management and marketing theories. The accent has been put on European football, where this sport is followed by almost 80% of the total population.
Studies by Deloitte & Touche in collaboration with the European national football leagues demonstrate how the globalisation of the football industry has provoked a concentration of resources in the hands of a few big European clubs, which have had the ability and most of all the economic resources to face enlarged competition from foreign clubs and other businesses in the entertainment industry.
The transformation in the environment in which football organisations operate have caused changes in the key success factors. Although revenues of football clubs have grown over 60% in the last few years, cost of labour (most of which is represented by players' cost and wages) have gone up 72%. Then, if ten or even five years ago sports success was the key to popularity which brought economic success, nowadays the key success factors are not sports performance nor buying star players, but success in managing the whole set of possible economic and financial resources. More revenues bring more money to buy players, to win games, to attract more audience to gain more money to buy players, etc. In the present condition, the football industry contrasts with the fundamental principles of work ethic, which is to obtain the biggest possible result with minimum financial effort.
With the cost of labour representing 70% of total revenues, the only way left for football clubs to survive is to reduce players' costs and wages while exploiting the existing revenue sources and creating new ones. The crisis of TV broadcasters has also affected clubs policies, and where TV rights accounted for over 50% of total revenues, the situation is disastrous.
Among European countries, England is the one that has reacted best to this situation. English clubs have managed to exploit a wider range of revenue sources than their foreign rivals, which has allowed clubs such as Manchester United to absorb major losses coming from the difficulties of TV broadcasters in paying the promised incredible fees for TV rights. On the other hand, Italian clubs are suffering much more from these changes for two main reasons: 1) they do not have the professional management appropriate to such a competitive environment and 2) their revenue sources are rarely and badly diversified and, as a consequence of the first point, they are not developing alternative sources of revenues.
Basically, those clubs who have more and more stable revenue sources gain a sustainable competitive advantage over rivals and eventually survive, those who have their income and thus their destiny connected to one or a few sources are likely to have a very hard time.
At the present time, the biggest potential in Italian football is represented by: a) a wider exploitation of merchandising which represents today just 1% of a club revenues (in England it accounts for 23% of total revenues!); b) the exploitation of the club's image internationally; and c) the transformation of football stadia from match-day venues to whole-week recreational places.
In absence of these requisites, football clubs must prepare to face really difficult times, an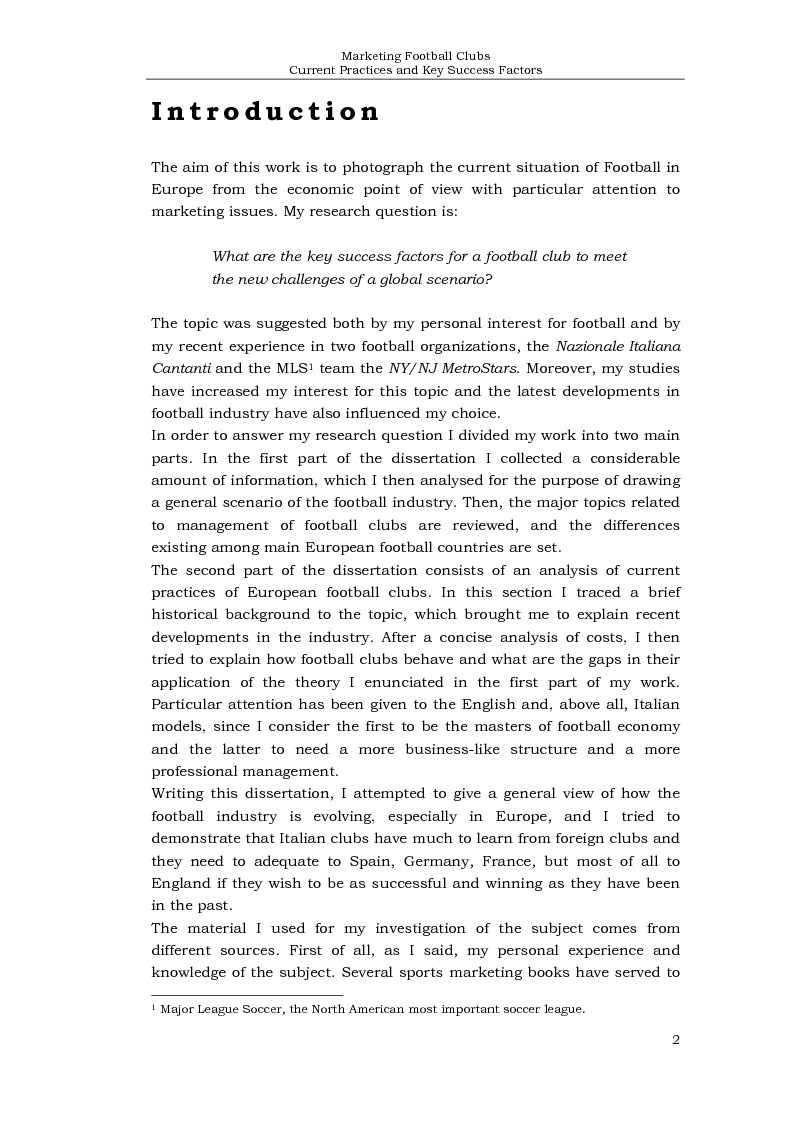 Mostra/Nascondi contenuto.
Marketing Football Clubs Current Practices and Key Success Factors Introduction The aim of this work is to photograph the current situation of Football in Europe from the economic point of view with particular attention to marketing issues. My research question is: What are the key success factors for a football club to meet the new challenges of a global scenario? The topic was suggested both by my personal interest for football and by my recent experience in two football organizations, the Nazionale Italiana Cantanti and the MLS 1 team the NY/NJ MetroStars. Moreover, my studies have increased my interest for this topic and the latest developments in football industry have also influenced my choice. In order to answer my research question I divided my work into two main parts. In the first part of the dissertation I collected a considerable amount of information, which I then analysed for the purpose of drawing a general scenario of the football industry. Then, the major topics related to management of football clubs are reviewed, and the differences existing among main European football countries are set. The second part of the dissertation consists of an analysis of current practices of European football clubs. In this section I traced a brief historical background to the topic, which brought me to explain recent developments in the industry. After a concise analysis of costs, I then tried to explain how football clubs behave and what are the gaps in their application of the theory I enunciated in the first part of my work. Particular attention has been given to the English and, above all, Italian models, since I consider the first to be the masters of football economy and the latter to need a more business-like structure and a more professional management. Writing this dissertation, I attempted to give a general view of how the football industry is evolving, especially in Europe, and I tried to demonstrate that Italian clubs have much to learn from foreign clubs and they need to adequate to Spain, Germany, France, but most of all to England if they wish to be as successful and winning as they have been in the past. The material I used for my investigation of the subject comes from different sources. First of all, as I said, my personal experience and knowledge of the subject. Several sports marketing books have served to 1 Major League Soccer, the North American most important soccer league. 2
Tesi di Laurea
Facoltà: International Business
Autore: Salvatore Lo Leggio Contatta »
Composta da 68 pagine.
Questa tesi ha raggiunto 3301 click dal 20/03/2004.
Consultata integralmente 13 volte.
Disponibile in PDF, la consultazione è esclusivamente in formato digitale.