Valuation in Incomplete Markets
L'anteprima di questa tesi è scaricabile in PDF gratuitamente.
Per scaricare il file PDF è necessario essere iscritto a Tesionline.
L'iscrizione non comporta alcun costo. Mostra/Nascondi contenuto.
5 1.2 Existence of Equivalent Martingale Measure The central and most important principle in any market model, is the no-arbitrage condition. Now we will define the mathematical part of this economic principle. Definition (1.2.1) Let i ) )be a set of self-financing strategies. A strategy i Μ )is called an arbitrage opportunity or arbitrage strategy with respect to )if ⊥  001PV Μ , and the terminal wealth of Μ satisfies ⊥  01PV T Μ τ and ⊥  00PV T Μ ! !. So an arbitrage opportunity is a self-financing strategy with zero initial value, which produces a non-negative final value with probability one and has a positive probability of a positive final value. Arbitrage opportunities are always defined with respect to a certain class of trading strategies. Definition (1.2.2) We say that a security market M is arbitrage-free if there are no arbitrage opportunities in the class )of trading strategies. For example we can use this case. We observe a realization ,St Ζof the price process St. We want to know which sample point Ζ : we have. Information about : is captured in the filtration ⊥  t FF . In this setting we can switch to the unique sequence partitions ⊥  t P corresponding to the filtration ⊥  t F . So at time t we know the set tt A Pwith t A Ζ . Now recall the structure of the subsequent partitions. A set t A P is the disjoint union of sets 12 1 , ,..., kt AA A P . Since Suis u F -measurable St is constant on A and 1St is constant on the k A , 1,2,..., K . So we can think of A as the time 0 state in a single-period model and each k A corresponds to a state time 1 in the single-period model. We can therefore think of a multi-period market model as a collection of consecutive single-period markets. This is the effect of a "global" no-arbitrage condition on the single-period markets.
Anteprima della Tesi di Luca Cassani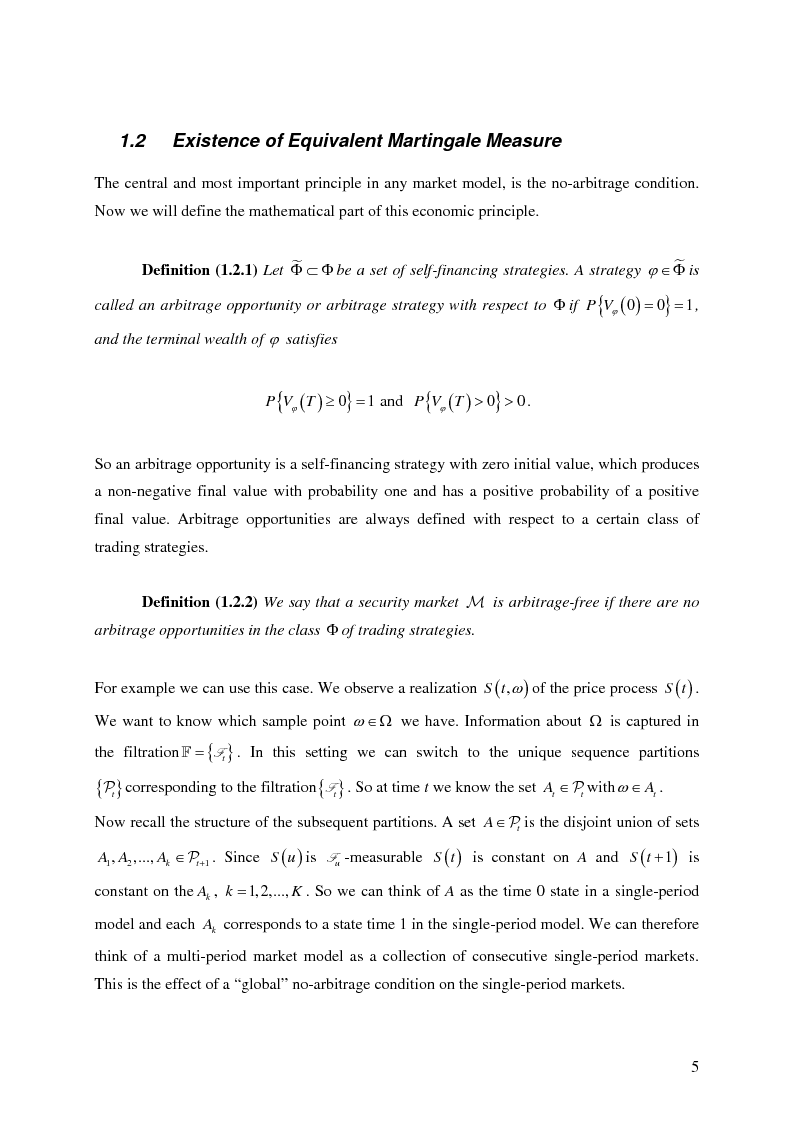 Tesi di Laurea
Facoltà: Scienze economiche statistiche e sociali
Autore: Luca Cassani Contatta »
Composta da 129 pagine.
Questa tesi ha raggiunto 760 click dal 05/05/2005.
Consultata integralmente 6 volte.
Disponibile in PDF, la consultazione è esclusivamente in formato digitale.