English as a lingua franca in Italian-Japanese business negotiation. A case study.
L'anteprima di questa tesi è scaricabile in PDF gratuitamente.
Per scaricare il file PDF è necessario essere iscritto a Tesionline.
L'iscrizione non comporta alcun costo. Mostra/Nascondi contenuto.
8 together with the isolation of the country from any contact with foreign populations and cultures brought substantial benefits. It secured a long period of peace and fostered the consolidation of the cultural and ethnic unit. The main goal of this policy was to maintain the centralized feudal system (bakufu or military government), preserving it from the two major Western threats, Christianity and Western technology and weapons (which could have contributed to a possible insurgence against the ruling family). This historical situation and its consequences gave birth to particular customs, beliefs and social rules which are still manifest in modern Japanese social life and which have influenced the sphere of business, too. These characteristics can be grouped into three major features that, as years went by, have played an important role in the process of consolidating what we perceive as typical traits of Japanese behaviour. The first feature to be underlined is the geographical position of Japan, which led this population to rely only on internal bonds in order to keep social order. This created in Japanese people a very strong devotion to the group and the constant necessity to belong to it. The internal order, during Tokugawa period, was maintained also thanks to a shared respect to the hierarchic relations that, in such a close system, were inevitably strengthened. This aspect constitutes the second of the above-cited features: the high level of institutionalisation and the great importance given to hierarchy, whose roots are in the rigid four-level social system of Tokugawa period. This system characterized Japan for a very long period and imposed the subdivision of the population into four classes (samurai, peasants, craftsmen and merchants) without any possible passage from one group to the other. The third element is necessarily Confucianism. Its ideology reached Japan from China at the beginning of the fifth century and still influences and characterizes every aspect of Japanese life. Owing to a deep assimilation by Japanese culture, Confucianist philosophy represents the core of Japanese behaviour. The main and most typical Confucianist values are loyalty, filial love and respect for elderly people. Little consideration was given to personal problems in such a relation-dependent structure of society; this is the reason why individualism never sprouted.
Anteprima della Tesi di Paola Garino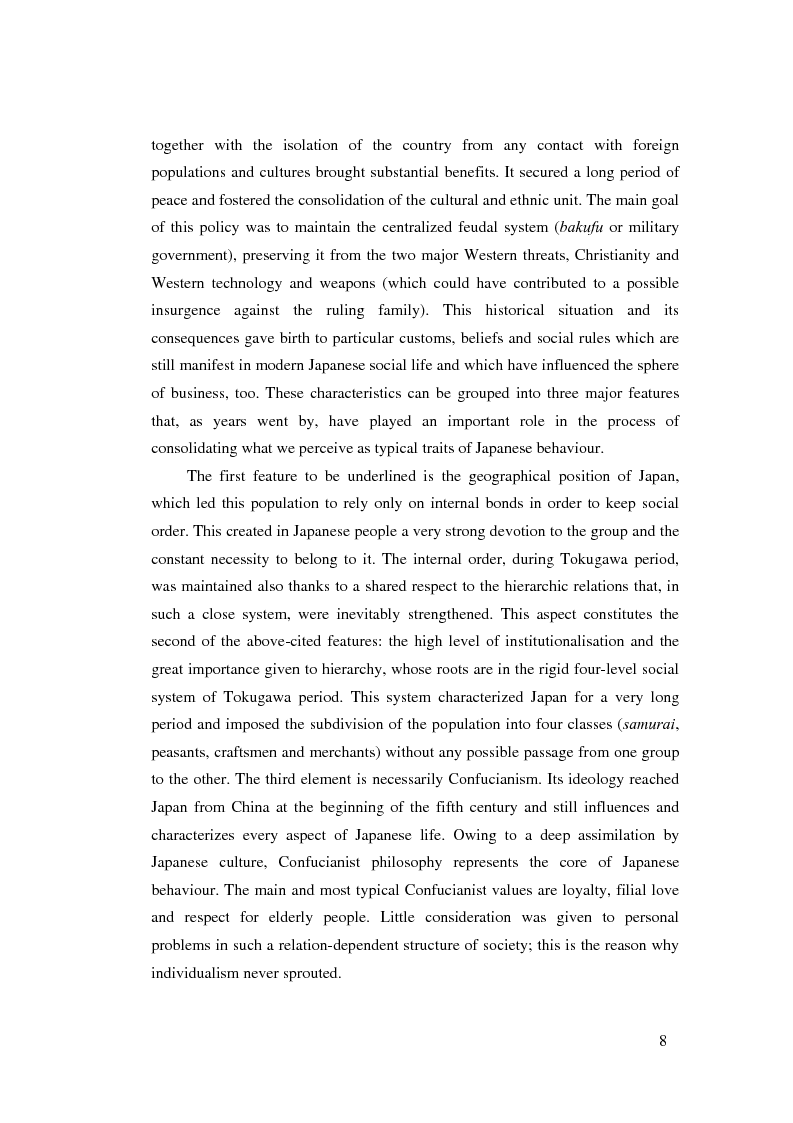 Tesi di Laurea
Facoltà: Lingue e Letterature Straniere
Autore: Paola Garino Contatta »
Composta da 216 pagine.
Questa tesi ha raggiunto 2724 click dal 09/12/2005.
Consultata integralmente 2 volte.
Disponibile in PDF, la consultazione è esclusivamente in formato digitale.