Entrepreneurial Experience and Internationalization in Creative Industries: The Culture Business Case Study
L'anteprima di questa tesi è scaricabile in PDF gratuitamente.
Per scaricare il file PDF è necessario essere iscritto a Tesionline.
L'iscrizione non comporta alcun costo. Mostra/Nascondi contenuto.
CHAPTER I FANATIC ABOUT TCB - BRIEF INTRODUCTION ON THE CULTURE BUSINESS AND THE FANATICS ABOUT CINEMA - 1. INTRODUCTION TO THE ACTIVITIES The creative industries have been seen to become increasingly important to economic well-being, proponents suggesting that "human creativity is the ultimate economic resource 1 " and that "the industries of the twenty-first century will depend increasingly on the generation of knowledge through creativity and innovation 2 ". The festival sector in Italian cultural and economic landscape is, actually, an industry that has seen, in 2009, investments for 400 millions € and an induced consumption of 1.5 billions € spread on 937 events during the whole year 3 . Festivals and cultural events are important resources for territories which want to expand and develop both culturally and (consequently) economically. The Culture Business (TCB) 4 has been able to understand and gather the challenges proposed by this budding industry. Explaining the complicated web of activities established by The Culture Business won' t be simple. Born as an agency for integrated services dedicated to cinematographic festivals, it is becoming more important year after year, event after event; turning into a reference point for every cultural operator. The activities developed by this Bologna-based small firm, are quite 1 1 Florida, Richard - The Rise of the Creative Class. And How it's Transforming Work, Leisure and Everyday Life, Basic Books, 2002 2 Howkins, John - The Creative Economy: How People Make Money From Ideas, Penguin, 2001 3 Micardi, Federica - In Italia tre festival al giorno. Il Sole 24 Ore, Lunedì 2 Novembre 2009 4 The Culture Business srl Via Paolo Fabbri 1/3, 40138 Bologna, Italy. P.IVA/CF: 02338891209
Anteprima della Tesi di Francesca Perondi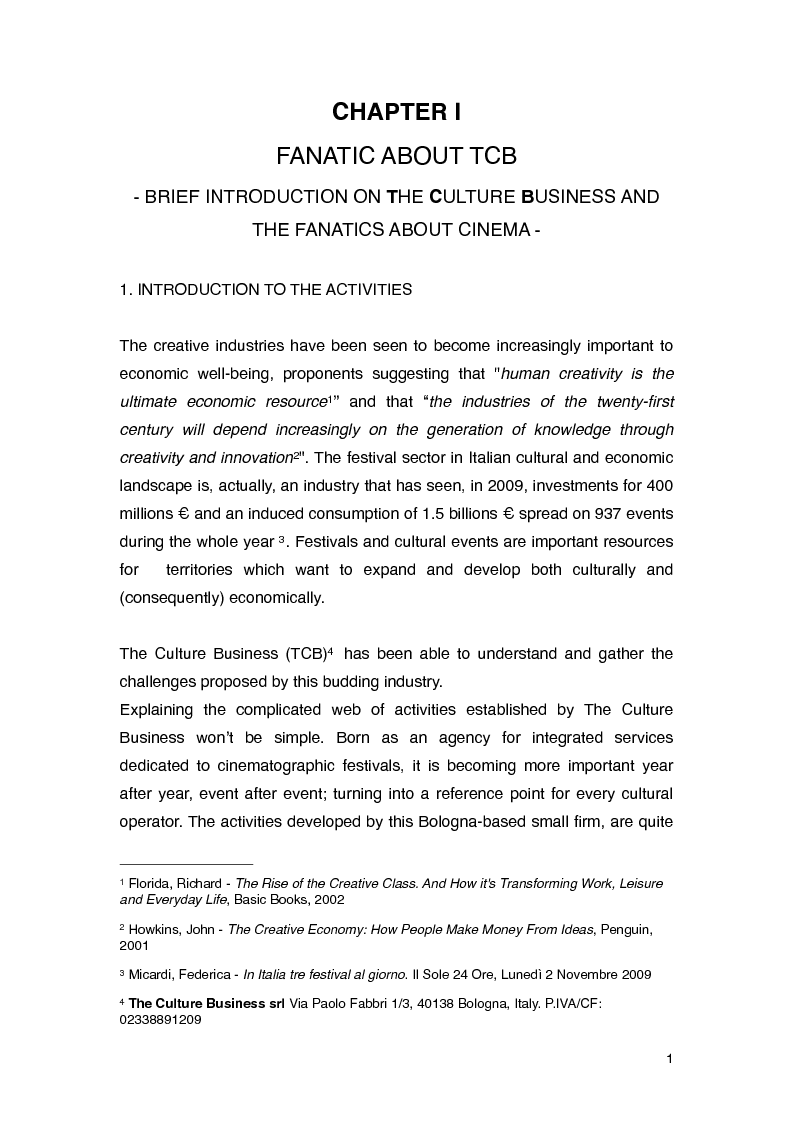 Laurea liv.II (specialistica)
Facoltà: Economia
Autore: Francesca Perondi Contatta »
Composta da 139 pagine.
Questa tesi ha raggiunto 409 click dal 06/06/2011.
Disponibile in PDF, la consultazione è esclusivamente in formato digitale.