The Determinants of Capital Structure and its Effects on Corporate Performance:an Econometric Analysis Based on 7,440 US Companies
L'anteprima di questa tesi è scaricabile in PDF gratuitamente.
Per scaricare il file PDF è necessario essere iscritto a Tesionline.
L'iscrizione non comporta alcun costo. Mostra/Nascondi contenuto.
2 I. INTRODUCTION Capital structure has always been one of the main topics among the studies of Finance scholars. Its importance derives from the fact that capital structure is tightly related to the ability of firms to fulfil the needs of various stakeholders. The last century has witnessed a continuous developing of new theories on the optimal debt to equity ratio. The first milestone on the issue was set by Modigliani and Miller, whose model argued on the Irrelevance of the capital structure in determining firms' value and future performance (1958). However, many authors have successively proved that a relationship between capital structure and firm value actually exists (e.g., Lubatkin and Chatterjee, 1994). The same Modigliani and Miller (1963) asserted that their model was not effective anymore if tax was taken into consideration. They demonstrated that the existence of tax subsidies on interest payments cause the value of the firm to increase when equity is traded off for debt. More recent literature, however, tends to be less interested on how the capital structure determines firm's value per se, and more on how changes in the capital structure of a company affects its governance structure which, consequentially, influences the ability of a firm to make strategic choices (Hitt, Hoskisson, and Harrison, 1991), and thus its overall performance (Jensen, 1986). Nowadays, the major concern for capital structure is how to resolve the conflict between owners and mangers over the control of corporate resources (Jensen, 1989). After more than fifty years of studies, economists have not reached an agreement on how and to which extent the capital structure of firms impacts their value, performance
Anteprima della Tesi di Massimiliano Neri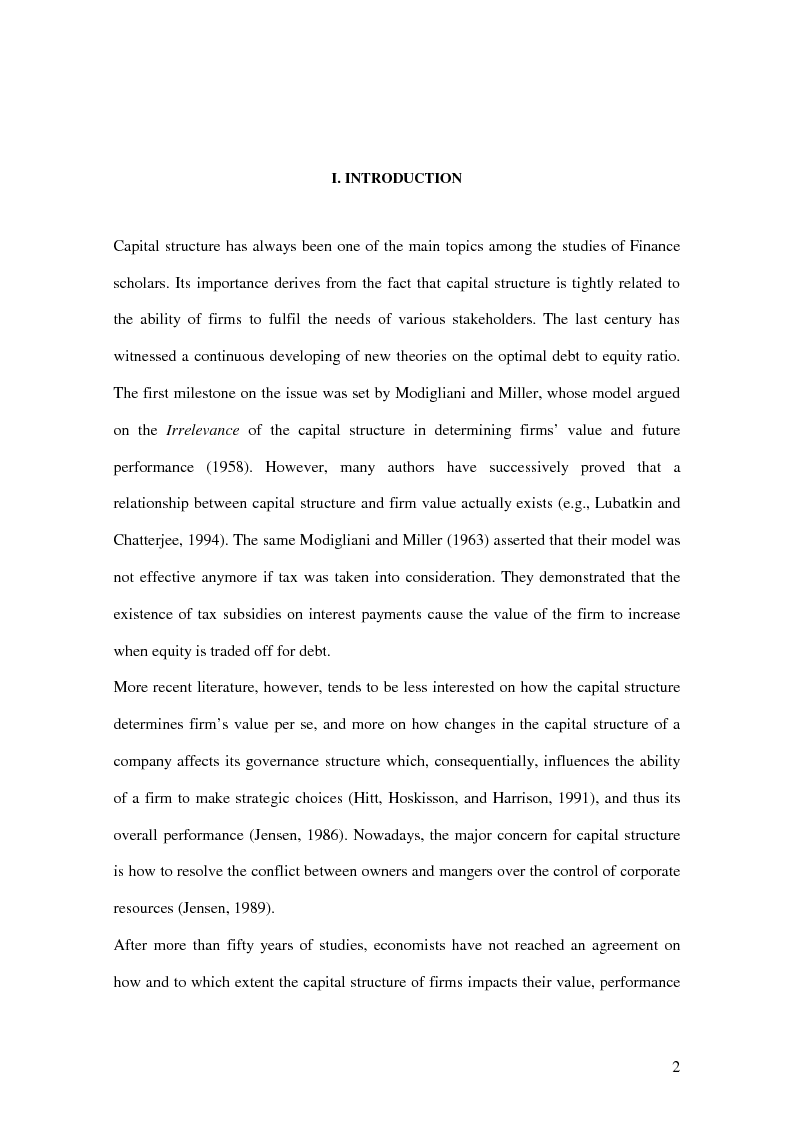 Tesi di Laurea
Facoltà: Scienze Economiche e Aziendali
Autore: Massimiliano Neri Contatta »
Composta da 63 pagine.
Questa tesi ha raggiunto 1806 click dal 20/03/2004.
Consultata integralmente 12 volte.
Disponibile in PDF, la consultazione è esclusivamente in formato digitale.