From Cuba with Frijoles, Saints and Danzón: the Representation of Cuban-American Culture in Cristina García's Novels
Tesi di Laurea Magistrale
Facoltà: Lingue e Letterature Straniere
Autore: Giorgia Mercanti Contatta »
Composta da 182 pagine.
Questa tesi ha raggiunto 134 click dal 24/01/2012.
Disponibile in PDF, la consultazione è esclusivamente in formato digitale.
In my dissertation my intention was to show how culture can be transmitted by several different means; not only through literature and art, but also through culinary traditions, religion and popular music. Therefore it is important that these means are authentic in order to carry truthful information; on the contrary they tend to be changed and adapted according to the needs and tastes of the market, and this may lead non-Cubans to build up an idea of Cubanhood that does not correspond to reality. García's novels are a good starting point for those who want to know more; they are able to give the right amount of information, enough to make the reader able to place the fiction into a historical frame with no needs of explanatory notes that may make reading too heavy. The insertion of characters with countries of origins other than Cuba and United States, such as China, El Salvador, Iran, Japan etc., make the stories more interesting and above all give them a character of universality. The novels are worthy to be read as reading "is the most effective barricade against hopelessness" (The Lady Matador's Hotel: 63), and García is able to make the reader feel a part not only of the fictional story, but also of real history.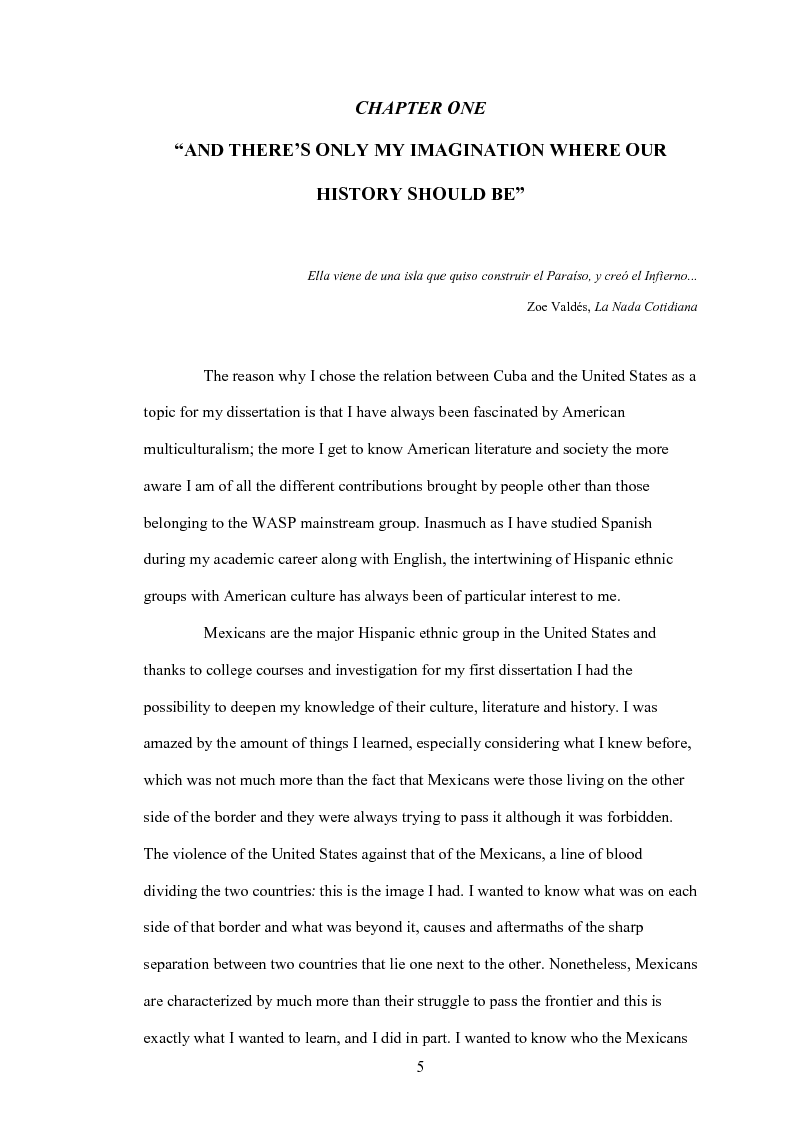 Mostra/Nascondi contenuto.
null 5null CHAPTER ONE "AND THERE'S ONLY MY IMAGINATION WHERE OUR HISTORY SHOULD BE" EllanullvienenulldenullunanullislanullquenullquisonullconstruirnullelnullParaí so,nullynullcreónullelnullInfierno...null ZoenullValdés,null LanullNadanullCotidiana nullnull null ThenullreasonnullwhynullInullchosenullthenullrelationnullbetweennullCubanullan dnullthenullUnitednullStatesnullasnullanull topicnullfornullmynulldissertationnullisnullthatnullInullhavenullalwaysnullbee nnullfascinatednullbynullAmericannull multiculturalism;nullthenullmorenullInullgetnulltonullknownullAmericannulll iteraturenullandnullsocietynullthenullmorenull awarenullInullamnullofnullallnullthenulldifferentnullcontributionsnullbroug htnullbynullpeoplenullothernullthannullthosenull belongingnulltonullthenullWASPnullmainstreamnullgroup.nullInasmuchnullas nullInullhavenullstudiednullSpanishnull duringnullmynullacademicnullcareernullalongnullwithnullEnglish,nullthenulli ntertwiningnullofnullHispanicnullethnicnull groupsnullwithnullAmericannullculturenullhasnullalwaysnullbeennullofnullpar ticularnullinterestnulltonullme.nullnull MexicansnullarenullthenullmajornullHispanicnullethnicnullgroupnullinnullthe nullUnitednullStatesnullandnull thanksnulltonullcollegenullcoursesnullandnullinvestigationnullfornullmynull firstnulldissertationnullInullhadnullthenull possibilitynulltonulldeepennullmynullknowledgenullofnulltheirnullculture ,nullliteraturenullandnullhistory.nullInullwasnull amazednullbynullthenullamountnullofnullthingsnullInulllearned,nullespeciall ynullconsideringnullwhatnullInullknewnullbefore,null whichnullwasnullnotnullmuchnullmorenullthannullthenullfactnullthatnullMexicans nullwerenullthosenulllivingnullonnullthenullothernull sidenullofnullthenullbordernullandnulltheynullwerenullalwaysnulltryingnulltonullp assnullitnullalthoughnullitnullwasnullforbidden.null ThenullviolencenullofnullthenullUnitednullStatesnullagainstnullthatnullofnullt henullMexicans,nullanulllinenullofnullbloodnull dividingnullthenulltwonullcountries:nullthisnullisnullthenullimagenullInullhad .nullInullwantednulltonullknownullwhatnullwasnullonnulleachnull sidenullofnullthatnullbordernullandnullwhatnullwasnullbeyondnullit,nullcausesnull andnullaftermathsnullofnullthenullsharpnull separationnullbetweennulltwonullcountriesnullthatnulllienullonenullnextnull tonullthenullother.nullNonetheless,nullMexicansnull arenullcharacterizednullbynullmuchnullmorenullthannulltheirnullstrugglenull tonullpassnullthenullfrontiernullandnullthisnullisnull exactlynullwhatnullInullwantednulltonulllearn,nullandnullInulldidnullinnullpart.null InullwantednulltonullknownullwhonullthenullMexicansnull